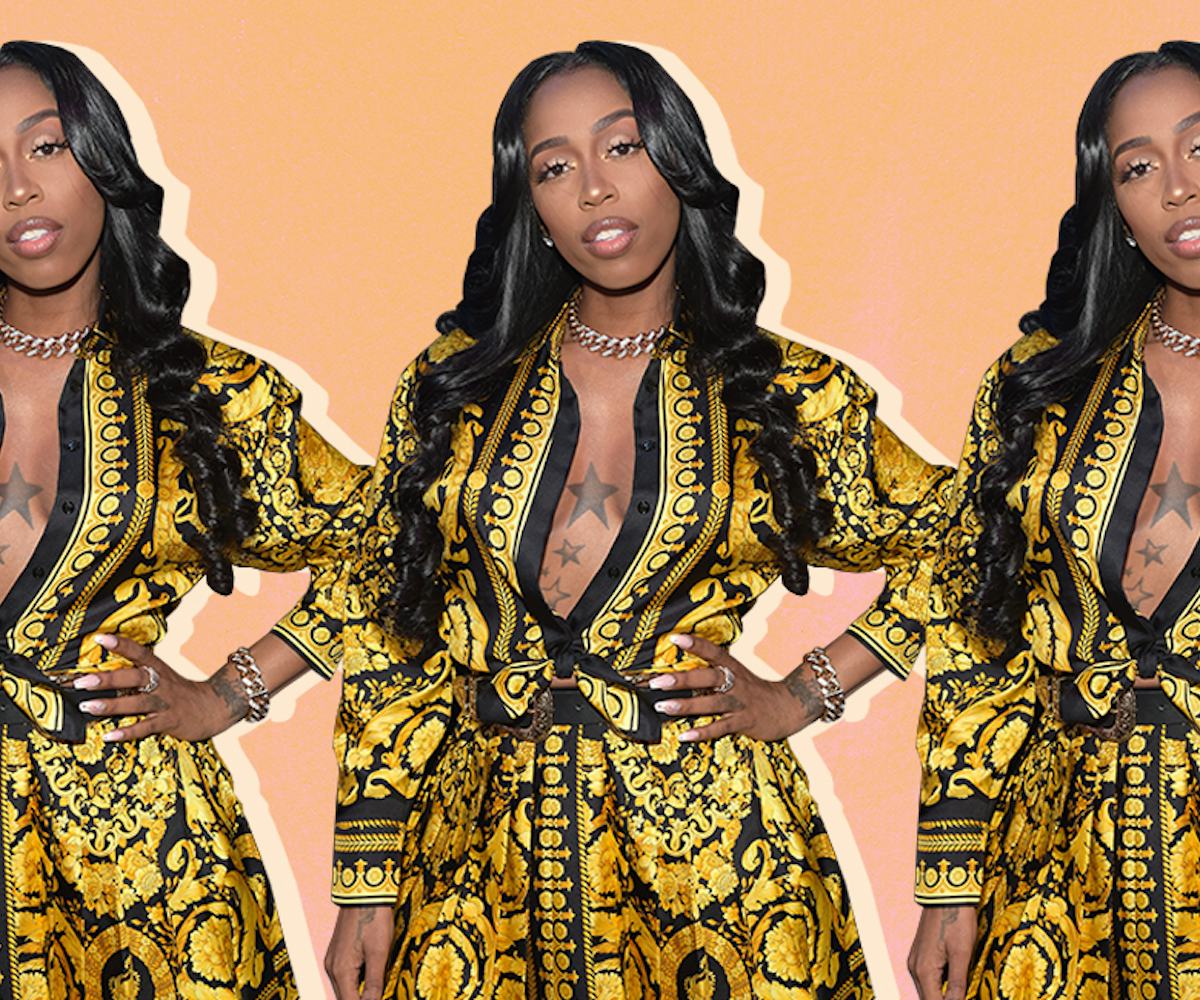 Photo by Marcus Ingram/Getty Images
Kash Doll Tells Us What It Was Like When Rihanna Slid Into Her DMs
She's really living the dream
While Kash Doll is no stranger to the rap game, it was her feature on Big Sean and Metro Boomin's "So Good" that gave her momentum to reach mainstream audiences. Hailing from the hustle and bustle of Detroit, Kash Doll (aka Arkeisha Knight) had no choice but to boss up. With her life-long love for hip-hop, aggressive authenticity, and grind mode mentality, Kash Doll has deservingly pushed her way to prominence as a female rapper.
With over 2.7 million followers on Instagram alone, Kash Doll is also aware of her position as a role model for all aspiring women rappers who want to follow their dreams while staying true to themselves. Earlier this year, she unleashed a project called Brat Mail, in which she detailed her appreciation to her loyal fan base. Shortly after, she released her single, "For Everybody," which clocks in at over 10 million views on YouTube alone—all the more impressive because there was no major label push behind it. 
At just 26 years old, Kash Doll celebrates signing with the Republic Records family along with her new single titled "Ice Me Out." On top of that, she has a highly-coveted cosign from Rihanna herself. I had the pleasure of catching up with Kash Doll right after her explosive performance at Rolling Loud in the Bay Area. See what she has to say about growing up in Detroit, the inspiration behind her name, and meeting Rihanna.
For those who don't know, who is Kash Doll?
Kash Doll… I'm pretty like a doll, and I'm 'bout my cash. 
How would you describe your sound?
Unique, bossy, fun. It's me. You know, black girl magic.
You're from Detroit, how does that play into your life and career?
Growing up in Detroit, I have really tough skin. I probably come off like I don't care as much, but I just know how to deal with things. I feel like I'm happy because I can keep peace of mind. I don't take everything to heart. Detroit is tough, and I'm about that life. [laughs]
What does it mean to perform at Rolling Loud today?
Everything. It took me a while to get here, and I'm just happy to be here. I was in legal situations where I wasn't able to perform at these big festivals. To be here and for them to reach out to me, I'm excited!
How was your performance?
It was lit. They ran to the stage when I got out there! 
How does the West Coast compare to back home?
It's not too different. They have different gangs and stuff like that, and they have their suburban area too. It's not that much different. They don't have Coney Island though, and Detroit doesn't have Roscoe's.
What was the inspiration behind your name?
I'm a doll about my cash. A pretty girl about my money.
At what point did you realize that this rap career was for real?
Probably in 2014. I've always done it, but 2014 is when it started to get real.
Do you remember the moment?
Mmm… when I got paid for my first feature. 
What is your take on the music industry?
It's a good time for female rap. I'm excited to see the different flavors, to see what everybody brings to the table. I think that it's growing, it's big right now. Hip-hop is going crazy right now, and I'm just glad that I'm a part of it.
Who are some female rappers that you grew up listening to?
Trina, Nicki Minaj, Lil Kim, Lauryn Hill.
You had a huge moment on "So Good" with Big Sean. Talk about how that record impacted your career. That's a banger!
First off, it's a banger. Second, it's Big Sean. He's a legend. And then he's the big homie from Detroit, so I'm like, "Oh my god." When he reached out, I couldn't wait to do it. So it has definitely affected my career, I noticed it. That was my first time really being on the radio.
What was the dynamic like in the studio?
We didn't get into the studio, he sent it to me. We moving, we're really booked and busy in real life. So he sent it to me, and I just made sure that I got it back to him.
You released Brat Mail earlier this year. What is it you want fans to get from your story?
That anything is possible and don't let nothing to try to stop you or bring you down. Just tunnel vision. Anything is possible no matter who you are, what's your skin tone, or how old you are, it's never too late. Make no excuse for it, just give it your all.
"Ice Me Out" is a statement. Talk about the inspiration behind this record.
Because I feel like us women need to start making more bossy stuff. I was just like, "Ice me out!" I love diamonds. Diamonds are a girl's best friend.
What are some goals for yourself as an artist at this point in your career?
Speaking of goals, I just met Rihanna the other day. We were hanging out. Listen, we were drinking and buying makeup! At one of her Fenty events. She reached out to me. We took pictures and everything! It was in New York for NYFW. It was just like a life experience.
How did she reach out to you?
Instagram, she DMed me. Let me show you, because I couldn't really believe it. [shows phone] It's Rihanna. You think you want to meet her, but then when you meet her, it's even more!
Any music collabs?
We're talking about it.
That would be some boss bitch shit!
Yeah, we would have fun in the video. Me and Rih-Rih? [laughs] I always say Rih-Rih and Ki-Ki.
What did you do with your first advance?
I didn't really touch it, because I was already established. I just put it to the side.
What about your first check ever?
I bought a pair of shoes. I was always into fashion.
How would you describe your style?
All designer. Like today, I'm in baggy clothes. In Prada and YSL—you know how I would come. Some YSL swag, some YSL shoes. I got a Chanel bag. Louis shades.
What's a normal day in the life? Walk us through.
Probably the airport. Touching down, I'm going to a show. Getting hair, getting makeup. Listen to music, see my fans, it's a live crowd. Might drink a little bit here and there, it's fucking lit. Back on the plane. Touch down, hit the mall, security… that life. 
Three things you need in the studio?
Water. Grapes. Sometimes candy too. Candy just gives you energy. And then sometimes drinks, but not all time. I'm not really a drinker.
How important is social media for your career?
Social media was the only platform I could use at one point to release music.I was putting minute videos up. I love social media because that lets people know who you are.
What would you be doing if you weren't doing music?
Winning, somehow. I'm a hustler. I was working three jobs at one time. I would definitely be winning, but I don't know how. I would be a boss though, for sure. 
Any side hobbies or passions that you like?
I like dancing. I like shopping. I like boxing, skating, running. I'm into all that.
What's the best encounter you had with a fan?
I have a lot. My favorite is when a girl couldn't come to my show because she got shot in her head. So I went to her house, and she was acting like there wasn't nothing wrong with her. She was so excited. I walked in, and she was like, "OMG, Kah-Kah, you winning!" And this and that. I was like, "Oh my god." The whole side of her head was gone.
I would break out in tears. 
I wanted to, but I wanted to be strong for her.
Favorite song to perform in a set? 
I'd have to say either "Here I Go" or "For Everybody." "Ice Me Out" is my newest favorite. I think all my shit slaps, because I love doing "So Good" too. 'Cause when that beat drops… "doom doom doom." Shout-out to Metro.
Who are the most played artists on your phone?
Besides Kash Doll… Rih, Dolph, Fab.
I love Dolph, I'm so glad you said him.
I just did a song with him.
Is that going to be on his project!?
Yup! That's my dawg.
What was the dynamic like in the studio with him?
He's cool. He's so chill. And in his face, he's handsome as hell. I just gotta give it to him.
Dream collab?
Rihanna, I always say that. And Beyoncé.
Anything else you wanna let us know?
My album is coming. Music videos. I'm that bitch. [laughs]