Kiersey Clemons Goes Rogue
After a decade living in the turbulent world of 'The Flash,' the actor is laser-focused on the future and self-fulfillment.
Written by Kerensa Cadenas
Photographs by James J. Robinson
Styled by Oliver Vaughn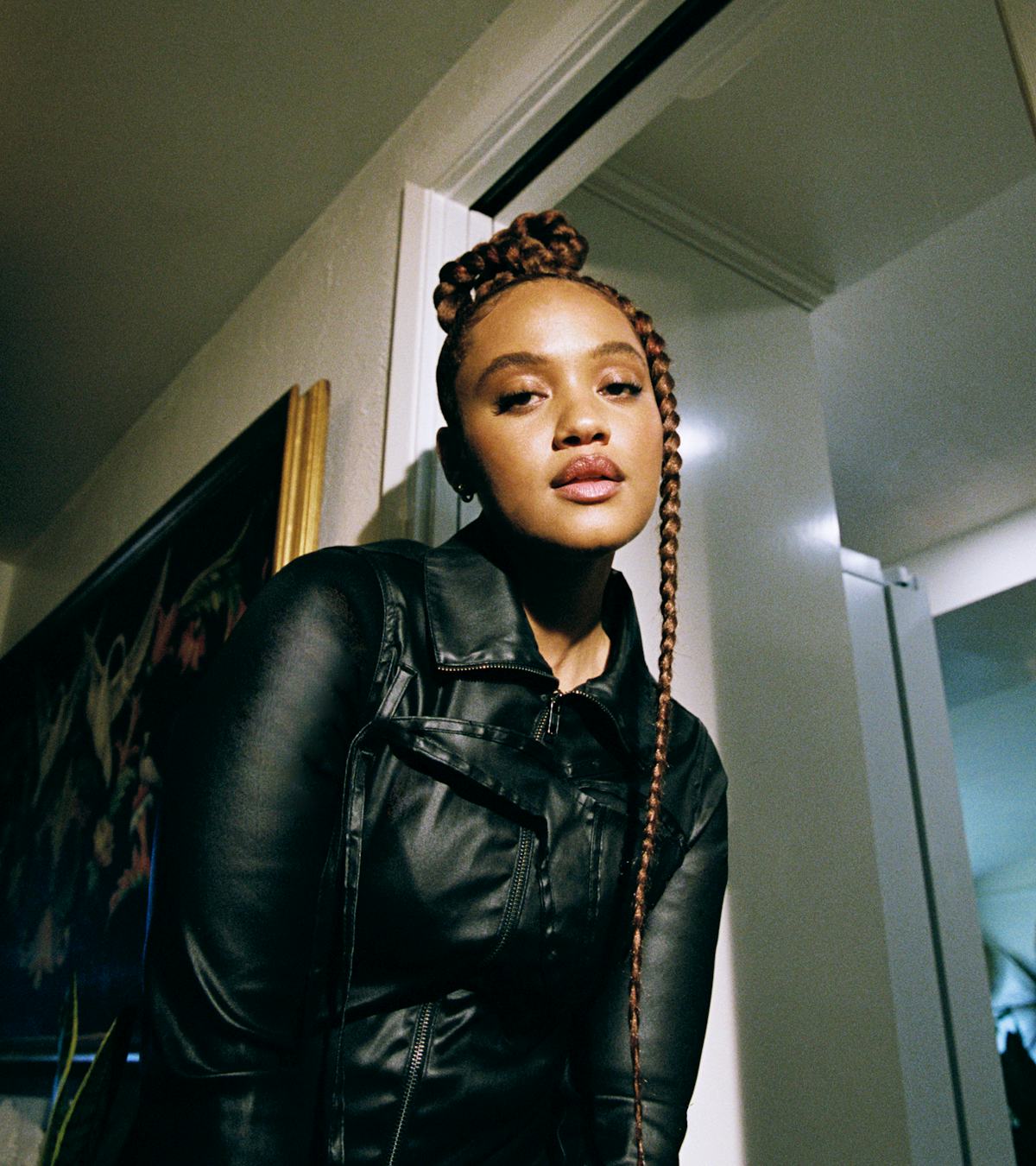 After multiple technical difficulties, Kiersey Clemons and I finally connect on FaceTime. When she discovers we're both in Brooklyn, she insists on immediately hopping into an Uber to meet me at my favorite local cafe. "This is how it's meant to be," the 29-year-old actor exclaims.
Kiersey Clemons has gone rogue.
Twenty minutes later, I meet Clemons at my neighborhood spot — a '90s-feeling coffee shop banqueted in red vinyl. She's carrying her cellphone covered in a hot-dog-shaped case and a copy of her friend Elliot Page's recent memoir, Pageboy, with a light brown bag slung over her shoulder. We hug as she declares again that our meeting in person is fate. As we settle at a table outside, Clemons explains that she's come to New York to visit her younger sister, who has recently moved to the city, a place her sister has never lived, to discover a life for herself.
Clemons, who'll turn 30 later this year, is at a similar point of discovery for herself and her career. She recently starred in DC's The Flash, which released earlier this month. She also has multiple passion projects in the pipeline, including Susie Searches and Praise Petey, both out in July, and The Young Wife, which premiered at this year's South by Southwest. Her career is in bloom in a way that's neither a resurgence nor reinvention but something more nebulous that Clemons sees as a direct line from what she had done previously. "I feel like it's more of what a lot of my hard work and desperation in my early 20s led me to. I feel as if I can say now, 'Oh, I need to dream bigger,'" she says. "Whereas in my early 20s, I just wanted to work. And more so, [wanted] the validation of being seen in any capacity, even if it was a movie that I didn't believe in very much." Through dark sunglasses, she muses about how early in her career, she felt she was just lucky to be working, but that's a feeling that's dissipated. "I didn't find anything to be too precious. Now, I think I'm in a phase of the work that I do, I do want it to be precious."
Over the last 10 years, Clemons has been attached, in some way, to The Flash, DC's beleaguered film adaptation of the comic book that finally hit theaters earlier in June. The film centers around Justice League staple Barry Allen, aka The Flash, who can move at superman speed; Clemons plays Iris West, a journalist and Allen's love interest. The actor first became intertwined with The Flash in 2016 when she was the top choice to play West under director Rick Famuyiwa, who had directed her in 2015's critically acclaimed Dope — a breakout for Clemons. Before she was formally attached to the film, Clemons says she felt like she auditioned for a new superhero film every other week, from Thor to Aquaman, because everyone was auditioning for them. The process slowly eroded her interest in being in a superhero film. And yet, her relationship with Famuyiwa made her want to continue to pursue The Flash. "I specifically wanted to do The Flash because I felt safe and respected being led by Rick in such a big world," she recalls. "When I read with Ezra… In the audition, we're sitting on a rooftop taking in a sunset. It was this dance where at the end, I just laid my head on Ezra's shoulder. At the same time they were going to lean their head, and it was this moment where all of us in the room were like, 'Oh, wow, this is magical. Make this Iris West and Barry Allen.'"
But due to Famuyiwa's vision not fitting with DC's, a revolving door of possible scripts and directors, and COVID-19, it was unclear if and when The Flash would actually become a reality; Clemons had no idea whether she would still portray West after Famuyiwa dropped out of the film. It was a trying experience for her. After taking an inhale of her brightly colored Elf Bar, Clemons exhales to get into it. "I was freaked out because at one point, there were rumors going around online that I was getting recast, which is humiliating," she says. "It was more embarrassing and hurtful than getting cut out of Justice League, which I was able to understand more than the rumors of being recast. They had to cut the movie down; that's how it goes. With The Flash, I was so young and was so excited, and the director that I was supposed to be on with was gone. And so, I felt dismissed and replaceable."
The drama over whether Clemons would still portray West soon ended up being usurped by the many allegations against her co-star Ezra Miller, whom Clemons mentions championed her so fiercely that she's not sure whether she'd have ended up in the final version of The Flash had it not been for them advocating for her throughout the film's many changes. It's a detail that adds even more to an already complicated narrative, one that Clemons has been asked to comment on, as so many women in the position of allegations against a co-star have had to answer for someone else's actions in the past. "I'm having to not just go through my personal experience of Ezra being my friend, but then also having to answer questions that aren't mine," she says. "I'm not going to do that in the media unless it's asked of me by someone who's been hurt by that person's actions. Otherwise, I'm speaking on something that isn't mine without consent. I was getting asked before I was given permission, and also, no one [of Miller's accusers] has given me permission to speak on their experience with Ezra."
It's another layer to an already stacked experience of over a decade of industry complications; the final film everyone has seen isn't the story she wanted to tell about Iris West and Barry Allen. Clemons seems to feel a bit of relief, but also pain, that she can finally talk about her experience. "Now that the movie's out, I feel like for the last nearly 10 years, I've just been smiling and giving so much grace. I think it was to protect my peace of mind. Now I can finally say and admit this whole thing made me cry more than it made me smile. I think I only smiled over this thing at the premiere." She jokes that she tells people that the whole film has been cursed. "I mean, from my perspective, someone was over there mixing potions. Something was happening."
Now, she'd rather focus on the future. This July, Clemons stars in Susie Searches, a dark comedy from director-writer Sophie Kargman, her first feature length film, about an awkward college student whose true-crime obsession leads her to solving the disappearance of a missing classmate, Jesse (Alex Wolff). It's a thrilling film — twisty in all the best and unexpected ways — and Clemons gives a performance as Susie that is relatable, scary, funny, and pathetic all at the same time. When preparing for the role, Clemons listened to true-crime podcasts, though personally it's a genre that makes her feel queasy. Thanks to a great collaboration with Kargman and being an executive producer on the film — which allowed her to have creative rank over exactly what co-star Ken Marino's faux ponytail looked like — she was also ready to be able to do more character work, something she mentions that not a lot of Black actors get the chance to do, especially when they are younger. She also greatly related to Susie: always being the new kid and not fitting in, but also having the knowledge and confidence to know that once you crack the right person, they'll know that you're the best.
Earlier this year, she appeared in Swarm opposite Dominique Fishback, a show that allowed for varied portrayals of Black women, especially in more genre work. She leans forward on the table, the roses tattooed on her arms blooming. "It also does not steer away from Black women being dangerous," she says of the controversial, Donald Glover-helmed show. "There's not a fear or a protection around us being a person that you don't agree with their actions. They're not your best friend who gives you good advice, who lifts you up. They're not your motherly neighbor. I think that once you start playing as a Black actor, once you start to get in a space where we can play people who are dangerous, without it pushing a stereotype. Once we're able to move more freely in that way is when I believe that maybe our industry is moving in a direction that really does believe in and lift us up. But also, at the end of the day, it's still a machine. So, who f*cking knows?" But Clemons is working to make the machine work for her by collaborating with women like Anna Drezen, whose Freeform animated series Praise Petey, also premieres in July. In the show, Clemons voices local bartender Eliza, who watches as a former New York It girl "modernizes" her father's cult. For Clemons, especially during COVID lockdown, doing voiceovers for animated shows, she says, "uplifts her spirit."
In The Young Wife, Clemons co-stars alongside singer Leon Bridges as a young woman who is rethinking the day of her "nonwedding" commitment to her partner (Bridges). Writer-director Tayarisha Poe, who directed 2019's standout Selah and the Spades, was someone Clemons wanted to work with and had emailed her before to hopefully work together. She warmly recalls the joy of working with Bridges, Poe, and legends like Judith Light and Sheryl Lee Ralph — an experience that made them all feel like family. "We all became obsessed with each other immediately. A lot of times, you'll hear about people filming, 'We were a family,' and then no one really talked to each other again. But we truly are family and connected in such a real special way. We went on trips with each other, shared beds, and just cried a lot together."
Between films like The Young Wife and this year's Somebody I Used to Know, which Clemons co-starred alongside Alison Brie, she's at a point in her career where she's playing roles that feel transformative or resurrective whether that's in the character, or working with a certain director, or producing a project. It's also something she's thinking about in her personal life: how and why she wants to be perceived. Clemons identifies as queer, and she jokes about popping off her press-on nails during a Pride event to show the girls what's up. But more seriously, she's learning how to be confrontational and honest. Whether that's releasing music, which she recently did on her Instagram, a medium that she already finds very vulnerable, or just learning how to exist alone and in the moment, something she's learning how to do. "I think it looks a lot like that," she says of her current state of mind. "Continuing to learn about who I am specifically when I'm alone because I know what my place is and what I bring to the table in my family, at work, with my friends. And it's not even that I don't know my place with myself. More so just like if Kiersey exists in that way, then Kiersey can be even better at how she exists with her family and her friends. But that also comes with less self-loathing."
A blast of Sean Paul from a Hyundai hits the Brooklyn block we're sitting on — a summer delight we both revel in. Clemons is figuring out the rest of her afternoon; she wants to go to a nearby bookstore to pick up something new and "smell the books." And later that evening, she'll likely do karaoke with a group of friends. The bottom line to all of this, much like Susie, is how much Clemons loves herself despite the hardships of the last 10 years and the new self-discovery she's wading through in both her career and personal life. "Me and one of my best friends, we're like 'Damn, we are so delusional, and we don't know where it came from.'" She laughs hysterically. "Only a few days ago, I was wanting to just disappear into the abyss because The Flash fans are making me feel terrible about myself, I was just really going through it. Crying all day, crying on the plane. And then I got off the plane and my friend was like, 'How are you feeling?' I was like, honestly, I just got off the plane and looked at myself in the mirror and I was like, 'Damn, she is still chic though.' I'm holding onto that."
Top Image Credits: Ottolinger jacket, Jennifer Fisher earrings
Photographs by James J. Robinson
Styling by Oliver Vaughn
Hair: Randy Stodghill
Makeup: Molly Greenwald
Talent Bookings: Special Projects
Associate Creative Director, Video: Samuel Schultz
Photo Director: Alex Pollack
Editor-in-Chief: Alyssa Vingan
SVP Fashion: Tiffany Reid
SVP Creative: Karen Hibbert