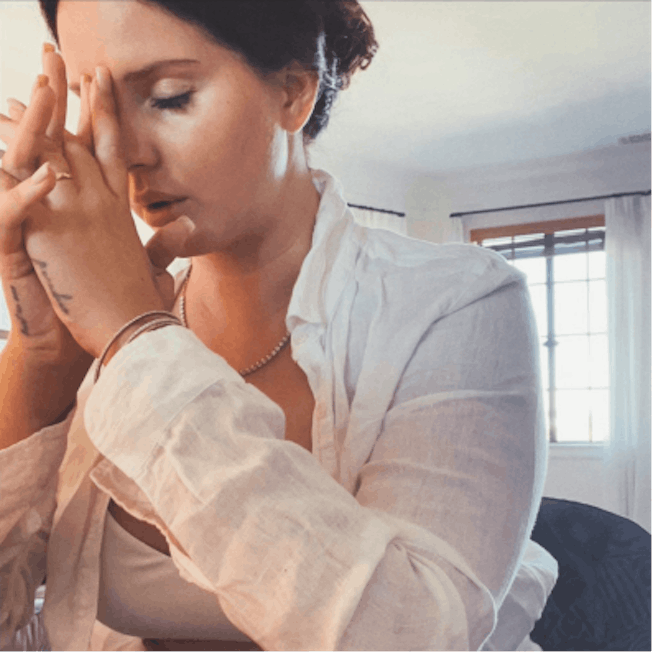 Lana Del Rey/Polydor/Interscope
Lana Del Rey's "Say Yes To Heaven" Is About Submission & Yearning
The lyrics include a reference to an anti-war John Lennon song.
Less than two months after the release of Did you know that there's a tunnel under Ocean Blvd, the benevolent Lana Del Rey has graced us with a delicate new single that's dripping with yearning. Well, actually two songs: "Say Yes To Heaven," and its TikTok-friendly sped-up version that takes her vocals to alien-like levels of pitch.
"Say Yes To Heaven" is not really a new song; it has long held a cult following, and real Lana heads have probably had it on repeat in their Apple Music libraries for the last few years. Del Rey co-wrote the song in 2012 with Rick Nowels. A relic of Lana's Ultraviolence era, it leaked online in 2016 along with other early cult favorites like "Fine China" and "Your Girl," but was never officially released.
That is, until it went viral on TikTok.
Usually TikTok is in the business of ruining things with unprecedented levels of overexposure, but in this case, TikTok may have had a hand in the song's studio release. A sped-up snippet from the song went viral on TikTok last year with accelerated versions of the pre-chorus and chorus. Per the app, the snippet feature the lyrics, "I've got my eye on you/ I've got my eye on you/ Say yes to Heaven/ Say yes to me," has been used in more than 800,000 posts. In March, the song was officially copyrighted by UMG/Polydor ahead of its official release today (May 19).
The song is singsong and lullaby-like in its repetitive melody, a repetition that's dialed up in the sped-up version, which, unlike the original, has almost a trance-like, anthemic quality. But its real beauty shines in its simplicity. The original begins with finger plucking guitar and Del Rey's breathy, pleading chorus. "I've got my eye on you/ Say yes to heaven/ Say yes to me," she sings, gutted and hopeful.
It's a simple gut-punch of a song about submission and yearning. "If you dance, I'll dance/ And if you don't, I'll dance anyway," she sings. "Give peace a chance/ Let the fear you have fall away," likely referencing John Lennon's 1969 anti-war song with Yoko Ono, "Give Peace a Chance."
The song, not for nothing, feels very Lana. In the cover art for the single, she is exalted, shot from a downward angle, her hands in a loose prayer position, eyes closed. Her quasi-religious themes were especially present on There's a Tunnel, particularly on "Judah Smith Interlude," a four-minute speech from the megachurch pastor.
The track is filled with the romantic imagery that pepper her lyrics: there is a red dress (as there is in at least five of her songs); there is, of course, heaven and there is dancing, creating a tableau of desire.
The song is also a little bit devastating, but only in a way that's fun and not seriously damaging. It's about waiting for someone to realize they love you. It's about the steadfast yearning of that waiting. It's about submisson and fate — with a major chord resolve that feels something like devotion.
"I think that's why some people might call some of my stuff polarizing, because either you've been in a contentious family dynamic or interpersonal relationships, or you haven't. If you haven't you might use the words or phrases I've heard like 'feigning fragility,' or 'glorifying being submissive.' OK," she recently told Rolling Stone. "Maybe it's also just trying to see the light at the end of the tunnel? You're writing what happened but you're also trying to lift it up a little bit, maybe melodically in the chorus."