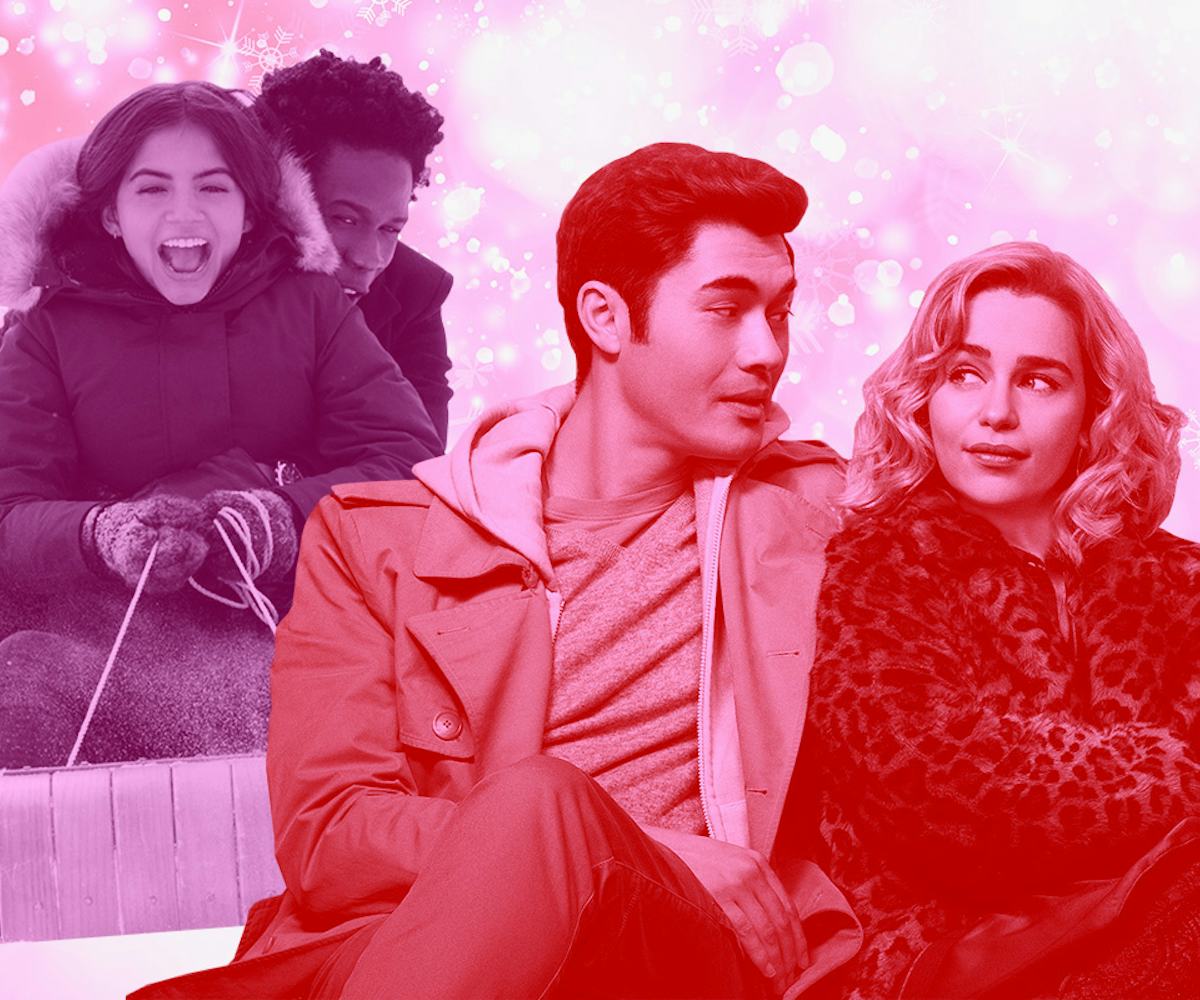 Photos by Steve Wilkie/Netflix & Universal Pictures
How 'Last Christmas' And 'Let It Snow' Take On The Holiday Rom-Com
Can a big-studio fare against Netflix when it comes to the genre?
Ten or 15 years ago, Last Christmas would have been a standard checkbox in the careers of its stars. At the beginning of the 2010s, romantic comedies were still something certain performers did if they wanted to prove themselves charming, or relatable, or bankable outside noisier franchises. That's still partially true for the stars of Last Christmas: This is Emilia Clarke's first wide-release movie since ending her run on HBO's megahit Game of Thrones, and it feels like a very different way of capitalizing off her fanbase, following her mostly nonstarting appearances in Terminator and Star Wars movies. She's paired with Henry Golding, given an opportunity to avoid getting upstaged by a sizable ensemble (and plenty of wealth glitter), as he often was in Crazy Rich Asians.
But Last Christmas isn't just the latest studio-produced rom-com ready to anoint its charming stars. It's one of the only studio-produced, theatrically released romantic comedies of the past five years. Plenty has been written about how studios more or less abandoned the genre after a few flops (many of which were neither traditional romantic comedies nor especially pricey failures), and how in the past couple of years, these types of movies have migrated to Netflix, where traditional rom-coms like Set It Up and Always Be My Maybe can become buzzy hits (often with more evidence of buzz than hit, but still). Netflix isn't shy about stepping to its big-screen competition, either; whether by chance or by design, its own Christmas-themed romantic comedy Let It Snow debuts the same day as Last Christmas makes its way into movie theaters. As watchable as some of these Netflix features are, they do threaten to pull romantic comedies off of the big screen entirely, turning them into a slightly upgraded version of the annual month's worth of December Hallmark spam.
Last Christmas isn't designed to save the theatrical rom-com experience, but on paper, any such designers couldn't do much better: Clarke and Golding are both charming, but not yet overexposed. Emma Thompson is on hand as a supporting player and a co-screenwriter. The director is Paul Feig, who has fashioned some of the best big-screen vehicles for Kristen Wiig (Bridesmaids), Melissa McCarthy (Spy), and erstwhile rom-commer Sandra Bullock (The Heat). The premise has a bit of Fleabag in it, following the London misadventures of Kate (Clarke), an aspiring singer and serial screw-up with a harrowing past who lets down her friends and family, but has her worldview challenged by a handsome stranger called Tom (Golding). And yet romantic comedy is, as ever, a tougher business than it looks: This is the worst movie Feig has ever made. He doesn't make the romantic comedy his own; he succumbs to it, like he's back in 2011 and Bridesmaids never happened.
Most of Feig's movies are structurally baggy, but his slack throughlines are usually connected by memorable set pieces and dialogue exchanges. Last Christmas wanders around listlessly, unmoored from laughs, almost as if it's been made as revenge against anyone who's complained about his penchant for improv-based indulgences. No easily identifiable improv here; this movie is painstakingly, painfully scripted. Thompson and co-writer Bryony Kimmings have their characters talk at length, as if the mere act of writing and reciting lines will somehow create banter. It's the kind of movie that doesn't trust the comedy of placing Clarke's Christmas-store employee in an elf costume (not a bad instinct), so it has Tom ask her, "Are elves always so cynical?"
Indeed, it's also the kind of movie that talks a lot more about cynicism than it demonstrates or understands it. Sample bon mot: "Why don't you just get 'saint' tattooed on your forehead?" Kate says this to Tom, and it's supposed to be funny because she's saying that he's nice in a non-complimentary, faux-insulting way, not because it contains any insight, revels in any absurdity, or even makes basic contextual sense. The dialogue in this movie is like one of those T-shirts that claims fluency in sarcasm — though at least those demonstrate a rudimentary understanding of a play on words. Here, zing after zing fizzles on the characters' tongues.
Feig does marginally better with the movie's non-comedic elements. Kate is recovering from an initially unspecified ailment, and Clarke (who has spoken about her own recent brushes with mortality) is affecting in her confessional scenes. The movie can't bother to hide Kate's woundedness, though, nor does it do an effective job of concealing (or even milking!) a plot turn involving Tom's true identity. Most of the drama is telegraphed, save its surprise references to Brexit, which are merely half-assed.
Romantic comedies and Christmas movies often provide comfort with formulas. The predictability of Last Christmas isn't as big a problem as its utter lack of panache; most of its simplistic sentiment (big lessons, here, about how it's good to be nice) would probably land harder if Clarke and Golding had more room to banter and flirt. Instead, he offers her generic live-life-to-its-fullest bromides ("look up"), and Feig offers his actors chances to look moonily at each other. Even accounting for the movie's final trajectory, its romance feels chaste, sometimes borderline pious — a weirdly self-important Christmas card cracking impotent non-jokes.
By comparison, the mostly-innocent teenage entanglements of Let It Snow look downright lusty, and some of the movie's mostly-forgettable jokes sound almost witty in the moment. The Netflix project is adapted from a YA gimmick novel where three writers (including John Green of The Fault in Our Stars fame) each contribute a story, which all intertwine by the end. As a film, it's a bit holiday ensemble rom-coms like Love Actually or, shudder, Valentine's Day, but less encompassing as well as less tedious. Tobin (Mitchell Hope) struggles with his feelings for his best friend Angie (Kiernan Shipka); Jubilee (Isabela Merced) gets to know snow-stranded famous singer Stuart (Shameik Moore, not playing anyone from Belle & Sebastian); and best friends Addie (Odeya Rush) and Dorrie (Liv Hewson), who clash over their respective insecurities. The multiple plotlines keep everything moving along, and there are flashes of intelligence amidst the cuteness and too-easy solutions. The film works better than Last Christmas because of its modesty; it may not be very funny, but at least it doesn't make its leads pantomime through a series of joke placeholders.
That's not to say that director Luke Snellin has his sights set on Feig's go-to comedy-director status. Snellin has a habit of cutting away from scenes before they fully develop, emotionally or comedically. Even when he's going for full-scale slapstick, he doesn't actually make, say, the daring theft of a keg from a pair of miscreant brothers as funny as it should be. There's a TV-movie functionality to Let It Snow, because for all of its innovations, Netflix often resembles a supersized broadcast TV network with fewer content restrictions. Just as certain sitcom stars become mainstays at CBS or NBC, Netflix rom-coms tend to feature at least a few homegrown stars of recent Netflix shows, movies, or comedy specials (Shipka, Rush, and Hewson all fit the bill here). There's nothing wrong with that, nor with the fact that the company is elevating some unremarkable romantic comedies into couch-driven events. That they make so many rom-coms aimed at a younger audience may be the genre's best hope, whether this new crop stumbles across something fresh or exciting, or simply cultivates greater interest from future filmmakers. But for this holiday season, rom-com gifts of all sizes are still looking a bit like cheap tinsel. Regardless of venue, Last Christmas and Let It Snow threaten to turn a potentially vital and timeless genre into manufactured cheer, playing to an audience of undemanding converts — in other words, into Christmas movies.
Last Christmas and Let It Snow are out now.