The Mass Pop Appeal of Laufey, Modern Jazz's Biggest Star
The 24-year-old modern jazz singer has amassed a fandom typically devoted to that of pop icons thanks to her penchant for honest sincerity.
Photographs by Chris Scheurich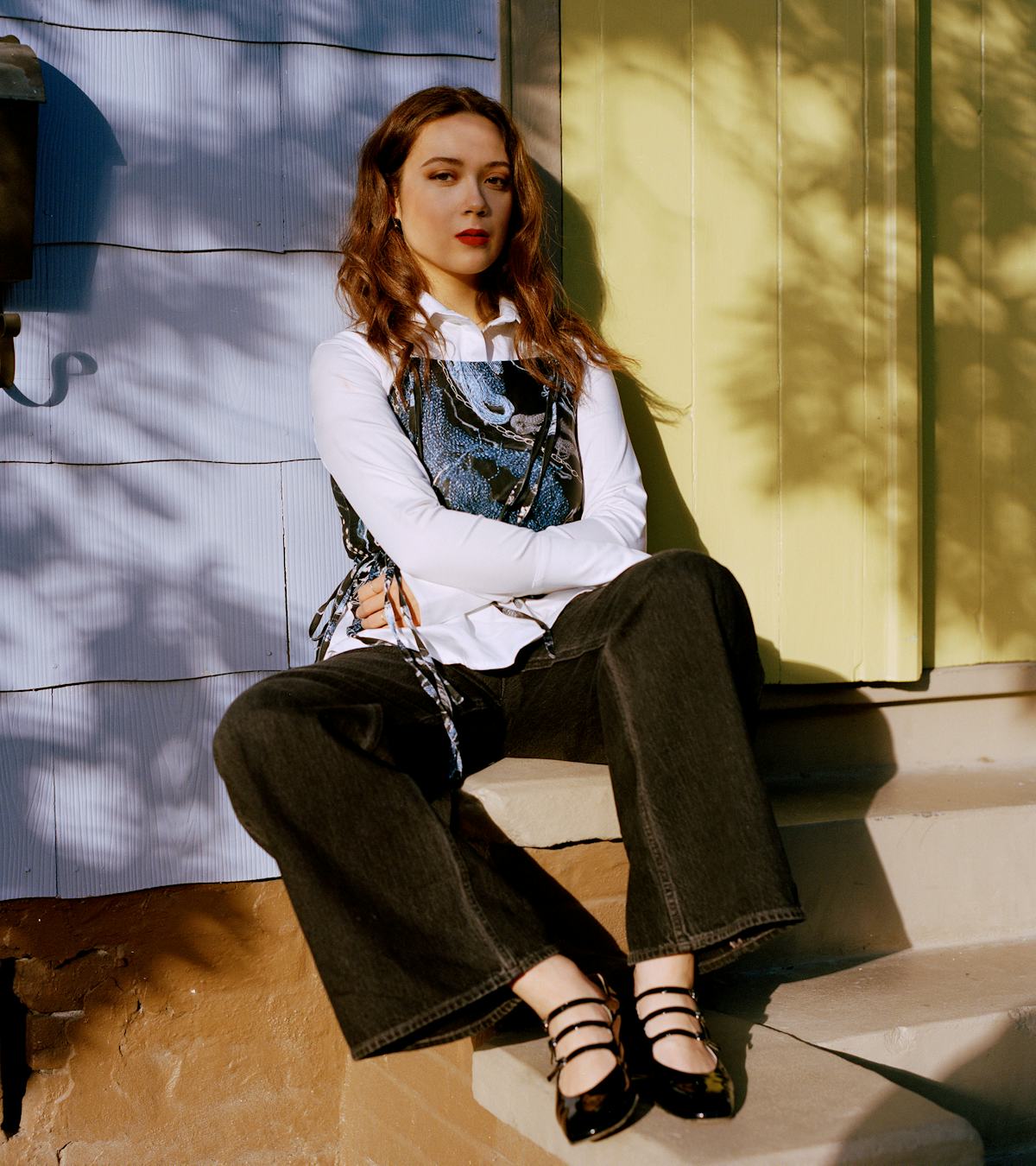 Chris Scheurich/NYLON
When Laufey began dating for the very first time in college, she had some questions for the universe: Does everybody feel like this? Does it always hurt this much? What the hell?
"I didn't know how to deal with these emotions," she says. "It hadn't been dispersed across many years. I wasn't rejected on the playground by someone in fifth grade. So I think when they all hit me at once, all of a sudden I had all these feelings and thoughts about love and dating. I felt a need to let it out, and it came out in my songwriting."
The Chinese-Icelandic composer, multi-instrumentalist, and singer excavated it all earlier this fall with her second album Bewitched, a romantic, timeless jazz album filled with big feelings: the thrill of a crush, the vulnerability of rejection, the all-consuming joy that makes you want to dance in the street. Released in September, it was the biggest debut for a jazz album in Spotify's history, and on Nov. 10 it was nominated for a Grammy for Best Traditional Pop Vocal Album.
Laufey, whose last name is Lín Jónsdóttir but goes by only her first name, is a modern jazz singer who has managed to become a mainstream pop star by every other standard: sold-out shows, lines down blocks, and nearly 2 million Instagram followers. The 24-year-old has not just drummed up a fandom typically devoted to that of pop icons but has done so by successfully composing new jazz standards for a younger audience — one who cares less about genre distinctions than they do about sincerity.
"I think the Gen Z audience has such a versatile palette. With streaming services and with the internet, music isn't so boxed into genres anymore. To be a pop star, you don't have to make straight-up pop music," Laufey says. "I think what kids nowadays care about is relatability and storytelling, and though my music sounds older, I'm telling a very modern story, which is my story of a 24-year-old girl."
Laufey's first album, Everything I Know About Love, catapulted her to fame in the last year, but Bewitched is her grand, confessional, coming-of-age work. Laufey tells love stories in a rich, alto voice with the tinge of a vibrato that sounds equally appropriate for a dark and smoky jazz club as on the Broadway stage. Her music is cinematic, sincere, and earnest, rejecting the self-protective irony many contemporary musical sad girls employ. "I think this sad girl thing is about lyricism, relatability, and appearance," Laufey says. "I'm very clearly a girl that spends a lot of time on the internet, just like every other sad girl. The roots of my music come from jazz or classical music rather than pop, but we are all kind of linked together by the content of our songs."
"I always say I became the musician who I wanted to look up to when I was younger, somebody who had a classical and jazz sound, but was also just a very modern girl. I feel like I've found a community of kids that feel the same way."
Laufey's immersive storytelling evokes the high priestess of pop herself — and one of Laufey's idols: Taylor Swift. "I owe so much to Taylor. When I listened to her as a kid and she was writing songs about heartbreak, I was getting so emotional over it, even though I hadn't even thought about a boy," Laufey says. "I really admired her storytelling. I remember she had this song called 'Mary's Song' on her first album. It told such a good story, and I thought that was just the most clever thing in the world, and I wanted to be like that."
Over the summer, Laufey attended the Eras Tour, which she declares "a masterclass in performance." (Her favorite eras? Speak Now and Fearless, "but only by a tiny, tiny margin.") This year, Laufey embarked on her own 29-city tour, many of which sold out in minutes.
Now, aspirations skew more cinematic: One of Laufey's biggest goals is to score a film one day, as well as to write a musical, perhaps something like La La Land. She's a fan of the Golden Age of musicals: Singing in the Rain, An American in Paris, The Wizard of Oz, and The Sound of Music. But she equally loves rom-coms, particularly the jazz scores of Nora Ephron films: When Harry Met Sally, You've Got Mail, and Sleepless in Seattle, along with the scores of Wes Anderson films and Pride and Prejudice. "Jazz songs have always been quite literal because many of them are taken from musical theater and you only have a couple of moments to describe the scenery," she says. "I really borrow from that practice in my own songwriting. I want them to be consumed almost as little movies."
Not since the 1950s has vocal jazz been so relevant in the pop scene as Laufey is making it, but there is some precedent: Norah Jones, who is one of Laufey's idols, bridged a similar gap, making vocal jazz music with mass pop appeal.
"When I started out, people were always asking me: Who do you want to be? Who do you look up to?" she says. "It was really hard to answer, and I still don't think there's any exact answer for it, but I always saw Norah as somebody who did straddle both worlds."
Recently, the two collaborated on two cozy Christmas duets on their two-track single Christmas With You, in which Jones plays piano and Laufey plays guitar and cello.
Laufey also cites fellow Icelander Björk, particularly her first album Gling-Gló, which translates jazz standards into Icelandic, as an inspiration. Björk, of course, isn't known as a jazz artist, and this sense of being able to easily work across genres is an Icelandic sensibility, Laufey explains. "I think [Björk] has some of the best recordings of jazz standards that exist out there. [Gling-Gló] is like her and a harp, it's the coolest thing," Laufey says. "Iceland is so small; classical musicians play on pop projects and pop musicians play with jazz musicians. My mother [Lin Wei] is a violinist. One night I would see her play a Beethoven symphony, and the next day I would see her play with a metal band. Because of that small community, music just mixes so much. Because of that, I've never had trouble mixing all these different genres, just because it's a part of the fiber of Icelandic music."
These cross-genre sensibilities are on display most at Laufey's concerts. It's not common to sing along at classical or jazz concerts, but at her shows, thousands of young people sing along to every word. She puts on a pop concert interspersed with classic pieces she's composed, while all the musicians in her band play improvised solos each night.
"It's a funny mix of the two worlds and definitely unique, but I think it's super, super fun that that's possible nowadays," Laufey says. "I always say I became the musician who I wanted to look up to when I was younger, somebody who had a classical and jazz sound, but was also just a very modern girl. I feel like I've found a community of kids that feel the same way."
Photographs by Chris Scheurich
Hair and Makeup: Phoenix Rose
Talent Bookings: Special Projects
Photo Director: Alex Pollack
Editor in Chief: Lauren McCarthy
SVP Creative: Karen Hibbert