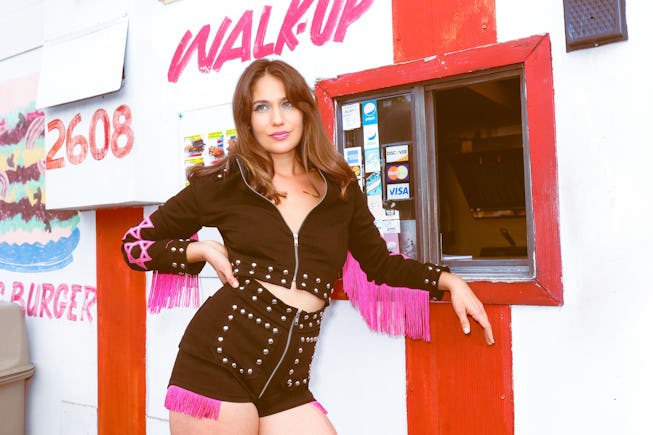 Lola Kirke's "He Says Y'all" Is A Country Hit For New Yorkers
The singer premieres her new single on NYLON.
Lola Kirke is your favorite New Yorker making contemporary country music. Kirke's music has always had country sensibilities: longing melodies, slide guitars, and a palpable sense of the past. But for her Elle King-produced EP, Country Curious, out February 16, Kirke wanted to channel country radio hits of today, not yesteryear. This meant witty turns of phrases and tongue-in-cheek, self-aware humor — which is to say Kirke isn't afraid to have a little fun and laugh at herself, a London-born and New York City-bred city girl who loves to don silver cowboy boots and studded cutoffs.
Kirke's new single "He Says Y'all," out tomorrow, is about a cosmopolitan woman who falls in love with a country boy and picks up his down South slang. "He Says Y'all/ So Now I'm Gonna/ Cause saying 'you all' just takes too long," she sings to a hand-clapping, two-step melody. "And I don't know about you but I'm a busy woman." The accompanying music video, which includes a brief line-dancing tutorial, was shot on the roof of a Manhattan building and shows Kirke and two backup dancers dancing with the Empire State Building in the background.
"I love storytelling. I love the hooks; I love the sounds; I love the tropes. But also I think that there's something kind of problematic for other people about not being from the country, so to speak, and being from New York," Kirke tells NYLON about the EP. "I wanted to be self-aware of those choices in these songs. And 'He Says Y'all' is the most straightforward version of that."
NYLON spoke to Kirke about "He Says Y'all," her country music curiosities, and about watching Elle King busk in Washington Square Park when they were teenagers.
Can you tell me about the inspiration behind "He Says Y'all?"
I'm from New York City and I fell in love with country music many years ago and have always kind of made country-inspired music. With this latest EP I wanted to commit and go full country. Not necessarily the more retro-sounding country that I had been making, but more country that you might hear on the radio today.
With "He Says Y'all," I wanted to own that I am from New York, which is a line in the song. It's kind of strange that I look this way from New York City. I also want to give permission to people to explore things that are kind of beyond where they come from.
That self-awareness feels like an important part of contemporary country music.
Absolutely. I mean, I have nothing to hide, and I think the sense of humor is something that really drew me to the genre to begin with. I really think that there's just so much great wit in country music and it's very stimulating to me, even though I think it can sound like it's really simple. The best country has that ability, even though it's probably really well-crafted.
Is there a moment when you realized you wanted to make something that was so much more overtly contemporary?
I live in Nashville most of the time and I was listening to country radio, and I did honestly find myself very drawn to bro country, just because I feel like there's a science behind those songs that makes them stick in my head. I was like, I want to, just as an experiment, as an exercise, try my hand at writing a bro country song. Singing a bro country song as a woman made it feel very feminist — being able to sing about what I want and what I like and triumphing in a breakup or being independent, which are big themes. I feel like what I'm doing right now is making feminist country music, basically.
You grew up with Elle King, who produced your album. You've said that she was the first girl singing country music in New York City that you knew. Do you have any stories from that time?
Elle got a banjo when we were in high school and she used to busk with our other friend in Washington Square Park. I was still just a fan of music at that point; I didn't dare play it myself. I used to watch her sing these amazing songs and make money. I imagine we probably all went and bought weed with whatever she made, though I can't fully remember at this point. But yeah, I mean that was my first foray into seeing people play country music in New York.