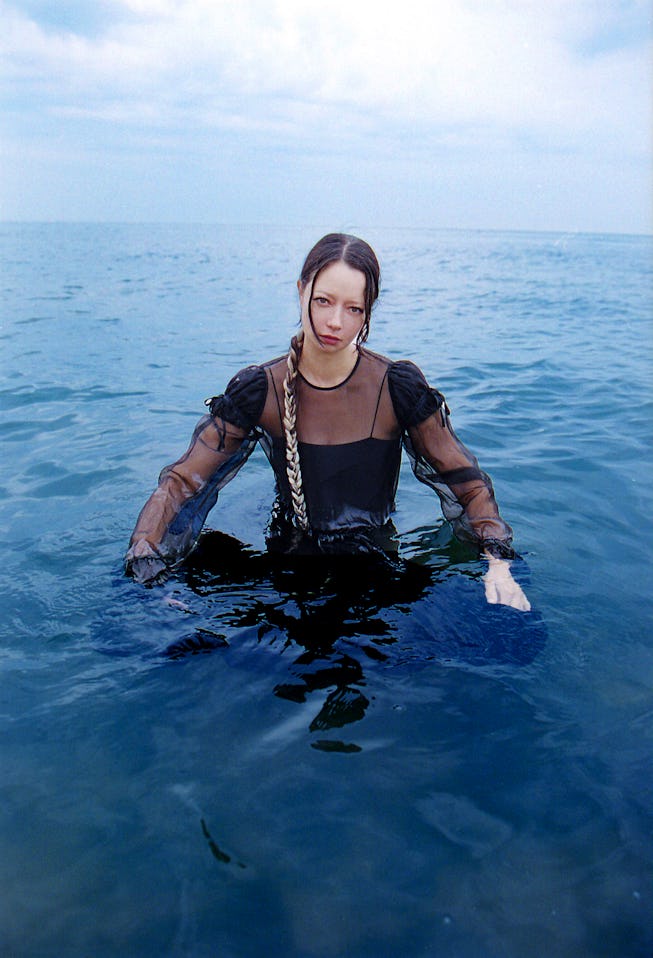 Lucinda Chua's Songs Of Searching Have Quiet Power
The London singer on her debut album 'YIAN' and harnessing the power of being understated.
On her debut album YIAN, Lucinda Chua confronts her ancestral trauma — not with a yell, but a whisper. On her gossamer light song "Echo," synths pass through like a gust of cool evening wind before suddenly changing tone: "I won't be your echo, echo, echo, I won't," she sighs. Although her voice barely raises above speaking level, it still hits like a hammer. Anyone who's been through therapy will catch her drift, even without a megaphone.
You don't need to be a child of immigrants to understand the London-based singer, songwriter, producer, and engineer's moving and disarming new album (whose title is the Mandarin word for "swallow") — but it helps to understand the context of where she's writing from. Chua sits at the confluence of Chinese, Malaysian, and English cultures, and for many who also grew up feeling "in between," they'll intimately click with the topics she sings about: feeling enough for yourself ("Golden"), cultural & generational divides ("An Ocean"), and forging reconciliation with a loved one ("Do You Know You Know").
On her album, these mediations are drawn out by long stretches of production and instrumentals creating an endless-seeming soundscape where it feels like some inner work can finally happen. "In creating those pauses or those moments of breath," Chua says, "it's like you are inviting people to lean in." These are songs of healing and searching — for love, for home, and if not home, a midway place where a truer self can emerge.
For Chua, who's previously worked alongside FKA twigs, the making of the album and its music videos was also a real-life practice of building community, as she worked almost exclusively with other creators of Asian descent to bring Yian's soft but powerful world alive. Below, read our conversation with the artist as she talks her feelings of in-betweenness, growing up with immigrant parents, and how FKA twigs inspires her work ethic as an artist.
When did this search or questioning period of your identity and home personally begin for you, beyond this album?
I think it's something that has always been a background task in my life. Definitely having family in the East and having family in the West [created] this feeling of in-betweenness. But I would say in relation to this record, it was probably in the lockdown. I was due to go on tour with FKA twigs. We had a big festival year tour planned, and obviously everything ground to a halt. I think my response to [lockdown] was like, "Okay, I need to make something or do something." It was almost like the album was a framework or a vehicle to have space to really devote time to being more internally reflective. Especially in a time where we were all quite isolated and separated from our loved ones.
Your lyrics are really what forged meaning for me when listening to the record. That being said, there is a lot of space on the record. "Grief Piece" and "Meditations Of A Place" are fully instrumental. Can you tell me a little bit about those decisions?
For me, as the composer of the record, I think it's really important to hold space for the listener because I wanted to make a record that people would enjoy spending time in. When you have a favorite movie that you want to go back to and watch again and again, it's not necessarily the movie that is the smartest or the most complete. Sometimes it's the story where there's space for you to imagine or find a sense of belonging in it. I think that was really important for me. And, in the process of writing it, I really love stripping stuff back. I wanted to find ways within the music to create impact without adding volume because I think the quiet power of being understated yet commanding is really interesting to me.
To talk a little bit about the quiet power of the album, "Echo," I think, is one of the most powerful songs on the record. I think it's a really beautiful way to describe generational trauma or knowledge, or whatever you inherit. I feel like there's also a friction in the wider themes of the album of searching for identity and belonging, and not wanting to accept everything you find.
I guess on a really fundamental level, we are humans looking for unconditional love or an emotional connection or a sense of belonging. But maybe what I've realized is in order to find that you really need to know yourself. Because what that means, what that love or what that acceptance or what that belonging looks like is going to be different for all of us because we're all different.
It was in this time at home where [I was] really trying to check in with, who am I? What do I care about? What are my values? What are the things that make me feel good? And I don't think I'd ever done that before. I knew the things that I was good at or the things that I should do, but on a really basic level, what do I like to do outside of my work? That was really difficult because I hadn't thought about that.
Chua and photographer Nhu Xuan Hua on set of the album artwork.Milo Van Giap
Chua at movement rehearsals for the "Golden" music video with Coco Bridger and producer Cheruto Wang.Milo Van Giap
Chua at movement training for "Echo" music video with movement director and choreographer Chantel Foo.Milo Van Giap
Chua on set of "Golden" music video with director Tash Tung, movement director Duane Nasis, and young actress Coco Bridger.Milo Van Giap
I don't know if that's just growing up with immigrant parents, but you're always being raised like, "This is what you should be doing." It was never any exploration of, "Do you want to do this?"
It's almost like getting to have an ego. Especially if you've grown up where it's like, "Be humble, be grateful, be studious, be high achieving, but don't be the highest achiever. Succeed and work hard in school, but don't work so hard that you become a target or a threat. Be palatable, assimilate, but also respect your culture." It's so many conflicting things within your own head to actually sit down and be like, "What do I like to do?" It's hard to do that and not feel selfish.
You worked with a lot of other collaborators of Asian descent — what was it like to explore these themes with people who may have gone through these experiences like you?
It felt really radical, especially in a professional context. To be on a music video shoot where the team were predominantly Asian people from different backgrounds within the diaspora at all levels of production, not just the runner, but the director, the producer, the executive creative producer, the talent, and just the little details when the food comes, it's actually food that you like. Things like that that feel like home, those acts of care. It felt incredibly radical and very affirming. Once you get that taste to know what life can be like working in environments where you can be totally unguarded because you feel so safe, it's a pretty mind blowing experience.
I was incredibly lucky to work with FKA twigs. That was the first time I'd ever had a woman of color boss ever in my professional life. I think seeing the way that she worked with her team, seeing the way that she put her team together, it made me think, "Oh my goodness, I wish we had more stuff like this in the Asian community." I was definitely very inspired by working with her, and it just made me want to use any opportunities that I was given through to try and instigate feelings of collective joy.
I love that because it's such an example of how it really comes down to you to be the one to create and instigate change in the structures and the systems.
Also, we are an industry. Artists are an industry. Writers are an industry. Cultural groups are an industry unto themselves. It might not be the financially driven industry that we see within Western society, but we are still an industry. I think it's easy to wait for someone more qualified and more senior to come along and fix it, but really it's about what are the commitments we can make at a local level to center ourselves and to look out for our friends and our community. I think there's a lot of power in that.