Madison Bailey Is Embracing The "Elegance" of Being in Her Mid-20s
On Outer Banks, making music, and why she'd like to star in a Legally Blonde remake.
Photographs by Juan Veloz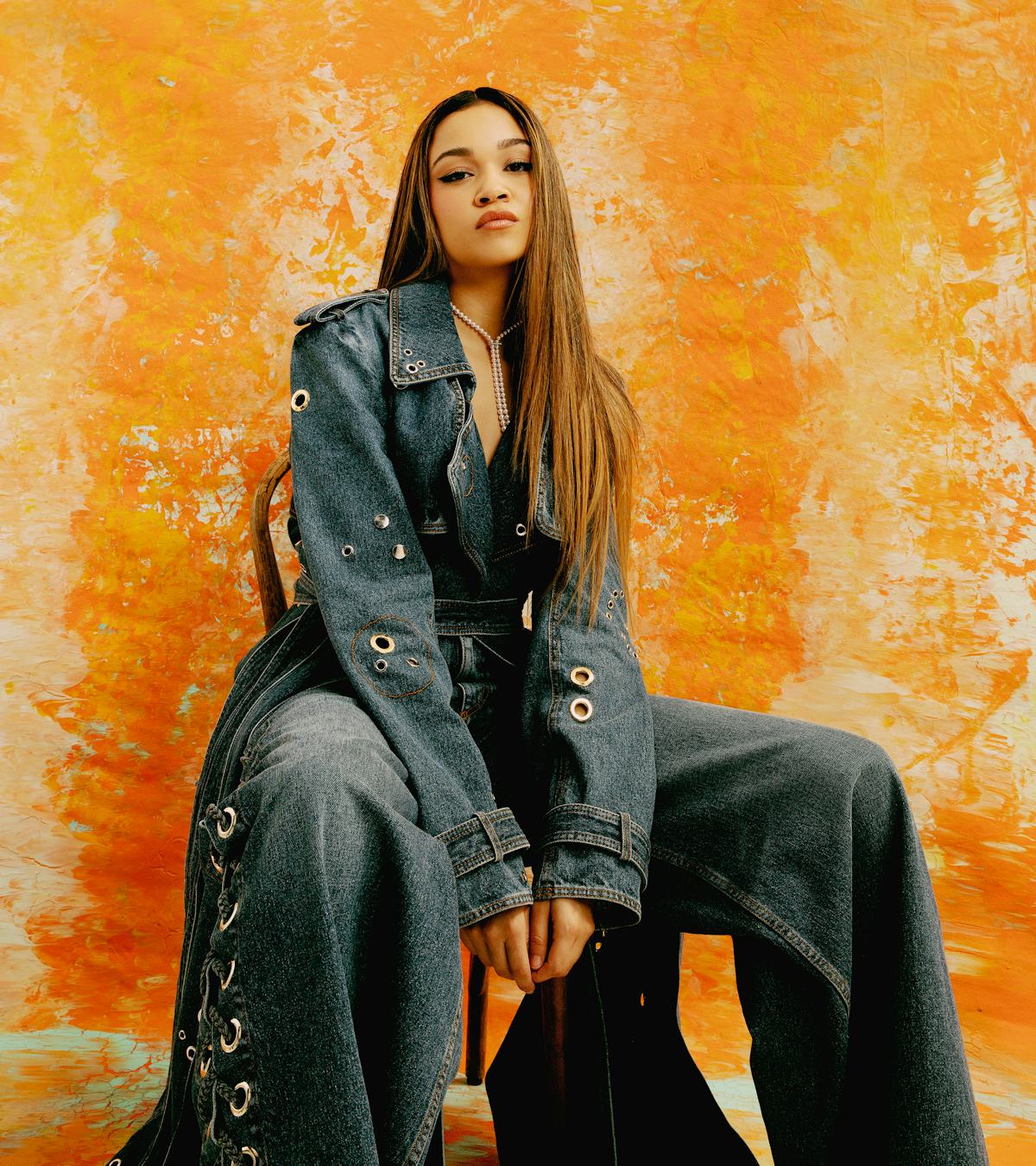 Life is good for Madison Bailey these days. The star of Outer Banks is in Los Angeles for our Zoom call, sipping on a Jones cream soda, sun streaming through the window. She is having a quiet day, answering emails and browsing selects from photoshoots. She celebrated her 24th birthday a couple of nights before we speak — a milestone that put the star in a reflective place, particularly as the Season 3 premiere of Outer Banks quickly approaches.
By now, she's settled into her role as the free-spirited Kiara. The new season, which premieres Feb. 23, finds the Pogues discovering that their newfound "Poguelandia" paradise may not be so serene. In the trailer, we see Kiara being held captive by a Caribbean crime kingpin.
Back in Los Angeles, things are thankfully much calmer. Since landing her breakout role on the show in 2019, Bailey notes that she has grown immensely as an actor — in everything from camera awareness to being a better scene partner to flexing her improv skills, she says. While her life has changed drastically from before Outer Banks, when she had a few roles on shows like American Horror Story, the actor is entering a stage of her life when her career is stable and when she can focus more on herself — as well as what's next.
"I'm definitely feeling the elegance of 24," she says. "I'm in a position where I have options in this industry for the roles that I take. I'm so content with where I'm at at this point in my career. I feel like I can breathe and enjoy the surroundings a little."
Being a celebrity and the ability to "breath and enjoy" are usually at odds with each other, especially because fame so often also means giving a lot of yourself away, which is something Bailey does generously: She's a remarkably open book, sharing candidly about her diagnosis of borderline personality disorder as well as her pansexuality in interviews. But as Bailey gets older, she is thinking more about the things she wants to keep private.
"I've learned so much about myself, so much about what I want," she says of the last few years. "The closer you get to the things that you think you want, you start to realize the things that you genuinely want in life and start making priorities."
One of the things she wants to prioritize is music — which, for now, is a hobby but could be a potential future career pivot. She recently bought a microphone, a mic stand, and software to record music, which she's been using to record Billie Eilish, Adele, SZA, and Rihanna songs.
"I flip-flop back and forth on a regular basis on what I want to do with my singing ability/'talent,'" she laughs. That's saying a lot. But as of right now, it is a hobby, and it is something I'm keeping to myself. … Acting is something I love so much that I do as my profession, and I want to keep something else that I love so much to myself for now, especially while I'm still gaining confidence in the music space. Maybe that's that journey for that to happen: gaining confidence and really leaning into that creative outlet."
Bailey started acting in high school, but her first love was music. From the ages 5 through 12, all Bailey wanted was to be a singer, until she developed stage fright, which left her too nervous to sing in front of anybody.
"I fell in love with acting pretty unexpectedly," Bailey says, explaining that she first signed with an agency because she wanted to model. "I only wanted to model because people were like, 'You're tall. That's what you do. It's either basketball or modeling.' And I'm like, 'Well, I'm not playing basketball, so I guess I'll give that a shot.'"
She didn't have a lot of success modeling, so her agents pushed her to try acting, which she was hesitant to do at first. "I was 15. I was like, 'It's embarrassing.' And then I went to an acting class, and there's just something so freeing about it. It was not as awkward as I thought," she recalls. "It was an outlet for my big emotions and for a lot of things, and I just gravitated towards it because it felt natural to me."
Annakiki clothing, Monbouquette earrings, David Yurman ring, Alaïa shoes
Now, Bailey is thinking about what she wants next, which includes everything from action films to an interest in strong feminine characters like Elle Woods, she says, suggesting a Legally Blonde remake called Artificially Blonde.
"I'd still rather re-watch Legally Blonde than a new movie, or How to Lose a Guy in 10 Days: a classic rom-com," Bailey says. "Keep the heart of that but then cast me, and it's immediately less straight and white. Just more diverse casting, but keep the same concept. We don't have to tell a trauma story every time we tell a queer or person of color story. Cast it better."
Top Image Credits: Chloé clothing, Mikimoto necklace
Author: Sophia June
Photographer: Juan Veloz
Stylist: Dustin Connor Ellis
Hair: Graham Nation
Makeup: Kendal Fedail
Video: Samuel Schultz, Samuel Miron