Magdalena Bay Is In Sleep Mode Ahead Of Their Next Reboot
The work doesn't ever truly stop for the electro-pop duo, as they're in many ways a performance all their own.
Photographs by Juan Veloz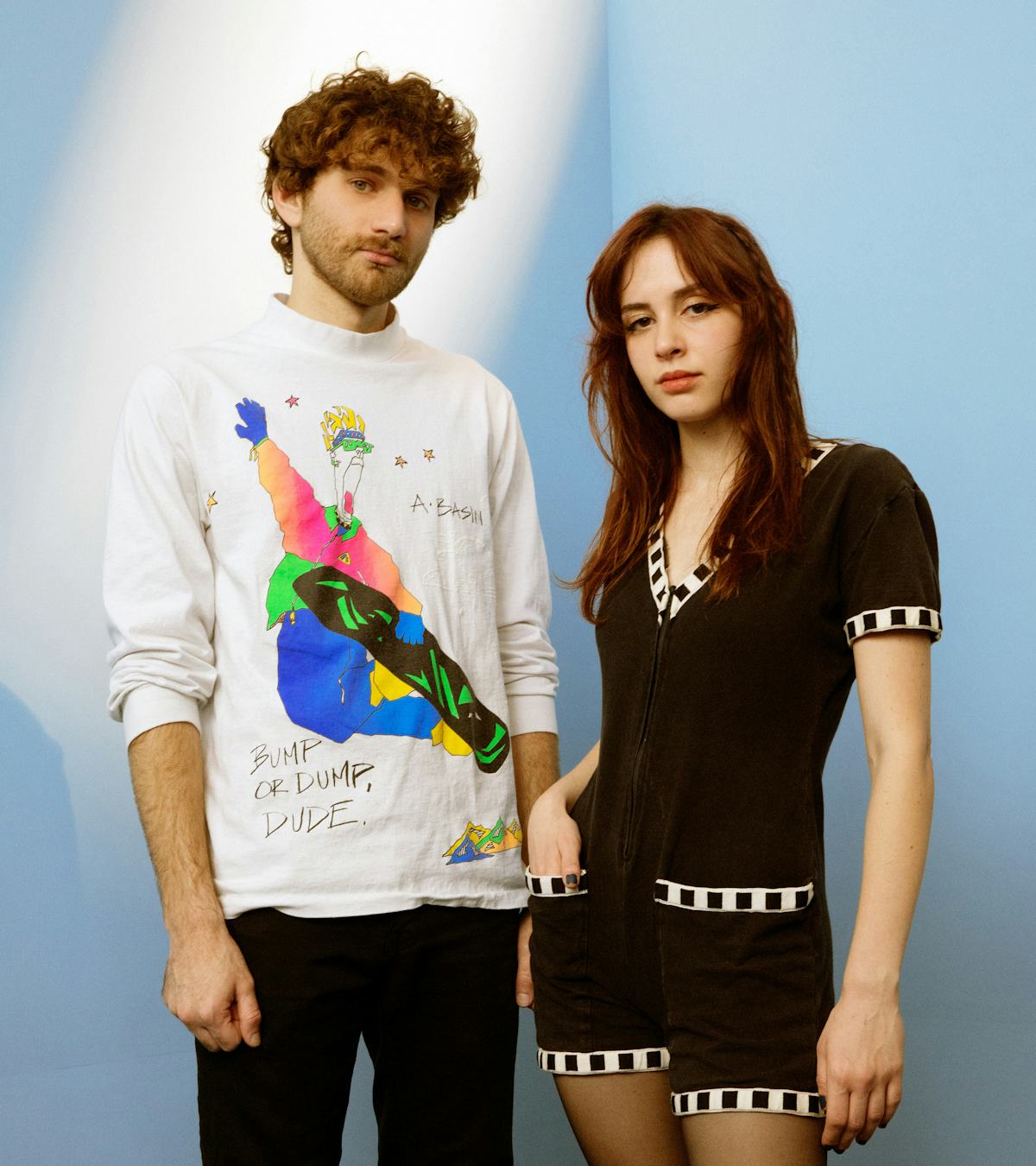 Lately, Magdalena Bay has been binge-watching Battlestar Galactica. The Los Angeles-based duo known for their thrilling, glittery avant electro-pop recently finished their first headlining U.S. tour, and for the first time in a long while, they have time to simply exist.
"No more than three episodes a day," says Matthew Lewin.
"Usually one or two," chimes in Mica Tenenbaum.
The rest is well-deserved, but it's never really "rest" for a pop duo that's been living life on the on-ramp for a minute now. Since releasing their debut album, Mercurial World, at the end of 2021, they've released a remix of Soccer Mommy's "Shotgun," had Danny L Harle remix their track "Chaeri," and opened for some of the acts that inspired their cutting-edge electro-pop: Charli XCX, Flume, and Porter Robinson. In October, they released a deluxe version of Mercurial World, a 28-track album chock-full of new songs, remixes, alternative versions, as well as voicemails from fans the band collected after setting up a "secrets hotline." Five days later, they embarked on a headlining tour.
"You get mind-wiped after the end of the tour and you sort of forget being there," says Lewin.
"It's all just a ton of stuff happening all at once," adds Tenenbaum. "When all that stops, it feels very unsettling at first when you happily forget all that; it's sort of a fight-or-flight situation."
For a project like Magdalena Bay, the work doesn't ever truly stop. They're in many ways a performance all their own, despite whether they're onstage. Every Monday, they livestream "Mag Mondays: games & more" for two hours on Twitch; they make TikToks for their nearly 130,000 followers, including a series where they share samples of the voicemails fans sent them for the hotline, and another where they tease new music.
For Magdalena Bay, social platforms are smoke signals: small, nostalgic VHS camcorder dispatches to their fans told in the deadpan language of the internet, which by now is the one we're all most fluent in. They've built a following on TikTok that's more organic than them just hoping songs go viral. In fact, their best-performing video is one where they talk about a weird park they came across in LA.
"Matt," Tenenbaum says in a recent video. "The president just called. Slowed and reverbed is over. It's all about sped up now." A cartoon tombstone reads: "Magdalena Bay (sped up)."
They're tight-lipped about their new music, but right now, they're preparing to play at Coachella, where they're not only performing but also attending for the first time. Coachella will be a new challenge for the band, whose live shows are as engulfing as their music. They're known for fever-dream sets that include robots with wires spilling out like guts, pink bunny masks, digital collages displaying AI art of themselves — things that are easy to pull off on tour but less so on a small stage with a 25-minute changeover time between bands. But creativity is famously borne from restraint.
They both reference Peter Gabriel's 1970s stage antics as an inspiration, including his bizarre costume changes, fun set pieces, and theatrical elements of performance. They throw ideas out for how to make their set "as big and transformative as possible," which includes toying with Spinal Tap-Cirque du Soleil-esque ropes or Gabriel-inspired inflatable, human-sized hamster balls. They agree that performing in a desert alone tests the limits of the human body.
But the big and transformative thing is actually what's right in front of them — which right now, for the first time in a while, is the process of creating — whether it's slowed and reserved, sped up, stitched together with fan voicemails, or something else entirely new.
"We're just getting really involved in the creation aspect of it," says Lewin. "Maybe once it's done and we have a final thing, and it'll be like, 'Oh my God, is this good enough?'"
"We're just enjoying being able to create," says Tenenbaum. "Because we've been touring for so long, we've really just been looking forward to having time to make things."
Photographs by Juan Veloz
Set Designer: Carlos Lopez
Talent Bookings: Special Projects
Video Director: Kyle Hartman
Photo Director: Alex Pollack
SVP Fashion: Tiffany Reid
SVP Creative: Karen Hibbert