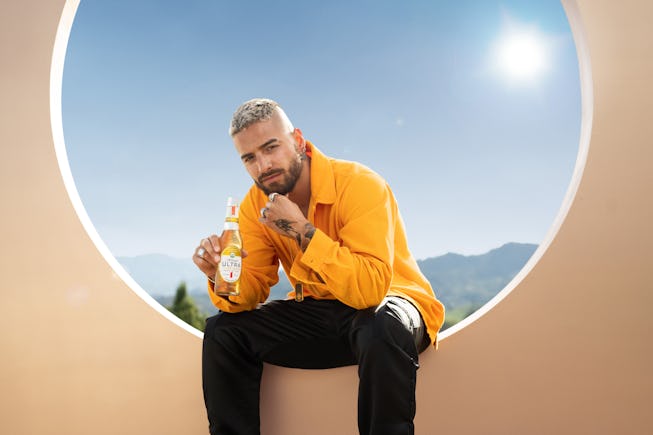 Michelob ULTRA Pure Gold
Maluma Talks Earth Day And New Summer Song "Rumba (Puro Oro Anthem)"
The feel-good anthem was made in collaboration with the sun.
Maluma is here to help you celebrate Earth Day with his brand new song, "Rumba (Puro Oro Anthem)." The feel-good summer song is Maluma's tribute to the sun; the track literally captures the soft roaring sounds the sun makes.
It came about through a collaboration with Michelob ULTRA Pure Gold, to celebrate the beer becoming Anheuser-Busch's first beer to be brewed with 100 percent renewable electricity from solar power. Maluma is giving away limited-edition vinyls of the new track to fans via his Twitter.
Ahead of the song and its accompanying video's premiere, NYLON caught up with Maluma to talk about the inspiration behind the new track and his ongoing connection to the outdoors.
So how did your collaboration with Michelob ULTRA come about?
I've been working with Michelob ULTRA Pure Gold since, I don't know, two years ago that we started. Something like that. And it's always great working with them. They have a mentality that I love. They love helping the planet the way I love to. And now that we did this song, this anthem, is called "Rumba." It's amazing because I had the opportunity to make a song with the actual sun, the biggest star in the universe. So for me, that was such a great thing. I feel blessed that I can call Michelob part of my family, too. And yeah, I hope this campaign, and everything we're doing, is going to be great.
How is the sun incorporated into the song?
Well, the sun has these vibrations that produce a sound, right? So it's crazy because in the production of this actual song, we could put the vibration of the sun inside the song. So that's the way we did it. It's a kind of weird sound, but it's nice that it's part of the song. You guys are going to love it.
Could you tell me a little bit more about just the inspiration behind the song and its lyrics?
Summer's coming. We wanted to inspire people to try to go back to normal life. After COVID and everything we're living right now, I feel like it's time to go out and hang out, to go back to the regular things that we used to do. So I wanted to do a pretty uptempo song, a song that once you hear it, you want to start dancing. And that's the inspiration with this song.
We wanted to make this song for the clubs, to try to enjoy the summer that it's coming. It's not a secret that COVID is kind of hard right now, and more in Latin America. But I see that the vaccine is working pretty fast there in the States. So I feel like in this summer, we're going to be able to enjoy the sun outside.
Absolutely. What is your connection to, or relationship with, nature and with the Earth, given that it's an Earth Day song?
Yeah, it's pretty strong. I try to, every morning, meditate and connect my soul with the earth. I feel that's the only thing that we have, and we're actually killing it. So I would say that we have to wake up a little bit and pay attention to all the bad things that we're doing to our planet. So I did this album, 7DJ, 7 Días En Jamaica, and we created these art pieces, this art collection that we're selling right now. And all the money that we're collecting with the sales of the art, we're giving it to different foundations in Columbia and also in Latin America.
Maluma's Papi Juancho 2021 World Tour kicks off Sept. 2 in Sacramento, California.