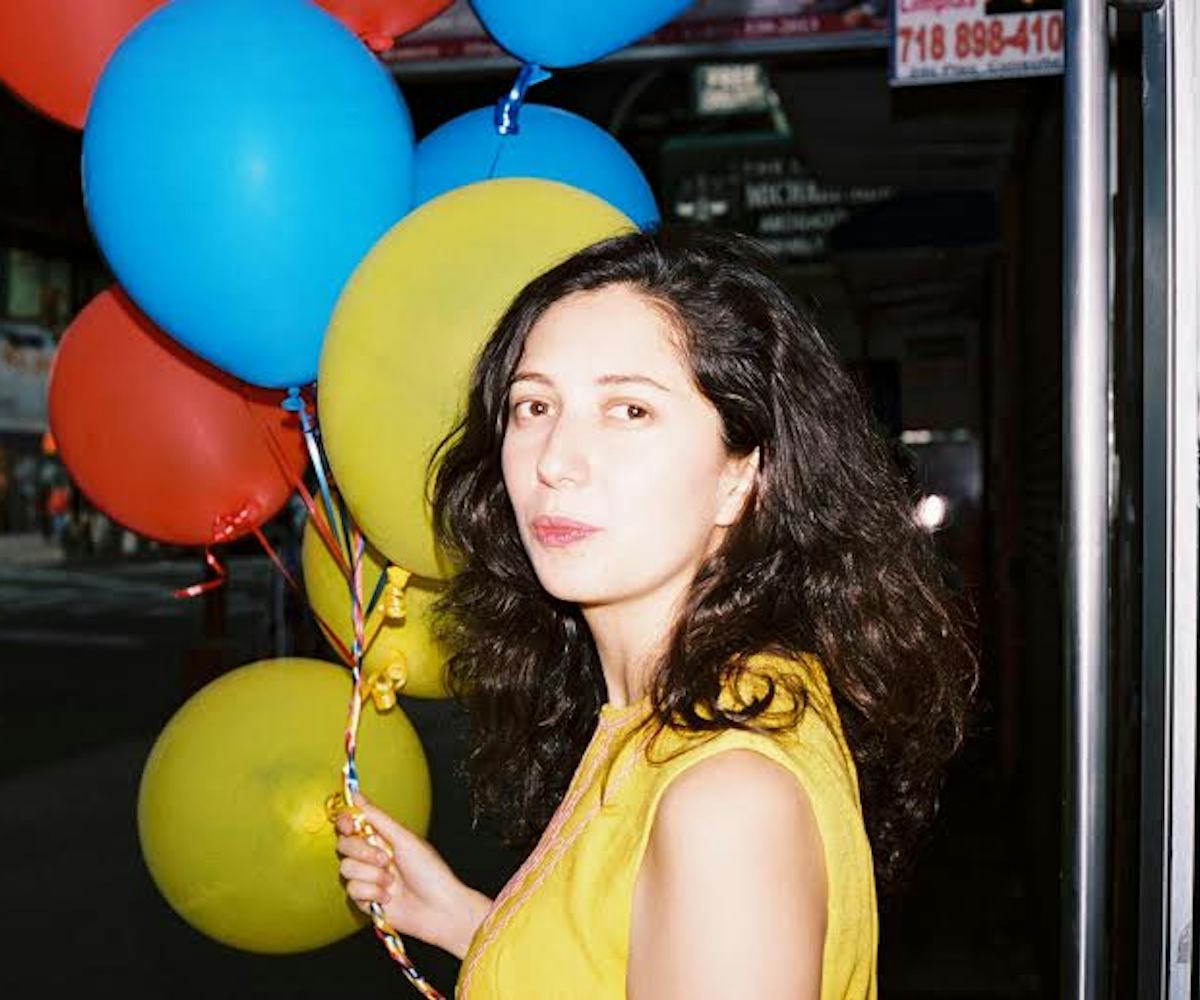 Photographed by Holland Brown
Watch "Uno De Tus Ojos," A Love Letter To Maria Usbeck's Culture
The globetrotting artist on infusing her travels with music
Originally from Ecuador, Maria Usbeck first began her music career in Florida during the early 2000s as the vocalist for the band Selebrities. Within five years, the band had set off to New York and eventually parted ways, but the singer's ambitions didn't end there. A reunion with her native heritage ignited the start of a solo project under Brooklyn label Cascine, with a debut LP titled Amparo, co-released by Swedish label Labrador and co-produced with Chairlift's Caroline Polachek. Usbeck's decision to write the record entirely in Spanish was drawn from inspirations traveling around Argentina, Chile, Easter Island, Ecuador, Spain, Morocco, Portugal, Costa Rica, and L.A. 
"I wanted to go places where I could speak in Spanish," she says. "I learned some Tahitian while I was in Easter Island. One day I made a connection with a woman, who said 'Iorana' to me, which means hello, and I greeted her back only because I had learned that word the day before. I realized we wouldn't have shared that moment if I did not know how to speak her language," Usbeck says. "People would just play music and be so happy. It made me want to keep making music myself," she added, lifting her glass of rosé. "It's so important to go back to your mother tongue, and your mother's food, too. This weather is perfect for rosé, no?"
Her ease almost made me feel like we were far from New York, much the same way her song "Uno De Tus Ojos" does. Stream her new music video below and read the rest of our conversation with the artist on embracing one's individual identity.
Can you tell me a little bit about the journey that led you to start your own project?
When I met Jer, who was my bandmate in Selebrities, I was very young and very into '80s music. This brought us together to start making our own music. It was such an amazing experience to be in a band making that type of sound and singing in English. Spanish was something that I barely touched while in Selebrities, and so when starting my solo album, the need to write in my native language was so clear that I followed my feelings and went for it.
Going from being in a band and a collective identity to starting a music career alone is a pretty bold transition. Was it difficult at first?
I had a genuine fear of writing by myself since I had never done this before, but it quickly became a fun learning experience. It was difficult to no longer have someone giving me feedback but I worked around that successfully, and it felt really rewarding. My ways to obtain any feedback was by asking strangers while traveling what they thought of a melody or a part of a song—that, and reaching out to good friends for constructive criticism.
Did you grow up singing/songwriting?
I consider myself still a beginner singer and songwriter, someone who really is still starting out. I think many years from now I'll call myself a singer/songwriter perhaps. 
Being of a different cultural background, what was your experience like moving to America? Would you say you've always had a strong sense of identity?
It was challenging. I felt very much the need to belong and be a part of wherever and whatever was happening for a very long time. This need to belong—I think it created a sense of longing eventually for my country and culture. So that's also why I decided, in a way, to go back to my roots.
Do you identify more strongly with either American or Ecuadorian culture? Or both?
A bit of a mix. By now I have spent a half of my life in Ecuador and half here in the U.S. I know I've adopted a lot of American values and behaviors. 
How has your relationship with languages evolved since your time here?
English is my second language. I started learning it from a very young age. When I was a kid, I had a ton of foreign friends and we mostly communicated in English. One of the first phrases I learned in English was, "Run away Simba, and never return" from
The Lion King
. It's crazy how much one can learn from movies and music. When I moved to the U.S., I mostly became friends with Americans, therefore, leaving Spanish behind as just a language to communicate with my family. Eventually, I started really missing it here in NY and kept finding ways to practice. Either by forcing my Hispanic friends to talk to me in only Spanish or talking to people on the street or at the bodega. Wherever I could.
What does Amparo mean?
Amparo
roughly translates to provide shelter and protection. To embrace. I wrote this album as a means to return to my culture and language.
How did you and Caroline Polachek come to collaborate together for this album?
Caroline had heard a couple of demos I wrote, and she approached me to co-produce the record. It was perfect to have her involved not only for her expertise as a producer but the fact that she is a good friend. We had the most amazing time working on this together for two months in the death of winter. It was our escape from the cold to play with tropical sounds.
What is one of your fondest memories from your travels?
I remember being in Santiago at a restaurant with some friends and listening to this band play. The band had a piano player, a bongo player, a classic guitarist, and a singer. All in their 50s and older. They played Pasillos which are very folkloric traditional Spanish songs. Super romantic. Her voice blew me away... she sounded like Mercedes Sosa, so deep and powerful. This moment was the beginning of my re-appreciation for traditional music from Latin America and Spain.
Do you have any plans after this album?
I'm in the process of touring for a little while. But after that going back to the studio to write some more tunes!