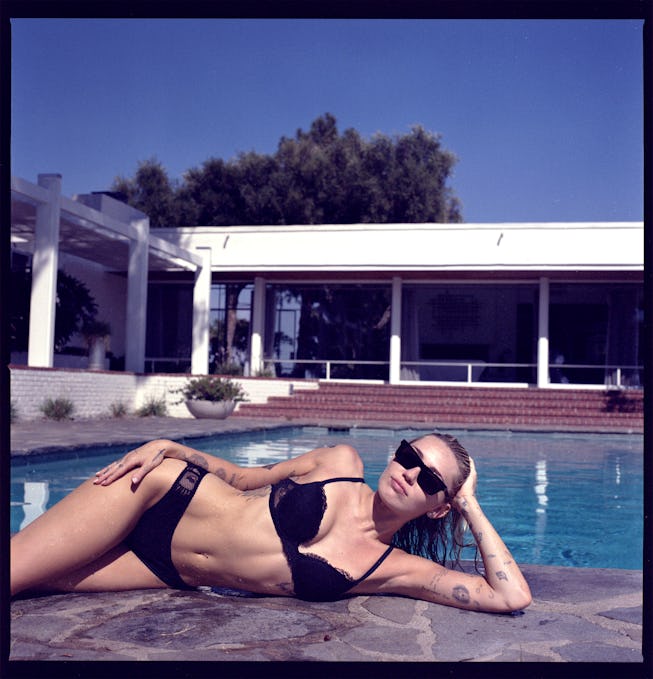 Marcell Rév
On "Flowers," Miley Cyrus Is Still In The Throes Of Moving On
It's difficult to get over a break-up. But I'm feeling nostalgic for a Miley who isn't always singing about or to a man.
When word that broke Miley Cyrus was back in the studio with Mike WiLL Made-It for her new album, a large section of her fanbase sighed in relief. Finally: a Bangerz 2.0 was on the way, and Miley, after a turbulent few personal years, is back in party girl mode. The arrival of "Flowers," the lead single of her upcoming album Endless Summer Vacation, however, isn't exactly that — but isn't not exactly that either. Released on Friday, the funky, mid-tempo, disco-lite tune is a shimmering revel in reinforced self-love and self-reliance, as evidenced by its core lyric, "I can buy myself flowers" — but it also makes clear that the singer is very much still in the throes of moving on.
It doesn't take a detective to gather who "Flowers" is likely about. Though it's never directly stated, clues overwhelmingly point to Liam Hemsworth, Miley's ex-husband and the man who appears to be the big heartbreak of her life. "Flowers" was released on Jan. 13, Hemsworth's birthday, fans have gleefully pointed out. And a listen to its lyrics refer to specific events the two shared throughout their decades long relationship.
The song starts on a wistful note, reminiscing about a past relationship that ends on the biggest signifier that she's talking about Hemsworth. "We were good, we were gold/ Kind of dream that can't be sold/ We were right 'til we weren't/ Built a home and watched it burn," she sings. That last line undoubtedly feels like a direct reference to Hemsworth and Cyrus' shared Malibu home, which they devastatingly lost in 2018 to the Woosley fires.
On the song's pre-chorus, Cyrus admits to not wanting to end their relationship, admitting: "Mmm, I didn't wanna leave you, I didn't wanna lie/ Started to cry, but then remembered I." Before doing a 180, and remembering that at the end of the day she can still lean on herself.
"I can buy myself flowers/ Write my name in the sand/ Talk to myself for hours/ Say things you don't understand/ I can take myself dancing/ And I can hold my own hand/ Yeah, I can love me better than you can," she sings on the chorus.
The song's second chorus gets a bit more vague, as she references roses and feeling no regrets from how things turned out. "Paint my nails cherry-red/ Match the roses that you left/ No remorse, no regret/ I forget every word you said." Before the song wraps up with a few more repeats of the chorus and the lyric, "Can love me better," which by the end begins to gently loop like an urgent, comforting mantra.
Those keeping up will know it's been a few years since Cyrus and Hemsworth parted ways; the two, after getting married in 2018, separated just a year later in 2019, with their divorce being finalized in 2020. Naturally, their dissolution has been a major theme of Cyrus' art and musical releases since then. Her 2020 record Plastic Hearts, though a vibrant riot of rock 'n' roll and disco, vulnerably plunged into the emotional aftermath of their breakup. Songs like "Angels Like You," and "Never Be Me," and "Hate Me," expressed how Cyrus was feeling at the time: inadequate and reluctant to fully let go, yet still sober enough to see how the relationship was flawed.
With "Flowers," arriving over two years later, it seems time still hasn't fully eradicated Hemsworth's presence from her mind. And if some fan theories are to be believed, the new song even appears to nudge at the actor more directly. Release date and lyrics aside, fans have noticed "Flowers" sounds very similar to Bruno Mars' 2012 hit "When I Was Your Man," the song Mars wrote when his girlfriend Jessica Caban broke up with him. The chorus melodies of both songs are almost uncanny — close enough to be considered a sample or interpolation (though "Flowers" doesn't officially credit Mars) — with Cyrus' lyrics even mirroring those of "When I Was Your Man." When Mars sings, "I should've bought you flowers," Cyrus changes the line to: "I can buy myself flowers." The significance, some fans believe, is that Hemsworth once dedicated "When I Was Your Man" to Cyrus, though that claim is unconfirmed.
It's a difficult task to get over a break-up, and it's a monumental, impossible one when you believe that person to be the great love of your life. Their memory is something that will live with you forever (as Cyrus said of Hemsworth in an interview during the release of Plastic Hearts, "I really do and did love him very, very, very much and still do, always will") — or at the very least become something you can milk for your art for years to come. I get it. And maybe, Cyrus wrote "Flowers" many years ago, when the wound was still fresher. But I also feel nostalgic for the Miley who isn't always buried under layers of relationship grief, who isn't always singing about or to (no matter how sideways) a man. The upside is "Flowers" is only the beginning of an Endless Summer Vacation — and, as we know, summers are long and often get rowdy.
See everything we know so far about Endless Summer Vacation.