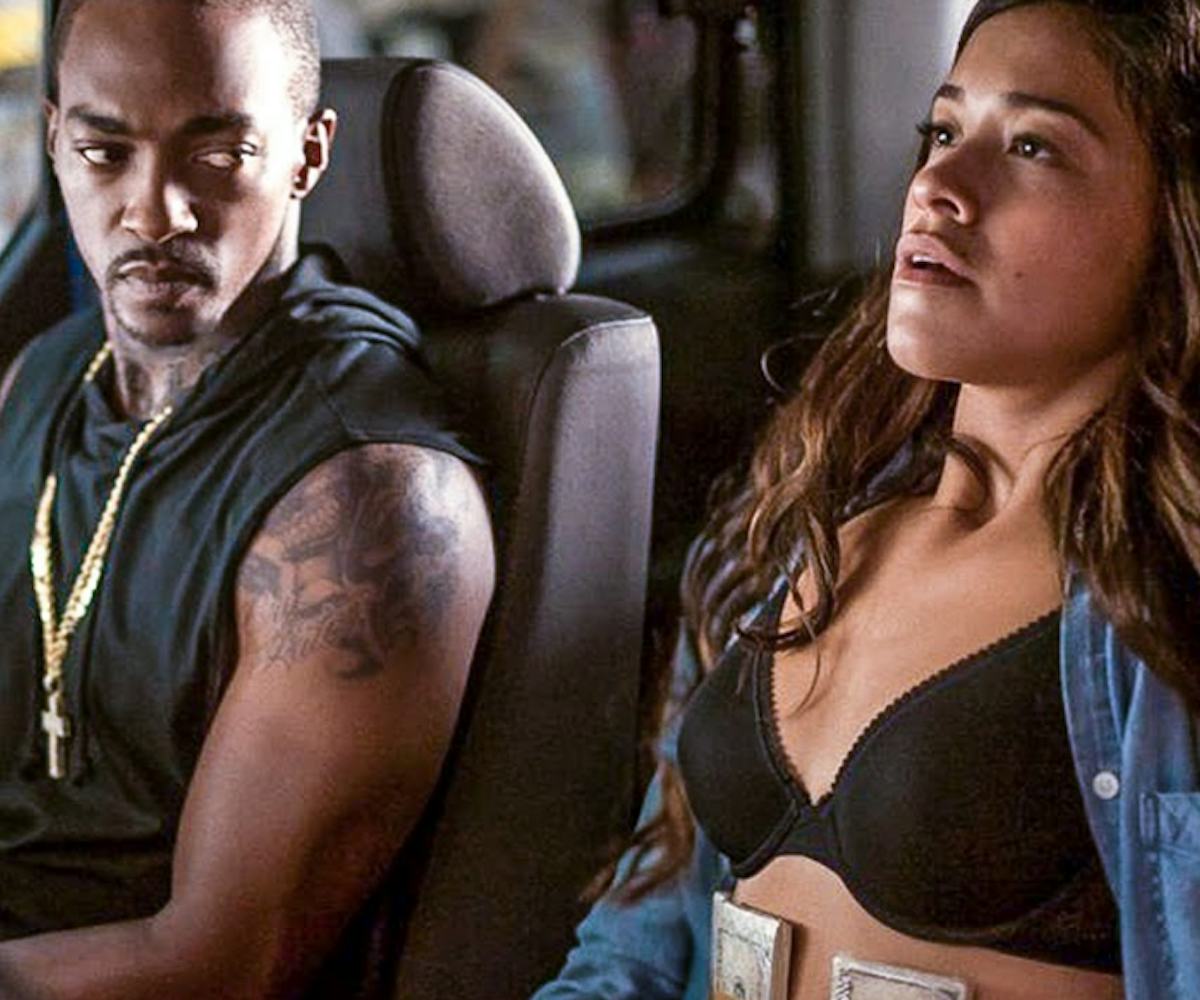 In 'Miss Bala,' Gina Rodriguez Is A Beauty Queen/Drug Mule/DEA Mole
So it's sort of a spiritual sequel to 'Miss Congeniality' or maybe 'The Mule'
In a spot for Miss Bala which you may have seen on Hulu unless you're one of those freaks who watches TV without commercials, clips from the film are interspersed with star Gina Rodriguez talking about how the crew of Miss Bala is around 95 percent Latinx; that's a statistic which the film's director Catherine Hardwicke also brought up in a piece, timed to the film's release, assessing the state of play for women filmmakers, and imploring readers: "Find out which films are directed by women, written by women, shot by, edited by, etc., and go see them on opening weekend—with your friends and family. Post about them on your socials—spread the word!!!"
It's a depressing bit of conventional wisdom that every Black Panther or Ocean's 8 or Crazy Rich Asians has to be a hit, that a generation of art by and for people of color or women or queer people will or won't get made depending on what this one and only test reveals about future projects' potential to do the kind of business that looks good on quarterly earnings reports. So it then becomes our responsibility to expend our time and money and attention on the art we believe should exist. The marketing team on Miss Bala wants us to remember that those stakes apply here, too—even as the movie itself, as an actual art object, is very much a victim of too much thinking about the business of representation. Starring Rodriguez as an accidental beauty pageant contestant who gets caught up in the Mexican drug wars, the film takes on a bet-hedging action movie structure which I'm not the first critic to call "generic," and gives it a bit of female empowerment gloss meant to reassure activist consumers.
In Rodriguez's signature role, on Jane the Virgin, she plays a relatable working-class dreamer who leans in so hard she takes pratfalls, someone who is ambitious, impatient, loyal and loving, almost fussy in her virtuousness. Her first Hollywood star turn picks up from there.
In Miss Bala, a remake of a 2011 Mexican film, she plays Gloria, first seen sketching out a concept at her desk before sprinting off to an entry-level job where they begrudgingly appreciate her work ethic but underestimate her ideas. A Los Angeles-based makeup artist with a U.S. passport, she then drives down to Tijuana, where she's from but where everybody has an excuse for speaking English to her (to practice; out of nostalgia for their own time in the States; because of their impatience with this gringa), in order to glow up her childhood BFF Suzu (Cristina Rodlo) in time for the Miss Baja beauty pageant. (Gloria's such a regular gal, a pageant official mistakes her for a contestant and rolls her eyes, apparently stunned that Gloria would consider herself beautiful enough to enter. The celebrity-media-beauty-industrial complex is absolutely powerful enough that even looking like Gina Rodriguez or Jameela Jamil is not a protection against body dysphoria! But the scene is still dumb and pandering.)
Gloria and Suzu go to a nightclub to flirt with a handsy Mexican police general who is said to have pull with the Miss Baja judges, where a gunfight between cops and cartels breaks out, and they're separated in the crossfire; during her attempt to find her friend, which is perhaps informed by an all-American belief in her own imperviousness to violence and injustice, Gloria is abducted by a Mexican gang, and becomes a border-crossing mule, a DEA mole, and finally a honey trap, entering and winning the beauty pageant as part of some kind of assassination plot, in a twist which I swear made more sense in the original.
The 2011 Miss Bala was an allegory for the way crime, corruption, and U.S. law enforcement adventurism worked together to entrap everyday Mexicans. ("Bala," by the way, means "bullet.") Though perhaps a bit too well-directed with its virtuoso long takes, it was also credibly sweaty-palmed and claustrophobia-inducing. Here, Hardwicke borrows some images from original director Gerardo Naranjo, but they're just punctuation amid all the aerial establishing shots and gangster decadence. Rather than a terrible cement-walled club with beaded curtains made of old CDs, the early shootout takes place in a club with EDM strobe lights and dozens of extras in rap-video minidresses.
Rodriguez remains relatable in Miss Bala—it's just that the tone of the action around her has shifted. Her anxiety is horrible to watch, and the editing is effective, timed to her jagged breaths in raw-nerve suspense sequences; for most of the movie, she's heroic simply for not hyperventilating. Yet the movie also plays cynically with this tension of powerlessness, repeatedly holding the threat of sexual violence out over her, only to withdraw it when a menacing cartel guy is called away for an important phone call or something; her main handler is a killer, but he was deported from California as a child, and dreams of leaving the thug life behind and buying a ranch. Plus, he has dreamy eyes. People are so complicated! If the Mexican Miss Bala was a drama of "domestic violence on a national scale," per Manohla Dargis, then this is the Hollywood version, never more so than in the moment when Gloria becomes a survivor by picking up a gun.
The power shot from the preview, of Rodriguez in a full blowout, thigh-split red gown and stiletto heels, one hand slamming a clip into the AR-15 she holds up and down with the other, is, I regretfully report, neither a Tarantino-esque tongue-in-cheek grindhouse fantasy nor a parody in the vein of the increasingly wan post-Heathers cycle of girly black comedies. At least Mena Suvari in Sugar and Spice was, like, ironic; in Miss Bala's case it's honestly pretty weird that an entire progressive production apparatus was tasked with creating an icon of enlightened female aspiration and came up with a glam girl holding an assault rifle, like the "Chicks Who Love Guns" video from Jackie Brown, or Kaitlin Bennett's Twitter feed.
I want to make a point that isn't particularly groundbreaking, but which I humbly submit is worth bearing in mind when thinking about Miss Bala, if for whatever reason you ever think about Miss Bala again after closing this tab. The relationship between representation and opportunity, and aesthetics and politics, is not linear. Miss Bala is a Hollywood genre movie with a 95 percent Latinx cast and crew. That people from all walks of life are able to have the status, creative fulfillment, generous compensation, and high-level experience and network access that comes with working on a Hollywood film set is, in and of itself, a worthy end, and a symptom of a healthy society (and the Hardwicke essay I linked to earlier above has some good suggestions about addressing the gender imbalance in filmmaking). The formula by which this translates to the quality or ideology of what we then see onscreen—and how ideology and quality relate to each other, for that matter—is a harder equation to solve, as well as a less urgent one. Will we get better, more thoughtful art if more movies like Miss Bala are allowed to exist? I dunno, dude, probably? Let a hundred flowers bloom, let a hundred schools of thought contend.
Because here's a funny thing: Miss Bala is being released as the President conjures forth, from his fetid imagination, increasingly lurid scenarios of female victimization and torture at the hands of unsavory characters from south of the border, in order to reinforce racist hegemony. And this movie, with its sexual threats, fantastical gangster glitz, and automatic weapon shootouts just south of the border checkpoints, is an appreciably more alarmist depiction of Mexican drug cartel activity than Trump-supporter Clint Eastwood's The Mule.