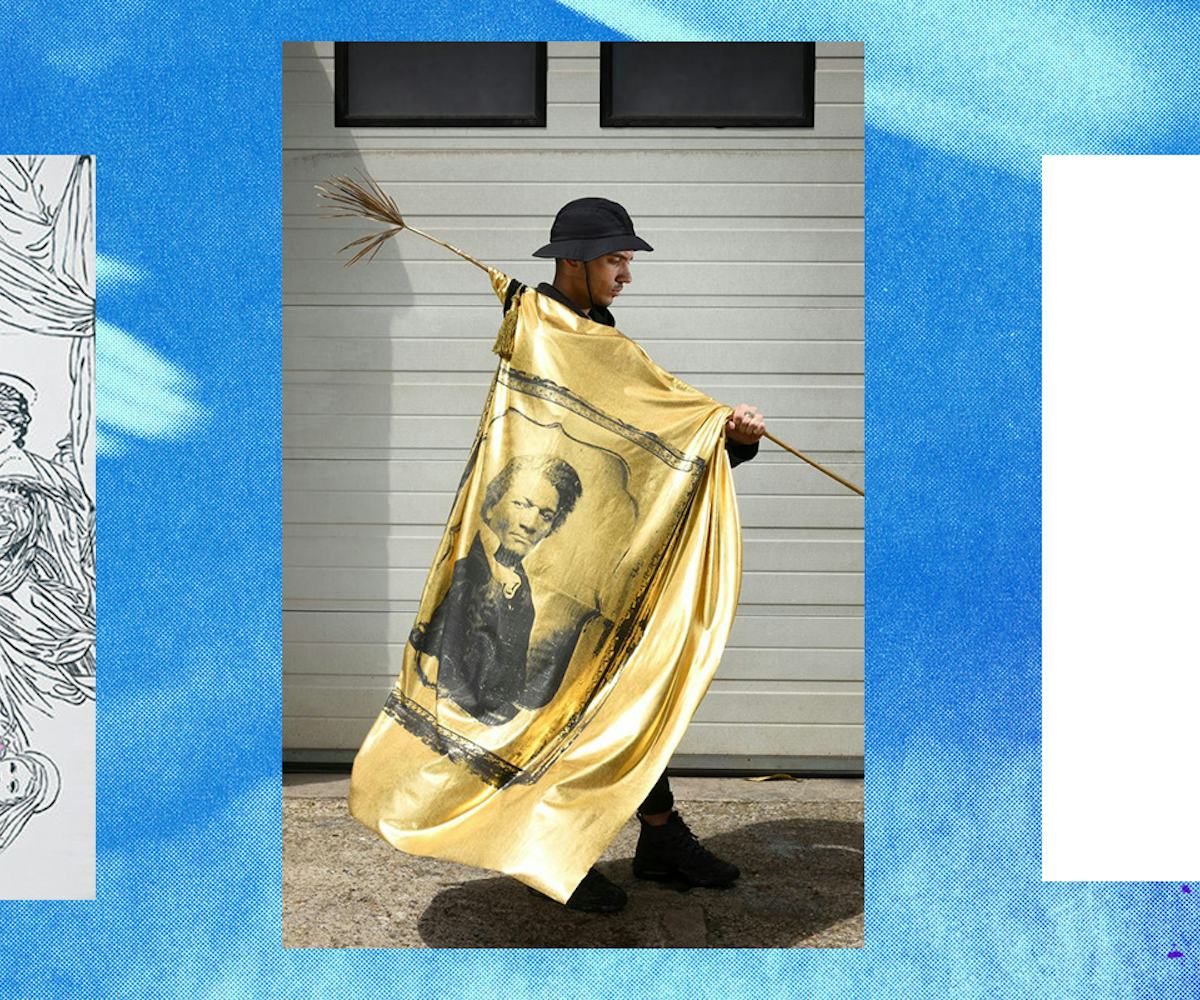 Photos courtesy of The Warhol, SCAD Museum of Art, Portland Art Museum
From Virgil Abloh To Andy Warhol: The Best Museum And Gallery Openings This Fall
Here's what's coming to your city
This fall, museums and galleries all over the country are celebrating famous names and interrogating the work that they've created. The Virgil Abloh retrospective that showed in Chicago over the summer is now stationed in Atlanta, and there are other exhibitions celebrating Yayoi Kusama, Andy Warhol, and Francesca Woodman, to name a few. Whether a survey of an artist's life work, a documentation of a specific moment in time, or just a celebration of a single collection, all of the following openings are worth visiting.
Below, we've rounded up the best exhibitions opening this fall, all over the country.
NEW YORK
Metropolitan Museum of Art, "In Pursuit of Fashion: The Sandy Schreier Collection," on view November 27-May 17
Take a look inside couture and ready-to-wear collector Sandy Schreier's personal wardrobe. The collector racked up an array of French and American garments that are more than just wearable—they're works of art. TBH, this is the kind of closet I wish I had.
Museum of Modern Art, "Betye Saar: The Legends of Black Girl's Window," on view October 21-January 2020
Saar is a printmaker whose 1969 autobiographical work Black Girl's Window explored her African-American identity and connection with mysticism. This exhibition will present some of her early works on paper and expound upon her most recognized work.
Museum of Modern Art, "Private Lives Public Spaces," on view October 21-July 20
Back in the 1920s when small-gauge film stock was becoming available for public use, people used it to document their lives in a way that seems normal now, but was anything but back then. This is a showing of some of these early amateur works, and has me wondering if, years from now, our iPhone photos might be recognized as art.
FIT Museum, "Power Mode: The Force of Fashion," on view December 10-May 9
There's no denying that fashion influences everything from art to commerce. This exhibition promises to show exactly what our fashion choices contribute to "establishing, reinforcing, and challenging power dynamics within society."
CHICAGO
Art Institute Chicago, "Alexandra Bachzetsis: Chasing a Ghost," on view October 31-November 2
This performance, constructed by choreographer Alexandra Bachzetsis, is a series of duets using two pianists and four dancers, referencing the "doppelganger, the mirror image, and uncanny doubling" within the common dance setup.
BALTIMORE
Baltimore Museum of Art, "Generations: A History of Black Abstract Art," September 29-January 19
"Generations" takes a look at the ways in which the abstract style was used by Black artists throughout the decades, whether it be a political statement or a personal connection. According to the museum's site, "The freedoms of postwar abstraction took on specific urgency as these artists resisted both the imagery of racist mainstream culture and pressures to create prescribed, positive representations of Black Americans."
PITTSBURGH
The Warhol, "Andy Warhol: Revelation," on view October 20-February 16
When Andy Warhol was young, he went to church multiple times a week with his mother, meaning he had an extensive knowledge of the Catholic faith and its practices. Here, we'll get to see what kind of an impact that had on his work.
Silver Eye Center for Photography, "Leonard Suryajaya: Novi, Dear," on view October 31-January 11
Suryajaya takes elaborate and intricately crafted portraits of friends, family, and complete strangers to question our connections and the ways in which our identities interact with each other.
BOSTON
ICA Boston, "Beyond Infinity: Contemporary Art after Kusama," on view September 24, 2019-February 7, 2021
This show places Yayoi Kusama's work in conversation with artists who came after her, and focuses on three aspects of her work: repetition, the self, and the kaleidoscopic.
SEATTLE
Henry Art Museum, "In Plain Sight," on view November 23-April 26
"In Plain Sight" will give a platform to identities that aren't typically given space in the art world, focusing not just on works that are activist in nature but also those that document what is happening that we may not be given the chance to see.
PORTLAND
Portland Art Museum, "Question Bridge: Black Males," on view September 28-January 12
Artists, designers, and ethnographers are working together on this continuous documentary project which aims to show how Black men experience life and how they are impacted by the stereotypes that our society places on them.
Portland Art Museum, "Hank Willis Thomas: All Things Being Equal…," on view October 12-January 12
This retrospective focuses on how inequality and prejudice are perpetuated in our society. In "All Things Being Equal," Thomas "invites us to consider the role of popular culture in instituting discrimination and how art can raise critical awareness in the ongoing struggle for social justice and civil rights."
DENVER
Museum of Contemporary Art Denver, "Francesca Woodman: Portrait of a Reputation," on view September 20-April 5
This exhibition focuses on the early life and adolescence of artist Francesca Woodman, who established her creative voice surprisingly early and who tragically died by suicide at the age of 22.
ALBUQUERQUE
Levy Gallery, "Mick Burson: Wend," on view October 11–December 13
Burson hasn't stayed in one place for the past six months, and this exhibit shows what that looked like for his art. "The work reflects the performance of moving, unpacking and re-packing, finding familiars as an act of grounding, and a continued life-long performance of wandering around while appearing to have a destination," he told the gallery.
ATLANTA
High Museum, "Virgil Abloh: Figures Of Speech," on view November 12-March 8
Abloh's "Figures of Speech" which was on display in Chicago over the summer is moving to Atlanta for the fall, so here's another chance to see the history of the iconic designer's career so far.
KANSAS CITY
Nelson-Atkins Museum of Art, "Access+Ability," on view October 19-February 9
Over 70 ability-inclusive designs created over the past decade will be displayed together, whether simple or complex in design.
Kansas City Artists Coalition, "Hugo Ximello-Salido: Dead is Natural but Our Reactions to Dead are Unnatural," on view October 4-November 22
Using ancient Mexican traditions and techniques in his contemporary pieces, Ximello-Salido "bridge[s] the gap between past and present" and shows what has stayed the same in his culture.
CHATTANOOGA
Hunter Museum, "Noel W. Anderson: Blak Origin Movement," on view October 11-January 12
Anderson weaves and then completely reworks tapestries out of found imagery from media and archives, which she has distorted and manipulated, resulting in images that are hard to make out. That's the point: This practice "attempts to dissect the distortion of black males in contemporary culture and media," which is sure to make for an incredibly moving exhibition.
WASHINGTON, D.C.
National Gallery of Art, "The Touch of Color: Pastels at the National Gallery of Art," on view September 29-January 26
This inclusive exhibit traces the history and varied uses of pastels in art, and how artists have experimented with varied techniques while using the same tool.
SAVANNAH
SCAD Museum of Art, "Raphaël Barontini: The Golden March," on view October 3-January 5
Barontini creates works that layer screen printing and painting, and which aim to dissect visual tropes. Here, he "explores ritualized celebration forms espoused by the African Diaspora and offers an ongoing interrogation and challenge to colonial iconographies."
SCAD Museum of Art, "Michael Cinco: Impalpable Couture," on view October 10-January 5
Be prepared to drool over the exquisite, detailed work that has gone into each of the jeweled gowns by fashion designer Michael Cinco exhibited here, which I wouldn't ever dare to touch, much less wear.
ORLANDO
University of Central Florida Art Gallery, "Coalesce, Curated by Erika Hirugami," on view September 26-November 1
"Coalesce" gives a platform to Latinx individuals who have intersectional identities within that identity marker. The term encompasses so many communities and cultures, which then creates tension within its barriers, which this exhibition will address.
LOS ANGELES
LACMA, "Julie Mehretu," on view November 3-May 17
This is the first career retrospective of the artist Julie Mehretu, and has been organized in conjunction with the Whitney Museum of American Art. Dozens of pieces spanning from about 1996 to now show the myriad ways in which she has questioned and analyzed topics like history, colonialism, capitalism, geopolitics, war, global uprising, diaspora, and displacement in her work.
LACMA, "Do Ho Suh: 348 West 22nd Street," on view November 10-October 20
Do Ho Suh has completely reconstructed his New York City apartment out of fabric, right down to the toilet in the bathroom. The realistic outline of the apartment gives you the eerie feeling that it could actually be real, until it's hit by a breeze, which positions it, as the museum notes, as a "physical manifestation of memory."
SAN FRANCISCO
San Francisco Museum of Modern Art, "Soft Power," on view October 26-February 17
The phrase "soft power" has been taken from the idea that "soft" assets like "political values, and foreign policies" can be just as or even more powerful than overt, cruel manifestations of power. Here, the SFMoMA places art in the mix as one of those powerful assets, and implores members of the audience to tap into it for themselves.
HOUSTON
Anya Tish Gallery, "Johan Barrios: Monólogo," on view October 25-November 30
Barrios' paintings are self-portraits that definitely don't look like traditional works or even selfies—instead, they're bizarre and often surreal. Says the artist, "All these self-portraits try to give an irrational look at how we are exposed to a symbolic solitude that distances us from any collective system."
Houston Center For Contemporary Craft, "Nathalie Miebach: The Water Line," on view September 28-January 5
Basket weaver Nathalie Miebach has created a large-scale installment inspired by a nontraditional muse: weather data. Miebach has interpreted data from major hurricanes to show both their impact on the environment and the people whose lives were impacted because of them.
AUSTIN
Women and Their Work, "Preetika Rajgariah: Wild, Wild Country, on view October 5-November 14
This exhibition will explain the ways in which yoga has catapulted from a Hindu tradition into a mainstream everyday practice, and questions how the roots of the spiritual form have been shifted, and whether it counts as appropriation or appreciation.