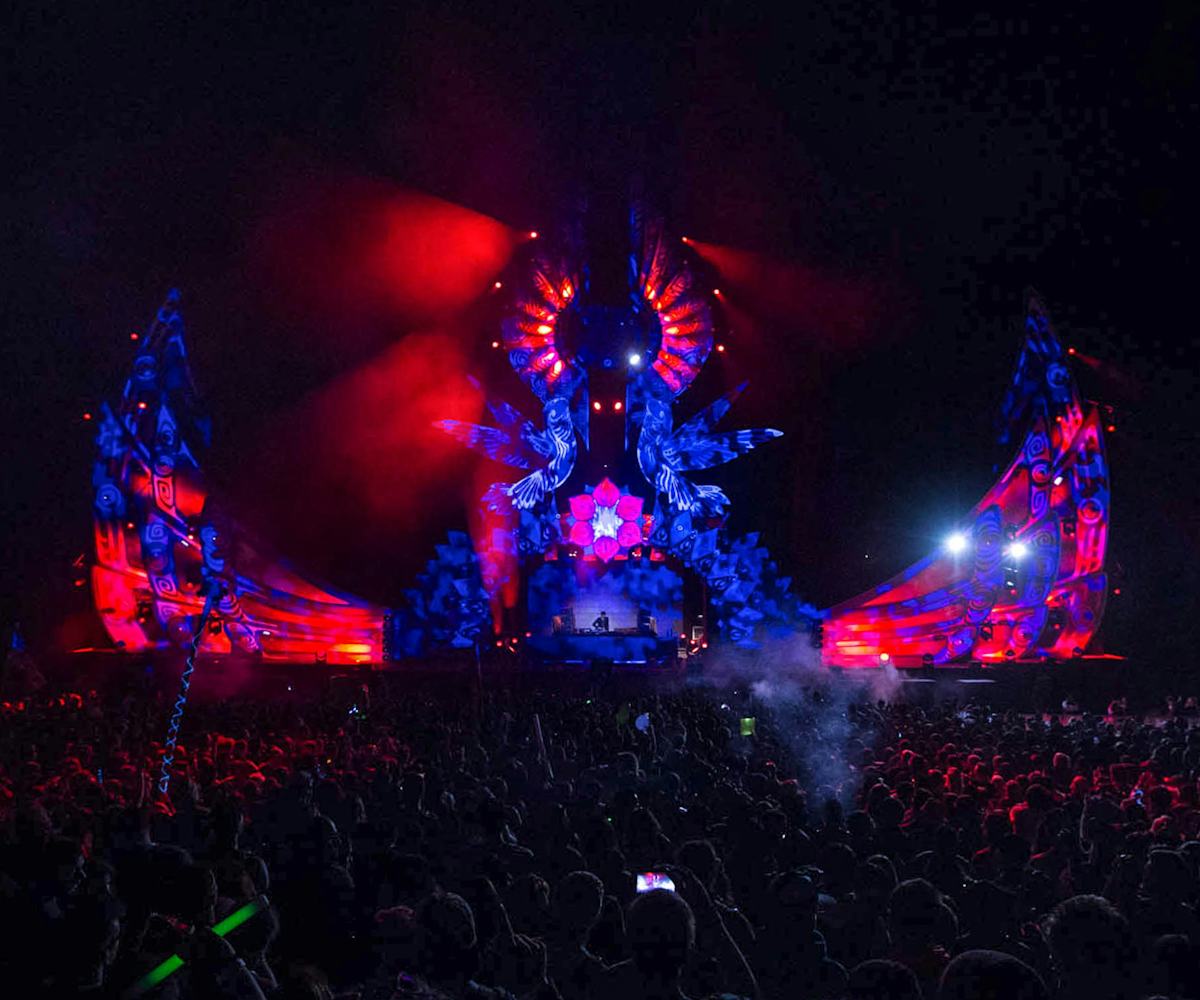 Photographed by Steven Simione
22 Mystical And Magical Mysteryland Moments
Try saying that fast three times
Mysteryland: an event that dates back to 1993 and is now the world's longest-running (electronic) music, culture, and art festival. Originating in the Netherlands, the first international edition of Mysteryland was held in Chile in 2011 before making its way to the USA and the legendary Woodstock '69 Festival grounds in 2014.
This year we were invited to stay at the Mysteryland Private Estate in Barryville, New York. The estate sits on over 200 acres of land and included three days of morning yoga and workouts, afternoon brunches, pool parties, ping pong courtesy of SPiN and surprise performances from this year's artist lineup.
Headliners at the three-day festival were cream of the crop, such as Skrillex, Bassnectar, The Chainsmokers, Odesza, Young Thug, Zeds Dead, XXYYXX, and Ty Dolla $ign, amongst many others. The artists weren't the only ones to see at the festival, however. There were also tons of other attractions, like the Comedy Club takeovers (featuring Kyle Mooney from SNL), the Healing Garden—where festivalgoers were able to replenish their bodies by partaking in sunset yoga—dance sessions, and classes such as How To Create Transformative Art. This festival was truly like no other. Sitting in the heart of Bethel Woods Center for the Arts (you know, the place Woodstock was held?), one felt in tune with nature and their surroundings and inspired by the creative energy flowing throughout the festival. Check out the gallery below for some of the mystical moments from the festival.
The Mysteryland private estate. Sweet digs, eh?
Prints, on prints, on prints for the photo booth.
Check NYLON's own video editor, Tina Vaden, rocking out with some fellow partygoers.
LIQS was in the house. Shots, anyone?
iHeartMedia stopped by to lay down some jams.
Whatever! Eye donut care.
"Before I leave, brush my teeth with a bottle of Jack..."
Now, if only there were an actual pizza on that pizza float.
Very witchy. Very mysterious.
The Sons of the Harpy were there.
Do you believe you can fly? Do you believe you can touch the sky?
Wait. Wait. Wait. Those rainbow shoes are very necessary summer essentials.
Get a load of that Luminarium Light installation.
Spread your fringe and soar.
Hey, what's everyone looking up at?
Oh! That's what everyone was looking up at. Such fire. Much hot.
Please say The Chainsmokers will never let us go.
Light up your life.
Mood. Always.
Girl, we all know sitting on someone's shoulders is, like, the big no-no at festivals, but look how cool the photo is.
Amtrac is rainbow bright!
Gesaffelstein mood.