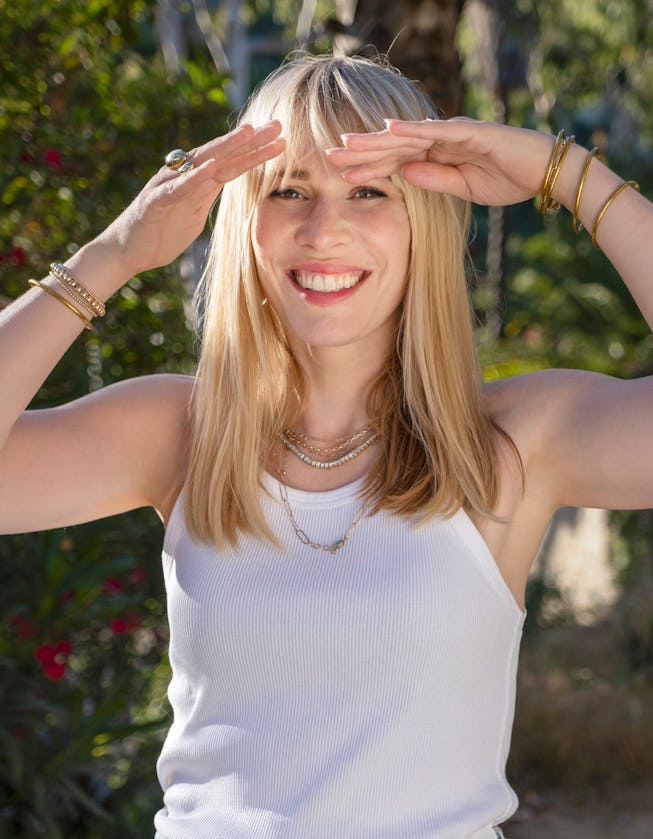 Dayne Malan
Natasha Bedingfield On "Unwritten" & The Power Of A Truly Good Song
The songwriter reflects on the legacy, and recent resurgence, of "Unwritten."
It was the anthem of sunny summer days, of mall hangs, of riding in the car going home from soccer practice, and, of course, of "The Hills." The breezy opening notes of Natasha Bedingfield's "Unwritten" make you want to spin in a dress like in those tampon commercials but completely in earnest — the 2004 pop hit is an anthem from simpler times.
Over the last few months "Unwritten" has (deservedly) resurfaced in the collective cultural consciousness, thanks to TikTok and an ingenious dance trend started by user @rony_boyy. Using a sped-up and trapified remix of the song created by @Escoupp and Shawn P, the dance, in which one shyly marches forward before breaking out into full choreography, has taken over theme parks, malls, and likely your FYP. Bedingfield herself has even responded with her own iconic attempt. Beyond the dance fun, "Unwritten"'s resurgence has also been a reminder of how incredibly well that song still holds up over a decade later, with a message that's live-your-life-by-worthy; the rest really is unwritten!
Over a recent phone call, NYLON caught up with the illustrious songwriter from her home in Topanga, Los Angeles, where she reflected on the TikTok trend, the impact of tech on music, and why "Unwritten" has always been bigger than herself.
What brought you to TikTok?
TikTok, I've known about it but it wasn't until recently when I discovered people had remixed my song and there's so many cool dances to it. My friends just started calling me up being like, "You have to get on this now. You gotta engage." [Laughs.] You gotta react!
First I heard about the "Unwritten" trend, which is everybody just lying in the rain and just letting the rain soak them, which was a little bit ago. And I was like, "That's cool." Except it doesn't rain in L.A. so I'm like, "How am I gonna engage in this when we don't even have any rain." It was over the last month or two, people have been sending me videos like, "Hey look, did you know about this?" I mean, the first thing I thought was, "Wow." The [@rony_boyy] dance is so good. They're proper choreographers, that's real, that's not an ordinary TikTok dance. So I thought that was cool.
What's your reaction to seeing "Unwritten" take off and have such a resurgence around Gen Z? A lot of people are hearing your music for the first time, too.
The comments are really fun to read because some of the Gen Zs have not heard the song before which is really fun. I'm a songwriter and I'm a performer, but songwriting, the song is king. The song is everything. A truly good song, it should sound great in whatever form. I think of it like, the production is the clothing and the song is the person, and a song should sound great with just guitar or with a remix. When we wrote "Unwritten," me and my other co-writers, we looked at each other and we knew we had a gem there. And it goes beyond ourselves and our egos of who we are. That song has gone beyond, "Who is Natasha Bedingfield?" It's like, it's the zeitgeist, a message, and it comes from my gospel roots you know, and the challenges that I've gone through, the challenges my co-writers went through. The fact that Gen Z is really, that it means something powerful and something worth dancing to, it's just great. I wanna keep writing songs like that.
Do you have theories on why the song's message is resonating with so many people right now?
I have so many theories, really. An anthem is what a pop song is. It's something that can be for one person, it can be for everyone. And there's just a truth to that song. We were writing it thinking about, "What would you want to hear as a 14-year-old?" What should I have heard when I was 14? What would've been helpful to hear? Particularly in this age group where your grades are so important for the next year and there's so much pressure on what you're gonna be and I feel like a lot of kids have had their futures put on hold and must feel... maybe that's why the song's resonating as well because it is about this thing of like, no matter what happens, you can still write a story, and every good story has some hard stuff in it. Think about every Disney movie. The mom always dies, like what's that about? [Laughs.]
They really love that plot device.
So tragedy happens. Every story has tragedy. Every story has a devil as well, and a demon and something to overcome. I feel like the antidote to all of that stuff is fun. And I say that to myself, "I need to have more fun." We're all too serious and I think, if I can learn that from Gen Z... I'm definitely learning that from my son who's Gen Z. He's a three year old and there's nothing like a good dance party in your own living room. That's been my cardio. I think I'm doing it for my kids but I'm actually doing it for me.
"A truly good song, it should sound great in whatever form."
You posted your own video dancing and participating in the trend; What was your reaction to the response you got? Everyone was complimenting your assets.
My husband, we were joking like, "Oh I was just trying to find a way to connect on social media and I was sitting on the answer the whole time." [Laughs.] Yeah, who knew? I just was trying to keep it light-hearted, keeping the flow, and everyone was talking about my big butt, like that's great isn't it? I wasn't trying to draw attention, I was trying to really, to just do it well. Like just to do the dance. I feel like my booty came out of the closet.
TikTok has really revolutionized the music industry and how people find music these days. Do you have thoughts on TikTok in that regard? As a songwriter does it make you feel optimistic about how music is being listened to these days?
I had a conversation with Imogen Heap about two years ago and she was talking about... she's trying to get all the labels to adjust to technology and to adopt something that is a way of categorizing songs that really honors every single person who was involved in the creation of it. There's technology now that can do that. She was talking about: How do we get the industry to change and grow with it?
Why I mention her is that's the first time I've really talked to someone who is positive about technology and positive about the future. Because a lot of times people, particularly in the music industry, [can be] like, "Oh dear, you can't make money in music." You can, and there's so much demand for it. There's a whole bunch of companies now who are doing that. But I just love that we can grow with technology and I think a lot of these apps are showing that and we're only just starting. We're only at the beginning of what can happen. It's just these things are examples that the demand for music will always be there, it's just the way that it's packaged is gonna change.
We have to protect all the creators. I'm all about honoring people and respecting and giving credit where it's due. So I should say the other writers of "Unwritten," I wanna say that Danielle Brisbebois and Wayne Rodrigues, you know, but then there's every single person that's involved in it. It's truly beautiful how music is created.
Are you working on any new music? What are you up to these days?
Thank you. I've been in a very creative space and I feel really not in my ego about it. I feel it's become much more clear to me what my role in this is and just to really flow and let the creativity come through me. Even seeing how "Unwritten," how it's still uplifting people and people want to dance to it, to me, that shows me that my role in the music industry is to create those songs that make people feel great. So I've just been making some songs like that, I've been writing. Just quietly writing. And when they're ready, I'll put it out.