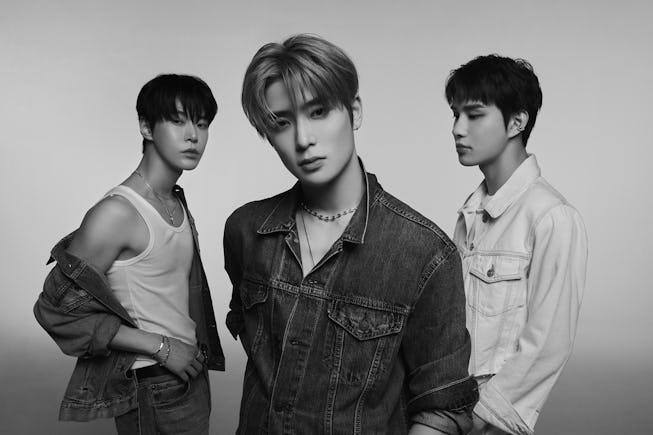 SM Entertainment
NCT DOJAEJUNG Want To Leave A Lasting Impression
Meet NCT's latest sub-unit that's all about their charming vocals.
The NCT family has grown just a little bigger.
On Monday, the new NCT DOJAEJUNG sub-unit finally made its long-awaited debut with the release of "Perfume" and first mini-album of the same name. The new fixed trio — made up of members DOYOUNG, JAEHYUN, and JUNGWOO — is the first of its kind in the NCT universe in that its conception is wholly centered around its members rather than a place (like NCT 127 and WayV), and its members will not be changed out on a rotational basis. Instead, the group hinges on the impressive vocal abilities of DOYOUNG, JAEHYUN, and JUNGWOO, largely considered to be three strong vocalists in NCT and NCT 127 (of which they are all also members).
You can already hear their exquisite vocal synergy on display on the lead single "Perfume," a tantalizing aerosol spritz of a love song that opens with a cloud of harmonies. The rest of the album continues to showcase each of the members' elastic vocal work with no small amount of runs, falsettos, and belted moments included on the project's six tracks that linger in the bright R&B and funk space.
"NCT DOJAEJUNG's album is one that contains our charming vocals," JAEHYUN tells NYLON. "You'll be able to hear various vocal styles so we hope people will enjoy listening to it."
It is a fitting sonic palatte for the album's larger message and manifesto on love and relationships (a fitting theme for a new boy band). "Kiss" draws you in with the pull of "cherry lips," while the album's standout track "Strawberry Sunday" is about the rosy sheen of weekend days spent together, capped by a sparkling dance breakdown at the end. NCT DOJAEJUNG seems primed to be any fan's next big obsession.
Below, get to know the members NCT DOJAEJUNG as they talk love and relationships, perfume, and the lasting impression they hope to leave with this new group.
Tell us about the song "Perfume" — what does it mean to you?
JUNGWOO: "Perfume" is a track with an addictive chorus and a stand-out acapella that speaks about leaving your scent on the other person. We worked really hard on it and it's very special to us since it's the title track of the first mini-album we're releasing as NCT DOJAEJUNG. I hope that this song will remain as good of a memory to those that listen to it.
JAEHYUN: Perfume is an item that is easily approachable by anyone. In that sense, we wanted to get closer to more people and hope this'll be an album that leaves a long lingering scent like perfume.
The 'Perfume' mini album is all about love. What is your best tip to fans about navigating love and relationships?
JUNGWOO: I hope people listen to our music a lot and gain the confidence to softly approach the person they like.
DOYOUNG: I think there are many different versions of love so I want you to know that even if the exact love you're looking for right now isn't around, there are various forms of love everywhere.
What is your favorite song to sing on the new mini album, and why?
JUNGWOO: I'd have to say my favorite song on this new mini-album would be "Kiss." It has an attractive chorus, and I feel that the choreography suits me well.
JAEHYUN: I have a special heart for "후유증 (Can We Go Back)" because it was the first song we presented as NCT DOJAEJUNG.
DOYOUNG: It changes from time to time, but for now it's "Strawberry Sunday." The track freshens up the mood of the album and it's the brightest song on it.
What do you hope to bring to NCT DOJAEJUNG that's different from your roles in NCT and NCT 127?
JAEHYUN: NCT DOJAEJUNG's album is one that contains our charming vocals. You'll be able to hear various vocal styles so we hope people will enjoy listening to it.
DOYOUNG: As NCT DOJAEJUNG, I want us to show power in the midst of comfort. I want myself to look comfortable yet still leave a deeply powerful, lasting impression.