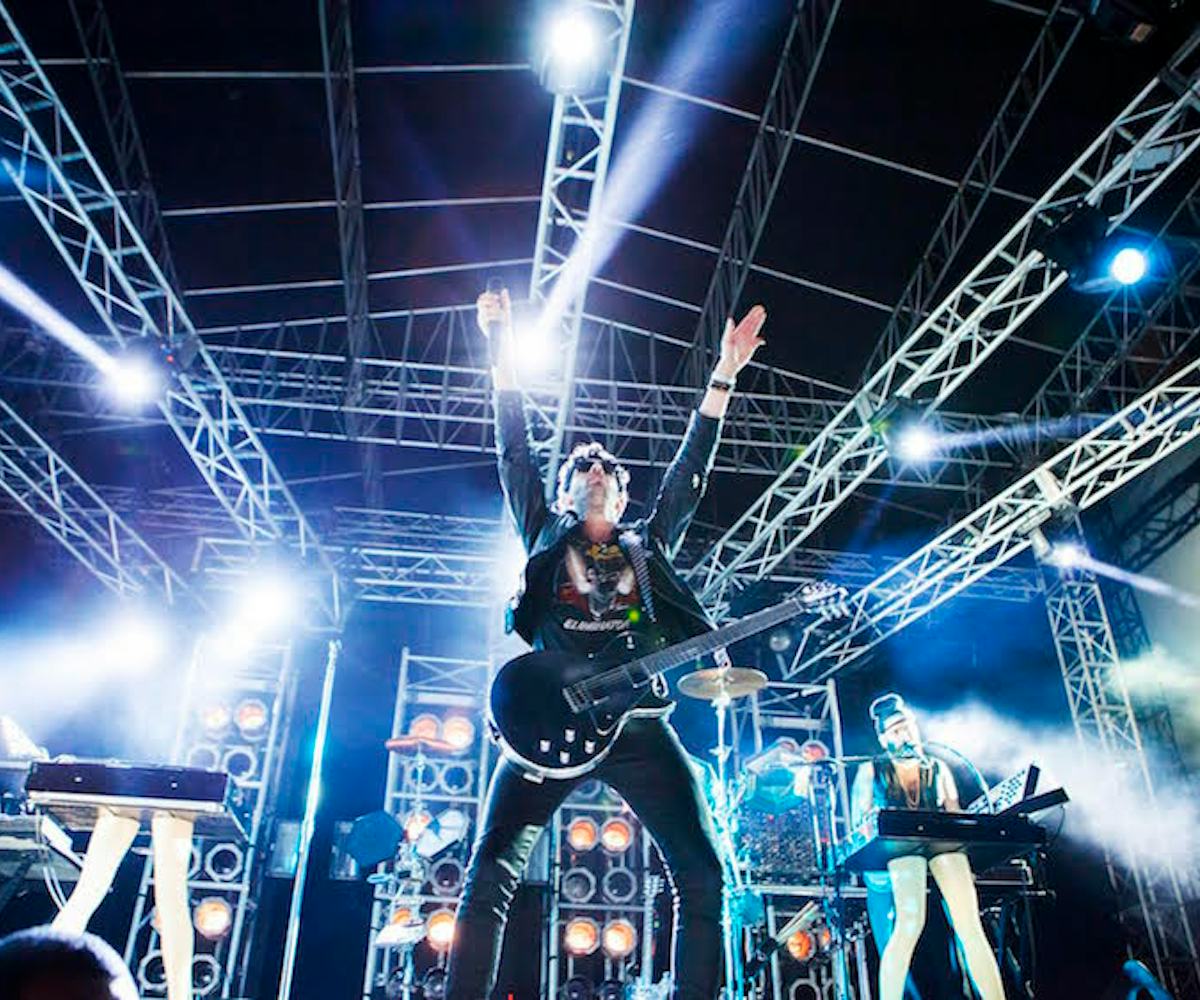 photos by Hilda Pellerano
coachella not your bag? read this
fests to check out before they blow up
To my right, massive waves crash against the rocky southern coastline of the Dominican Republic, the mist crystallizing a giant cone of cotton candy faster than I can consume it. To my left, thousands of music fans absorb Chromeo's bassy synth-funk, booming from speakers that tower next to a yellow-and-black striped lighthouse. I'm at the second Isle of Light festival, which takes place annually on a small peninsula in Santo Domingo, and also features a zip line, gourmet food stands, and glowing pyramids, but none of the quicksand mud, crushing crowds, overflowing porta-potties, or just general stinky-ness of some of the more unwieldy festivals that have been overtaking our Instagram feeds as of late—and probably will continue to do so through the fall.
While it's still getting off the ground, Isle of Light's intention, of course, is to grow, and promoter Phil Hoelting is hoping to expand the festival into a tour of its own that will eventually hit other Caribbean islands as well. "Another big part of doing this event is to showcase what the country has to offer and to give artists a different sort of touring experience from the typical fly-in-fly-out schedule," Hoelting says. "Some ideas we've thrown around include going to Las Terrenas or Punta Cana beach or coordinating a trip out to Samaná to see the humpback whales breach. We also intend to open a venue and to bring artists down to perform at smaller events in the city throughout the year."
For DR music fans, the festival is a chance to see bands like Chromeo (plus Run the Jewels, WhoMadeWho, and others), who might normally fly over the island in between dates in North and South America. Likewise, for the bands, it's a way to reach an appreciative new audience. And for the adventurous international festival-goer, it's an opportunity to see big bands in a more intimate setting, to meet likeminded fans from another country (think: new pen-pals or apartment swappers!), and to learn about the country's culture.
And Isle of Light is not alone. New festivals are popping up in regions that until recently have been underrepresented on the touring schedules of international acts. Lagos, Nigeria, hosted its second Gidi Culture Festival April 4, featuring some of the continent's biggest artists like M.I. and Awilo, and hopes to export the fest into foreign markets by 2018. Coming up are at least three fests in Croatia—For (June 23-25), Hideout (June 28-July 2), and Soundwave (August 6-10)—which all boast popular international acts and beachy vibes. Closing out the season is the increasingly popular Iceland Airwaves (November 4-8), which technically has been going for as long as Coachella has—since 1999, to be exact—in the depths of a Scandinavian winter no less, but who needs sunlight when you've got the northern lights, steamy waters of the Blue Lagoon, and Björk to keep you warm?
chromeo
run the jewels
run the jewels
run the jewels
run the jewels