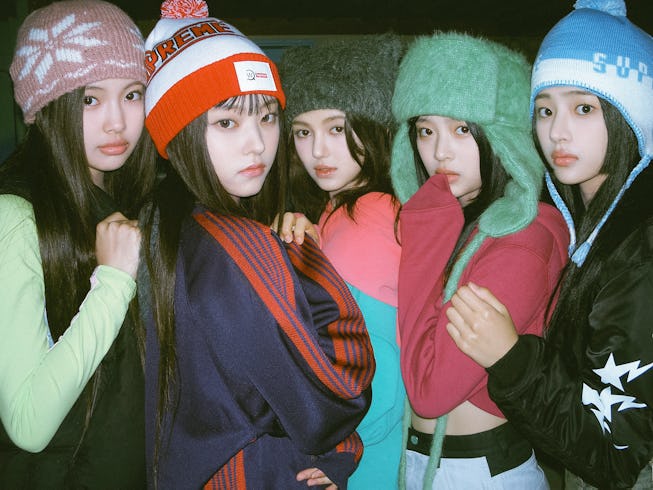 ADOR
NewJeans On "Ditto" & Their 2023 Resolutions
The five-piece group talk songwriting, favorite '00s trends, and more.
In the music video for their new song "OMG," the five members of NewJeans are lost in different realities. As patients inside what appears to be a rehab center, Hanni, Minji, Hyein, Haerin, and Danielle explain their separate delusions. Hanni earnestly believes that she's iPhone's Siri; Minji, a doctor; Hyein, a princess; Haerin, a cat; and Danielle, in a ultra-meta twist, thinks she's a part of the K-pop group NewJeans.
The six-minute cinematic visual directed by South Korean filmmaker Wooseok Shin is as ambitious and whimsical as it is strange — a bold creative decision for a young group who only debuted less than a year ago. But it feels par the course for NewJeans, who's only continued to surprise fans and upend expectations since the release of their wildly popular debut EP last summer. With their latest single album, OMG, released on January 2 — the group continues to establish itself as the industry's biggest wildcard of the moment. "OMG" and its Baltimore-inflected dance B-side "Ditto" (which arrived with its own compelling music video) both dig deeper into the group's youthful coming-of-age concept, exploring parasocial relationships and comforting self-illusions, while expanding the sonic palette of the group's nostalgic and warm throwback sound.
Following a monumental 2022 and award season for NewJeans, which saw their songs consistently top the Korean charts, OMG lands as a bright omen and year to come for the promising group. Below, NYLON caught up with members over email to chat about their new songs, songwriting, and 2023 resolutions.
Minji and Hanni, you both are credited as songwriters on "Ditto" and "OMG," respectively. Do you have an interest in exploring lyric writing and production?
Haerin: We have been challenging ourselves and putting a lot of effort into trying new things since our debut. There are many opportunities, so we are gradually gaining experience and practicing. As they are our songs and albums, each one of us contribute different ideas, so I think it will be a good synergy moving forward.
Danielle: We are given many opportunities to participate in the production, including lyric writing for our songs. Through these opportunities I feel we all have grown an interest towards it, and each member really has their own unique story to tell and interpretation for each song. So I'm looking forward to further exploration of lyric and song writing.
The music video concept for "Ditto" has really resonated with fans online. What was your reaction to the twist, and how did you all interpret it to mean?
Hanni: The message that the music video director and our CEO and head producer Min, explained to us was that the story in "Ditto" is a way of presenting to all the viewers our fans, Bunnies, and their relationship with us! It's represented through a school life theme with this subliminal message and I just loved the idea of our music video being able to portray this message. I feel that this is something that other artists and fans can relate to as well, it shows how sincere and vital that relationship and friendship is. When we first saw how the music video turned out, we were really moved emotionally, and seeing a lot of people that feel a similar type of longing and happiness through the music video makes us very happy.
These songs are giving us a taste of a NewJeans winter. What does a NewJeans winter mean to you?
Minji: Winter always felt cold, chilly to me in a way. But after our debut, this first winter with my members and Bunnies feel the exact opposite, full of warmth and coziness! For me, I now associate winter with an image of warmth, like a cozy blanket!
Hyein: The winter spent together with the members before our debut was full of great memories too, but being able to spend this winter with Bunnies feels even more cozy and warm. And this winter, we're making a comeback with "Ditto," a song that embodies a story about our relationship with Bunnies, and "OMG," which is a song we've been looking forward to showing everyone since our debut. I think this will be a more meaningful and memorable winter!
The NewJeans debut mini album was huge. What was most surprising to you all about the reaction and support you received for the album?
Minji: There was a specific moment when I realized that we were receiving a lot of love. I was walking down the street with my earphones on, listening to "Hype Boy," and when I took my earphones out, "Hype Boy" was still playing in the background in the street. (laughs) I remember being surprised and amazed at the same time!!
Danielle: To be honest, everything really! From our debut to this very moment, the love and support we're receiving is beyond incredible. To me, the most surprising part would have to be how much strength and energy this kind of support has been for me. I couldn't be more thankful!
What is your favorite early '00s fashion trend?
Hanni: There are so many iconic early 2000's fashion trends. I remember seeing a lot of it especially in music videos that were released back then. I think my favorites would have to be the baggy jeans and using bandanas as tops!
What are your 2023 new year resolutions?
Minji: In the new year, I want to see a better version of myself. Also, I want to talk and practice a lot with the members for better performances!
Hanni: My new year's resolution is to discover and learn more about myself, and also to show the world more of NewJeans! 2023 is the year of the rabbit so it's definitely a year that's exciting for us.
Danielle: Personally, I'd like to take on more challenges and focus on growth every year. I want to cherish every moment of this process of growth, and really enjoy the time together with the people I meet along the way!
Haerin: I want to put on a performance that I can be satisfied with! This also means that I want to show my growth as an artist. As we greet the new year, I want to explore a new side of myself.
Hyein: I hope to discover new sides of myself and grow as a person by improving upon my weaknesses along the way! I think this is something that doesn't just apply to 2023, but to myself in a general sense.
NewJean's "Ditto" and "OMG" are out now via ADOR.