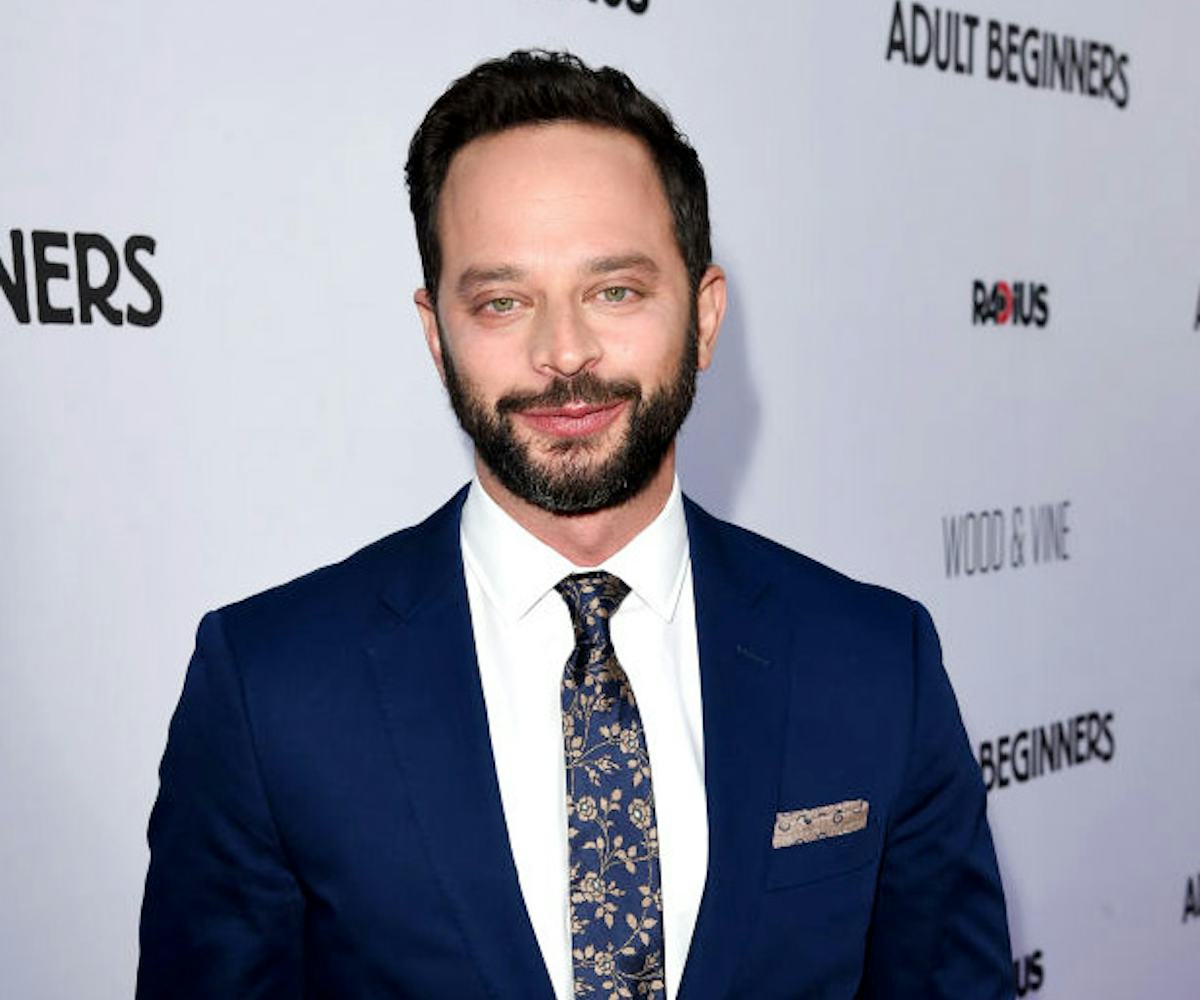 photo by Jason Merritt / getty images
nick kroll talks donald trump, going drag, and life after 'kroll show'
the comedian gets serious, kind of
Three seasons in and Nick Kroll has pulled the plug on Comedy Central's The Kroll Show, his outlandish sketch comedy show featuring the rubber-faced comedian as numerous alter-egos like the unctuous publicist Liz B. and fabulous Fabrice Fabrice, who puts the art in craft services. His exiting The Kroll Show at its peak was risky business, and Kroll has followed that up with Adult Beginners, a feature film he conceived, produced, and starred in. 
In it, Kroll plays Jake, a tech entrepreneur who loses it all and has to move in with his sister (Rose Byrne), her husband (Byrne's real-life man, Bobby Cannavale), and their young son. Read on to find out what Kroll had to say about going out at a high point, trying to be pretty, and the Donald.
What are your thoughts on Donald Trump? 
Trump's one of the all-time greats. To me what's fun about someone like Trump is how powerful they are on paper, but how small they are. Sometimes the opposite becomes interesting—how petty and false they are, given how seemingly important and powerful they are on paper.
You ended The Kroll Show at its peak. It's such an unorthodox move. 
It felt like a natural time to end the show. There are elements of The Kroll Show that are going to live on in various forms. But it just felt like that was its natural time, and I felt very lucky that I get to go and open it up and try new stuff.
Is this the last time we will see some of these characters?
I think a lot of them will live on somewhere and somehow. While I felt like we had come to a natural conclusion, I wasn't sick of any of them. So I think a lot of it could live on, whether it's an animated show or a live performance. 
When you dress like Liz B., or any time you do drag, are you disappointed if you don't look beautiful, or is it a relief?
You always kind of want to look good. Actually, that's not true. A lot of my characters were physically geared to be disgusting, ugly people. I did everything in my power to look as good as Liz can look, just like Liz would do everything in her power to look as good as she can look. 
Vaguely ethnic, gay Fabrice Fabrice has come in for some criticism. Do you worry about treading a fine line?
If you're doing it thoughtfully, then I think you're kind of bulletproof. You can't control people's reactions to what you say. Obviously, because of the web, there's a lot more opportunities for people to take offense at things. I honestly don't concern myself too much with it. What offends someone is funny to someone else, what's funny to someone is boring to someone else. You just have to use your own barometer—just keep trying something new.
Like Adult Beginners.
I was excited to make a movie and be able to do something as an actor that I haven't had the chance to do. I'm doing a couple of movies that are still comedic but also have dramatic elements. Every couple of years, it's nice to reset and let your brain recalibrate what it's interested in. 
Have you known guys like Jake?
This happens to be a full implosion for him. But I think we're all kind of constantly assessing where we're at and whether we like where we're at, or the world is telling us, assessing us, and saying, "You're not good enough to get this thing you want." I think we're all kind of struggling with that.
How close is this to your own experience?
It is based on the fact that I have a lot of nieces and nephews, which inspired the early idea about a guy who seemingly is super self-involved, and is all of a sudden put in charge of his nephew. I love kids. I think the older you get, you start to think about things that people have in life, and seeing people with kids, how gratifying it is. 
And what's next?
I'm continuing to develop new TV shows, both scripted and animated. I'm doing standup, which I haven't had a lot of time to do. Ending The Kroll Show gave me a chance to do stuff that I haven't had a chance to do in a long time.