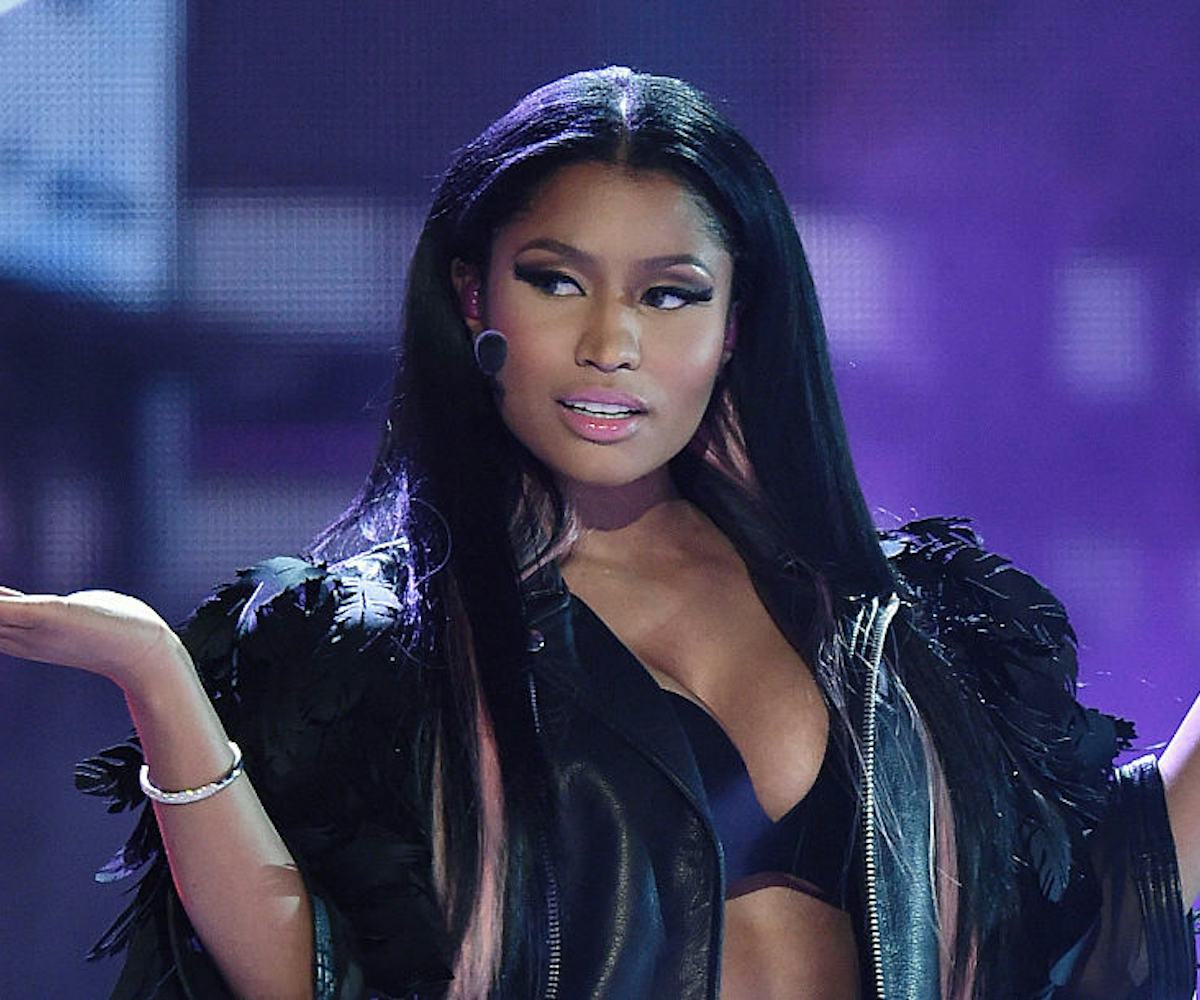 Photo by Ethan Miller/Getty Images
9 Quotes From Nicki Minaj That Remind Us She's The Queen Of Keeping It Real
Nicki Minaj has never been anything less than bold. She doesn't sugarcoat things, and she speaks up for herself whenever necessary. We can all learn from her ways, and, hopefully, we have, because that's been her goal all along. Between 10 Grammy nominations, several world tours, a fragrance line, and now a mobile phone app, it's clear that Minaj isn't slowing down anytime soon. 
We had the honor of working closely with Minaj for the cover of our April 2016 issue, and the experience only solidified our admiration for her. Minaj has proven, time and time again, that women can do anything (and oftentimes better than their male counterparts, e.g. her verse on Kanye West's "Monster.") With every verse she raps or interview she gives, Minaj never fails to let it be known that she's the best at what she does, and that neither she nor any other woman should ever apologize for feeling that way.
So, in honor of the queen of rap's birthday, and the legacy she has built, we rounded up some of her best quotes to inspire you all over again. 
"I feel like when I reach my 500-million-dollar goal, then no other woman in rap will ever feel like they can't do what these men have done."
Talk about #goals. When asked about when she'd feel ready to slow down by DAZED, Minaj replied in a way that exemplified her high aims in the rap game. 
"I'm a multi-dimensional woman, like all women are. The difference is that I have the balls to take chances."
As a self-described feminist, the rapper has never shied away from pushing boundaries in the industry. 
"Even if you're doing a nine-to-five job, treat yourself like a boss. Not arrogant, but be sure of what you want—and don't allow people to run anything for you without your knowledge."
When ELLE asked Minaj for advice on how to command respect, her response ignited a fire in us all. Take note, ladies. 
"I'm not judging myself; I'm not dissing what I do. I'm proud of what I've done and I'm proud of what I'm working on. I've accomplished something and I'm not going to be ashamed to be happy about what I've done."
In an interview with Complex, Minaj unapologetically discussed her success and explained why women, herself included, should never hold back from being proud (and loud) about it.
"I would tell women starting out in business, if you know you're great at what you do, don't ever be ashamed to ask for the top dollar in your field. If I'm great at what I do, I can't be denied. Some things may be overlooked but no one can deny my brand, and that's the words of wisdom I would give to other young women."
Minaj knows her stuff, and she knows that women are still paid 80 cents for every dollar that men make. But she also won't stand for it. Minaj has taught us all that even if you're not dealing with multi-million dollar record deals, equal pay matters.
"It just feels like young women are being empowered and inspired because I think it says a lot when you see two young women at the top of their field, whether they're black or white, it just means a lot when you see them owning who they are and owning the business."
In an interview with TIME, Minaj discussed female empowerment and self-worth and, well, we couldn't agree with her more. 
"I feel like women can do anything that they put their minds to. That's really the truth—I started off with just a dream."
It was all just a dream that came true for Minaj and a journey from which we can all learn.
"I just speak my truth and if people like it, they like it, and if they bash it, they bash it."
Minaj is no stranger to the public eye and the imbalance of criticisms and praise that come along with living it in. But as she told Vogue, she has learned to remain focused on her work, instead of focused on what other people are saying about it.
"You have to be like a beast—that's the only way they respect you."
In her MTV Documentary, My Time Now, Minaj put it all on the table. So, you know what you need to do to be like Minaj? Turn that beast mode to "on."