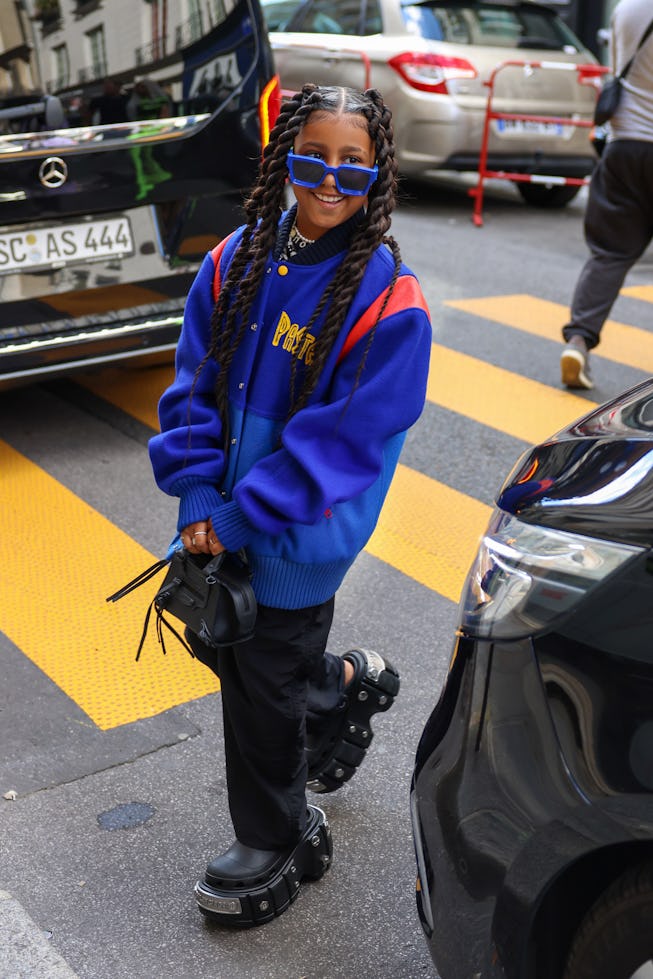 Pierre Suu/GC Images/Getty Images
The Enduring Appeal of North West's TikTok Account
It's silly, strange, and sentimental all at once.
There was a point in 2020 when celebrities were deemed so unrelatable that their future relevance came into question. Famous people's previous attempts to appear "just like us" were shattered as Kim Kardashian organized a "private island birthday party" during a deadly wave of COVID-19, Ellen DeGeneres compared isolating in her multimillion-dollar mansion to "being in prison," and celebs bizarrely decided that singing "Imagine" on Instagram would make everyone feel better about the state of the world. With Gen Z being called the "anti-capitalist" generation, it once (almost) appeared that there could be a revolt against celebrity culture as we know it. Then famous people let their children have TikTok accounts.
When it comes to the TikTok accounts of nepo babies (in this case, literal children), there's no denying that there's one nepo baby who rules them all — North West. Launching a joint account with her Mom in 2020, @KimAndNorth, the duo has amassed 14.6 million followers since then (Kim's own personal account only has 7.7 million). The content ranges from dancing videos with Mariah Carey to drawing videos of Ice Spice to attempting to cook with her siblings to wholesome videos of North and Chicago laying each other's edges. Usually the star of the show, Kim plays the role of supporting act (and sometimes is at the receiving end of pranks). They are silly, strange, and sentimental, all at once.
Following North and Kim's TikTok account — or let's face it, what is really just North's — feels like experiencing a collective fever dream. One that you can only watch but not respond to (the comments on the account were turned off after users initially commented asking North to expose Kim's credit card number or bank details). And that's where the captivating beauty lies. Despite the multiple celebrity appearances and the videos' surroundings being filled with some of the most expensive products and furniture many of us will ever lay our eyes on, we get to witness an extremely funny and interesting child enjoy her youth and spend quality time with her siblings.
North also has carved out a space online as a beauty creator on TikTok in her own right. While Penelope and Kourtney's joint TikTok account features skincare and makeup videos that are close to the array of Kardashian beauty brands (hello Poosh, SKKN by Kim, and Kylie Cosmetics), North has her own distinctive approach to beauty. Chaotically throwing products on her face (and purposely not washing off her cleanser), a number of North's most viral TikTok's have been watching her dabble — and sometimes fail — in the beauty space. Whether she's promoting her Mom's products, doing her sister's hair, or trying out new hairstyles herself, her audience gets a front row seat into young Black girls bonding through hair and makeup.
The appeal of North's TikTok account, unlike her family's Hulu show and social channels, is not her unattainable lifestyle, but rather her personality. So much so that she's even created her own distinct filming and editing style, with too-close close-ups and sped-up hyperactive movements. This childlike and playful approach was part of the initial appeal of Keeping Up With the Kardashians, before extreme fame and serial entrepreneurship made the sisters far more serious. Herein lies the paradox of achieving fame through being a personality — the more success you get, the more you have to keep up a certain persona, and the more your personality is no longer as interesting to the general public.
Since 2020, celebrities have, of course, continued to prove themselves far removed from reality, with Kim (again) telling women in business to "get [their] ass up and work" and Lily-Rose Depp objecting to being a "nepo baby". With an impending recession and a growing wealth gap, their last remaining hope of clinging to any form of relatability then becomes their young children (before they're able to do interviews discussing nepotism). Of course, we already knew that North was "that girl," holding up a "STOP" sign at paparazzi in the past and out-dressing Kim, Khloe, and Kourtney on several occasions. (Hailey Beiber and her "nepo baby" shirt could never!) Considering Kris Jenner is the brains behind the Kardashian empire, we can also guess that this is something they all know as well.
Despite the nepo baby discourse, North West has managed to have even me, someone who was actively cheering on the downfall of celebrity culture, rooting for her at every move. Bringing back a time when celebrities are actually entertaining and dynamic — not just unattainable people pushing toxic rhetoric about "work ethic" (privilege) and "natural weight loss" (cough cough, Ozempic). As long as the fever dream keeps rolling, I'll be watching, laughing, and taking life less seriously with North West.