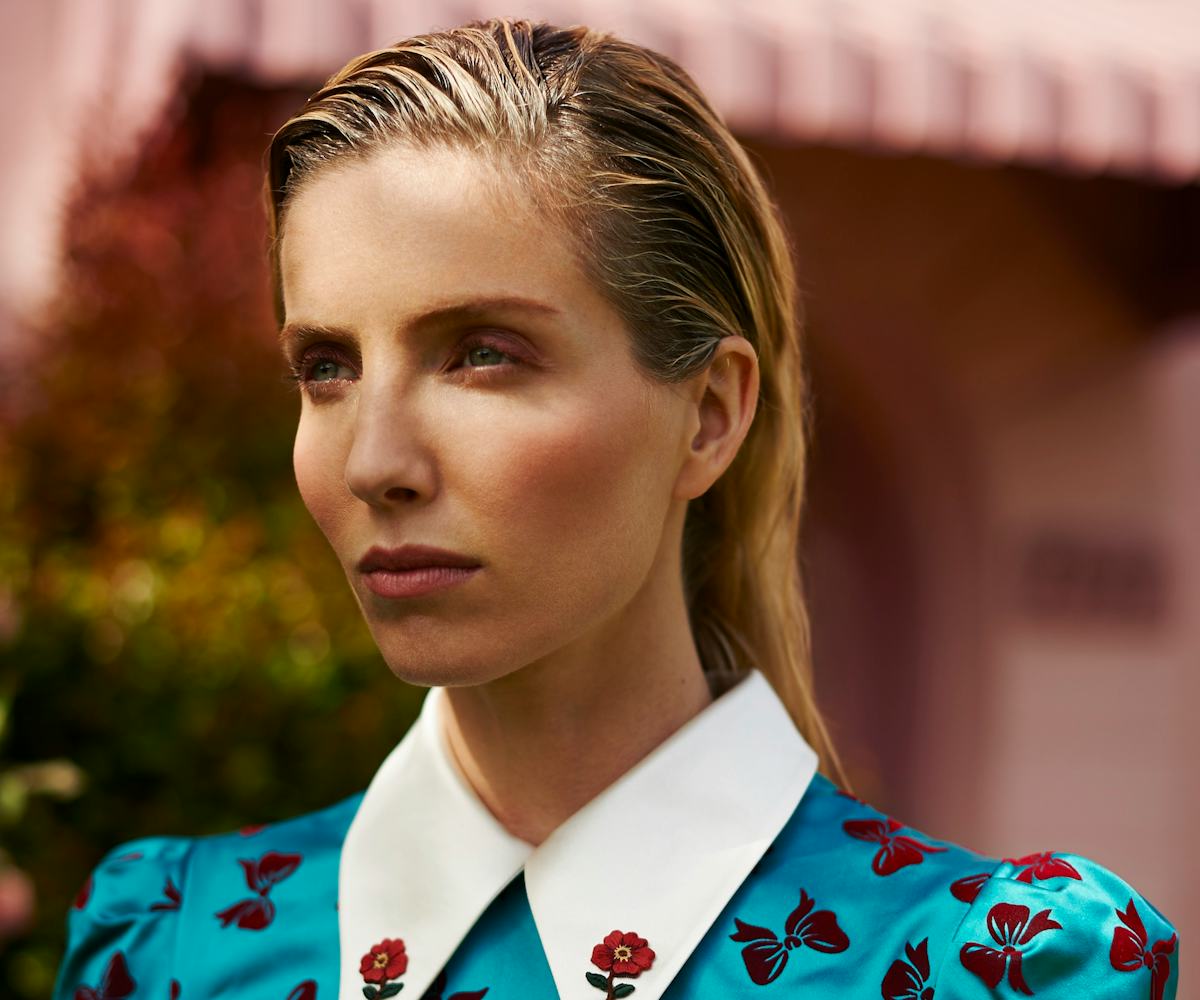 Photographed by Stella Asia Consonni. Styled by Sean Knight. Dress by Gucci. Hair: Johnnie Sapong at The Wall Group using Leonor Greyl. Makeup: Lucy Halperin at The Wall Group using Hourglass Cosmetics and Ren. Photo assistant: Kayla Adams.
Annabelle Wallis Escapes The Wrath Of 'The Mummy'
In one of summer's most anticipated flicks
The following feature appears in the June/July issue of NYLON.
There's a few things you need to do to keep up with Tom Cruise, and Annabelle Wallis was prepared for most of them. By the time she was cast in this month's The Mummy—Universal Studios' reboot of their classic monster property from the 1930s, and more recently the '90s—the 32-year-old actress was, like most of the planet, well-versed in the Cruise canon. She expected the inevitable running scene, a staple since The Firm. In fact, the former high school sprinter was ready to outpace her co-star. She wasn't surprised by the elaborate underwater sequence, à la Mission Impossible: Rogue Nation, either. This, too, was a cakewalk: Growing up in Portugal, outside Lisbon, Wallis was already a strong swimmer. But as for Cruise's idea to shoot on an actual Novespace Zero-G Airbus in free fall, to re-create zero gravity—that she did not see coming. 
"They call it the vomit comet," says Wallis, delighting in my unease. We're at a West Hollywood bakery, and she's using her hands to demonstrate the aircraft's vertical incline at 20,000 feet before arcing back toward earth. Cruise had been saving this experiment for his next Mission: Impossible outing, but decided it better suited The Mummy, in which he plays a mercenary and Wallis the archaeologist with whom he has a love-hate relationship. Alongside actual astronauts, everybody strapped in with sick bags to film the shot where transportation of an ancient tomb goes horribly awry. "The G-force is so intense that everyone's face is like this," says Wallis, pulling her cheeks back as tightly as possible. "The crew were getting sick while we were doing our scene." She estimates 50 takes were needed over the course of two days to get the shot, but somehow she managed not to throw up on the man who, when she was a pre-teen, helped her "experience every single emotion before I understood what those emotions were." She shrugs. "The human body knows when it can't fail," she says, though it totally wiped her out. "We were in Bordeaux, and all I wanted was a rosé."
Wallis, dressed in a patchwork denim jacket, a long black dress, and booties, is gesticulative when she speaks. She worries about coming across as "brash," but it is her unmistakable audacity that helped her land a coveted part in the film Universal hopes will launch an entire monster cinematic universe, in order to compete with other studios' superhero tentpoles. At a BAFTA lunch a little more than a year ago, she was informed that Cruise wanted to meet with her and assumed their agents would be in touch. "No, now," she recalls being told, so Wallis went dashing across London wearing a sequined Chanel jumpsuit. "I did not look like an archaeologist," she says, dipping a miniature chocolate chip cookie into her espresso. "But I walked in, ordered a dry martini, and said, 'You'll be a very happy man if you put me in your film.' And Tom loved it."
Wallis likes to say she got where she is by privileging "bravery over common sense." While you may recognize her as King Henry VIII's short-lived wife Jane Seymour from Showtime's The Tudors, or from the 2014 horror film Annabelle, it was the BBC's Peaky Blinders that she feels "made me believable as a serious actress." At the time, with a résumé consisting of shampoo commercials and other work that she says was "mostly a matter of just surviving," the British-born Wallis fibbed a little to get the part, claiming she could both sing and do an Irish brogue as Grace, a secret agent working undercover as a barmaid in post-WWI England who falls in love with a gang leader (Cillian Murphy). Fans of the show included the late David Bowie, Snoop Dogg, and the Boss. "I was at a hotel with my mom and…somebody else," she recalls, somewhat cagily. (Wallis has been dating Coldplay frontman Chris Martin for almost two years, and while her Instagram offers evidence of their relationship—she even supplied guest vocals on a track off the band's last album—she is private about him in person.) She continues: "Bruce Springsteen came over to the table and he was like, 'Have we met before?' Umm, I think I would have remembered. He said, 'You're Grace! You're my girl!'"
Wallis appears to be taking the same path to stardom that Jessica Chastain did a few years back, in the sense that people are only just learning her name and yet she's suddenly everywhere: in last year's Come and Find Me with Aaron Paul, this year's Armie Hammer vehicle Mine, and Guy Ritchie's recent King Arthur: Legend of the Sword. "At the moment there's a trend where I work with a lot of boys," says the actress, who credits her older brother for getting her into motocross, paintball, and polo, and generally contributing to her familiarity with groups of men. "I guess I'm carving myself into that world."
If The Mummy is a success, chances are her schedule could be dominated by sequels and crossover films, but right now she's looking forward to a project with Keira Knightley about the French writer Colette. "I love big, escapist content and I love small, weighty films with great people," she says, as she prepares to head to Malibu for a friend's birthday. "Working with Tom upped my street cred an amazing amount. Now I can knock on doors and say, 'Hello, please let me in.'"