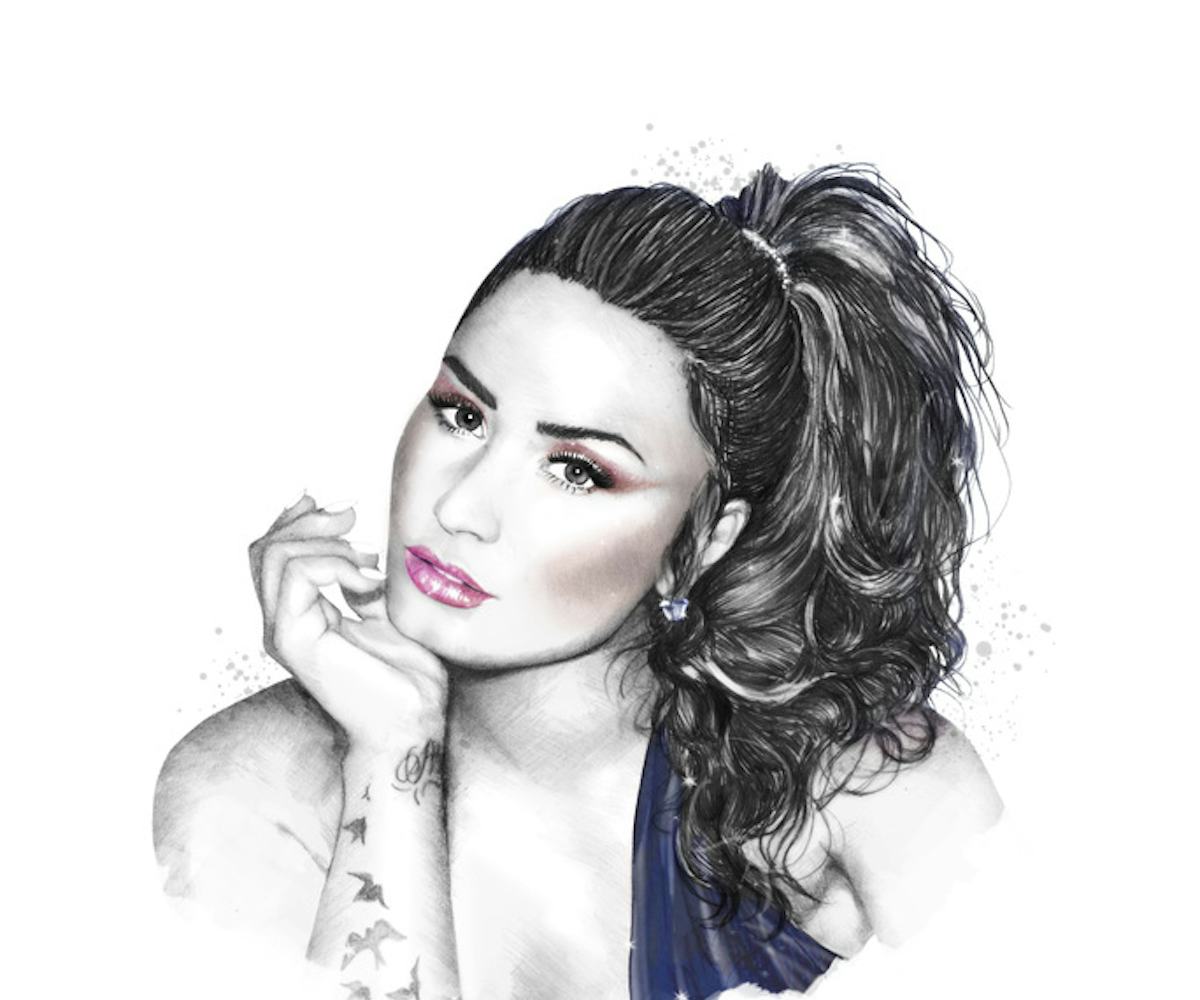 Illustrated by Amy Pearson
How Demi Lovato Stays Strong In Her 'Simply Complicated' World
Hint: It involves MMA fighting
The following feature appears in the October 2017 issue of NYLON.
Ever the champion for candor and vulnerability, Demi Lovato is letting us in on her daily life with the release of her new documentary, Simply Complicated, out this month on YouTube. Here, the superstar discusses her history with the video-sharing site, how she learned to live in the moment, and her foray into martial arts.
Why did now feel like the right time to create Simply Complicated? 
Now feels like the perfect time because it's been a really honest year. I couldn't wait to take advantage of the opportunity, and also it felt right, with me working on my new album and turning 25.
What made you decide to release it on YouTube? 
YouTube and I have had a great relationship. It's definitely been a huge platform for engaging with my fans—I've used it to reach out to my fans since I was about 13, when I posted my very first video on YouTube. And it's great to have a documentary that fans can watch at any time wherever they are.
What are some specific events we can look forward to seeing in the documentary? 
You will get to see me in the studio, and you'll get to see some philanthropic work that I did in India.
I heard you're boxing in it, too.
Yeah, for over a year now I've been training in MMA, so I've been doing everything from boxing and kickboxing to jiujitsu.
You also did a documentary, Stay Strong, with MTV a few years back. How is Simply Complicated different? 
Simply Complicated is different because it focuses on my journey of where I wanted to go in my life. [Stay Strong] was about six years ago, so I'm in a totally different place now, and it's a totally different time in my life. I've learned so much since the last documentary, and I've gotten sober. I've started so many projects that are important to me.
You've mentioned that you're less strict about your future now—in the past you had a five-year plan but now, not so much. What do you think led to that change? 
Just taking a look at my life and being present, living in the moment and listening to what I want right now, rather than thinking that a certain idea is what I want—knowing for sure and having the courage to say this is the kind of life that I want to live. Learning to live in the moment can be a difficult change. Did you find that it made you less anxious? I do have anxiety. It's something that I struggle with, but for the most part I'm in complete control of that. I'm just doing everything that it takes to take care of my anxiety.
I'm sure viewers are going to appreciate seeing this because you've been very open and vulnerable about your personal struggles and how you've overcome them. 
I'm definitely very honest and I think viewers will be very receptive to that honesty in this album and in this documentary.
What are you most excited about on your new album?
My new music is R&B/pop, and more soulful. I got to work with DJ Mustard, which was really cool.