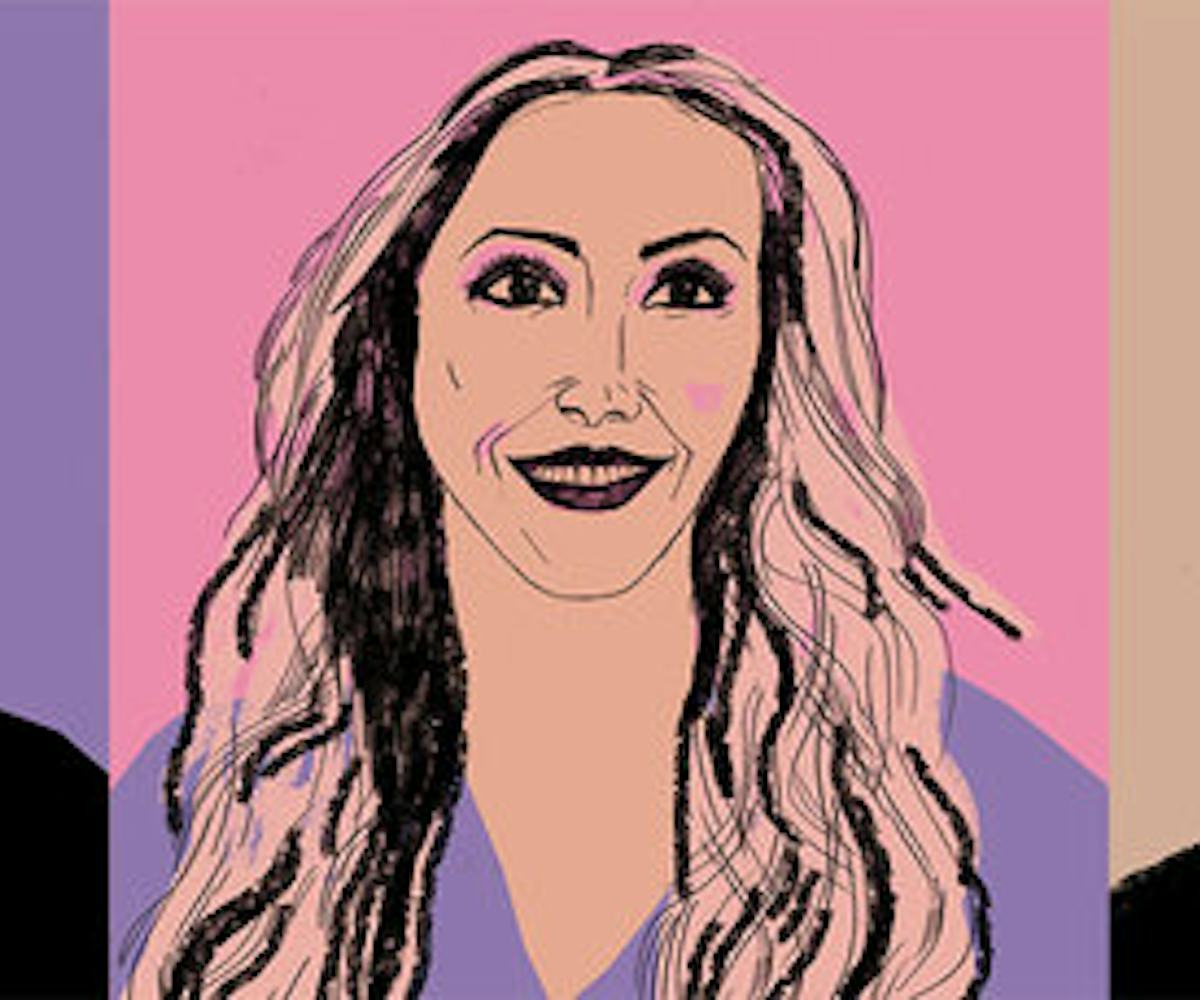 Illustrated by Liz Riccardi.
3 Badass Music Video Directors You Need To Know
These ladies know how to make onscreen magic
The following feature appears in the August 2017 issue of NYLON.
Creating a music video is no small task, and these three ladies get that. They've produced some of our favorite music videos to date, and now they're giving us an inside look at the process.
Follow a few of our favorite directors as they take us behind the lens. 
Lacey Duke
How long have you been directing music videos?Five years.
Missy Elliott's "The Rain." I was just a kid and had never seen or heard anything like it in my life—the imagery, colors, the choreography. At the time I had an obsession with recording videos on VHS, so I recorded it and watched it over and over again. I've always been silly so Missy's antics resonated with me. I felt like I was watching an animated black girl superhero, but she was a real person dancing around in a garbage bag, so of course I wanted to dance around in a garbage bag. I wanted a Jeep. I wanted to make videos like that.
I love the works of Michel Gondry, Spike Jonze, Melina Matsoukas, Ava DuVernay, Gina Prince-Bythewood, Hype Williams, Alfred Hitchcock, Chris Nolan, Wes Anderson, Floria Sigismondi, and more.
At the moment, it's quirky, colorful, and offbeat, in a cinematic sense. I love beauty, fashion, symmetry, and negative space, but I also enjoy defying conventions. I love unusual narratives.
The video I shot for Bosco, "Castles." The budget was challenging, but it was a fun collaborative effort. I incorporated ideas I'd been wanting to shoot for years, and I directed, edited, and produced it, so I was just happy I pulled it all off.
Trying to convince artists, labels, and brands that I'm a great director without the actual work to back up my claim [laughs]. Basically, you need to already have great videos to get opportunities to make more great videos. That's the conundrum that I've faced in the past, and still do, to some degree. Luckily, I've worked with some cool people along the way who believed in me and my ideas enough to give me those first opportunities.
Stay focused on the work—nothing else matters. Be amazing at what you're doing because you're going to have to be better than the boys to even be considered, unfortunately. Ideas come and go, so don't get hung up on ideas you've had that somebody else executes, come up with more ideas. Really hone your craft, pick up transferable and technical skills—for instance, if you want to be a director, learn how to edit, shoot, or color grade. Get your skills up—you're going to need them.
Diane Martell
I've been directing music videos since 1992. My first job was for Def Jam, for the hip-hop group Onyx's song "Throw Ya Gunz."
Very early MTV videos for bands like Devo, Blondie, and The Selecter. 
I love the videos of Spike Jonze and Michel Gondry.
I used to be into a grimy vibe, but now I am more into something more photographically clean. I'm into subversion and irony. 
Franz Ferdinand's "Do You Want To," Robin Thicke's "Blurred Lines," and "Bring the Pain" by Method Man. 
Who is your dream musician/band to work with?David Bowie.
What's your advice for women who are pursuing careers in fields in which they are underrepresented? Women are pushing through unbelievable racial and patriarchal barriers in the workplace. The good news is that it is possible to achieve success. One has to dream big and set clear intentions. What we give all of our attention to can yield tremendous outcomes. Bravo to the women who fight through incredible hardships to achieve success. To the women who have an easier time with the navigation, I applaud you as well. 
Hannah Lux Davis
Professionally, seven years, but I've been directing music videos since I was 18 years old and in film school—for my thesis, I made music videos instead of a short film.
More than one specific video, I have an era of videos [that inspired me]. Being a teen in the late '90s and early 2000s, I am a product of TRL in its heyday. Britney Spears, Christina Aguilera, Avril Lavigne—you can see where this leads: pop girls! I was enamored by the influence their videos had over pop culture, and I've wanted to be a part of it since I was a kid (still chasing that Moonman).
Sophie Muller, for how she's able to pull raw emotion out of any artist; Floria Sigismondi, for her left-of-center ideas; and Melina Matsoukas, for her ability to unapologetically tell a story surrounding a culture and a lifestyle.
Jessie J, Ariana Grande, and Nicki Minaj's "Bang Bang," because I love the scope of it; Machine Gun Kelly and Camila Cabello's "Bad Things," because I got to do something different and tell a bit of a story with two artists who I absolutely adore; and Ariana Grande and Nicki Minaj's "Side to Side," because I felt like we were making something people would talk about. One of my best friends is a spin teacher and said it was the "video seen 'round the spin world"!
Currently, Selena Gomez, Rihanna, and Taylor Swift.
Forget about feeling underrepresented. Remind yourself that every person, male or female, has their own unique flavor and perspective. Act like you should have been there all along.