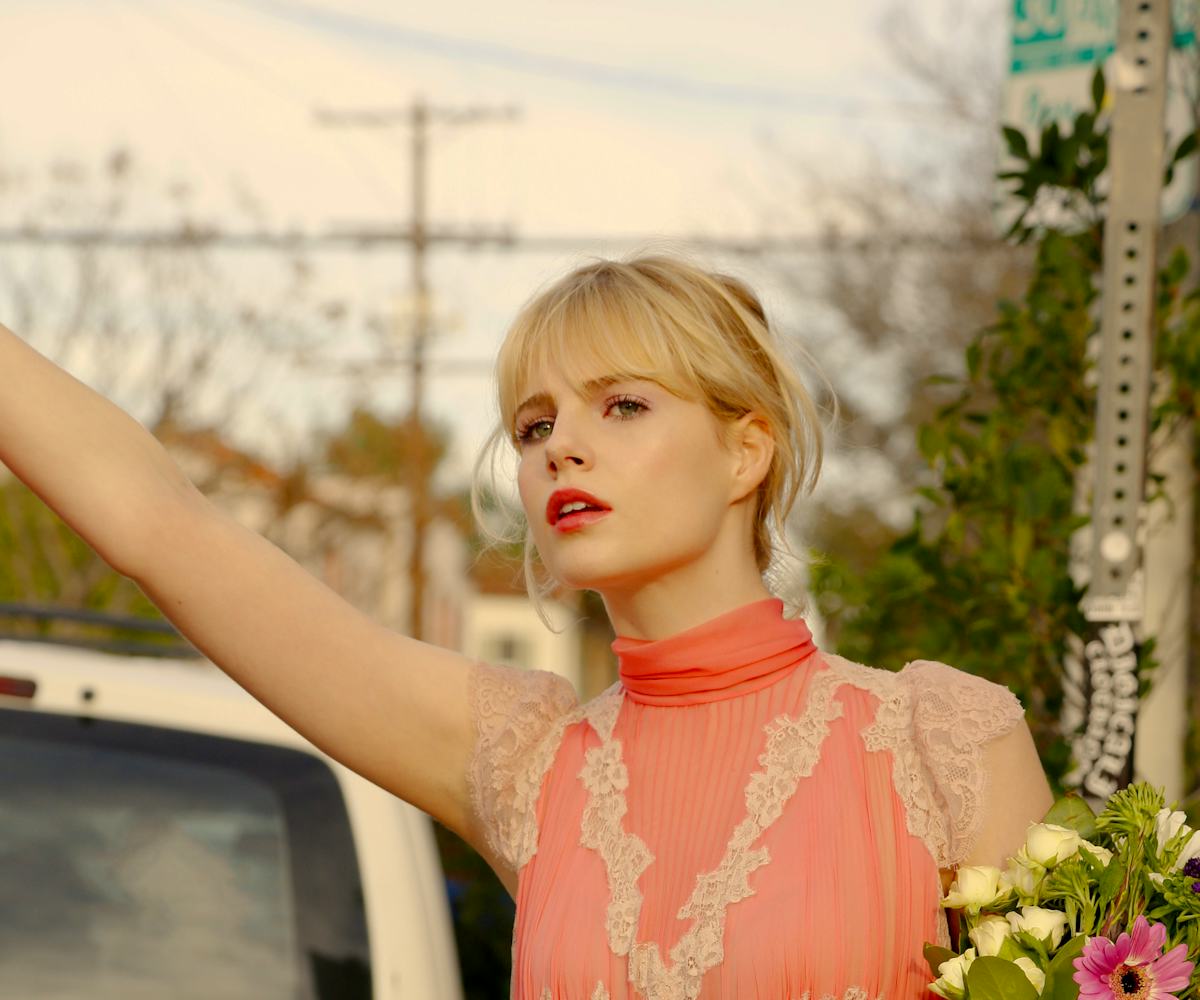 Photographed by Ellie McLean. Styled by Laura Mazza. Dress by Valentino.
Lucy Boynton's Breakout Role In 'Sing Street' Has Put Her On The Map
Get to know the 23-year-old actress
The following feature appears in the May 2017 issue of NYLON. Every year, we round up the brightest rising stars in film for our Young Hollywood Issue. Get to know the actors and actresses who are set to take over the industry. To read more, click here. 
When we encounter Lucy Boynton for the first time outside a Hollywood photo studio, she apologizes with the rarified grace you'd expect from a British ingenue. The 23-year-old actress is rushing off to a movie premiere and has to postpone our interview. It's the kind of excuse only a star of a certain caliber gets to make. 
And after her breakout role in the delightful musical Sing Street, and an upcoming part in Kenneth Branagh's star-studded Murder on the Orient Express, something tells us that Boynton is about to start using it a lot more often.
Family Vacation: Boynton's parents are both travel writers, which let her see the world at an early age. "All of our family holidays were always work trips for my parents, so my sister and I would sit somewhere or find a kids' club while my parents would be interviewing people. Now that I travel as well, we're all in different places at different times, so there's a lot of Skype-ing that happens."
Destiny's Child: Boynton remembers her first day shooting the 2006 biopic Miss Potter—where, at 11 years old, she played a young version of the famed children's author Beatrix Potter—as the best experience of her life. "It was just a really exciting day of clarity, and to have achieved it at that age, the sudden realization that there is no going back, there is now only this, and everything I can do to work toward being able to do this as much and as frequently as I possibly can—it's a very exciting thing."
Tales of the Orient: This fall Boynton will appear alongside acting legends Judi Dench, Johnny Depp, Penélope Cruz, and Michelle Pfeiffer in Kenneth Branagh's Murder on the Orient Express. "I felt so privileged to be sitting at a table with 15 other people, and just being able to sit there and watch Dame Judi Dench or Michelle Pfeiffer do their thing. I've grown up watching and admiring their work, so to be sitting next to them was a huge, very surreal feat. I remember having moments of 'Just don't fuck up,' and 'Just do your best.' I don't think I'll ever have that opportunity again. It was amazing.
Costume Party: "I'm a very private person, and I would always like to keep my anonymity, but I'm not really worried [about fame]. I tend to look very different with every role that I do, so I don't know if anybody remembers me or recognizes me at all, including people that I've worked with and know really well. Being able to disappear into every film that I do really works in my favor."