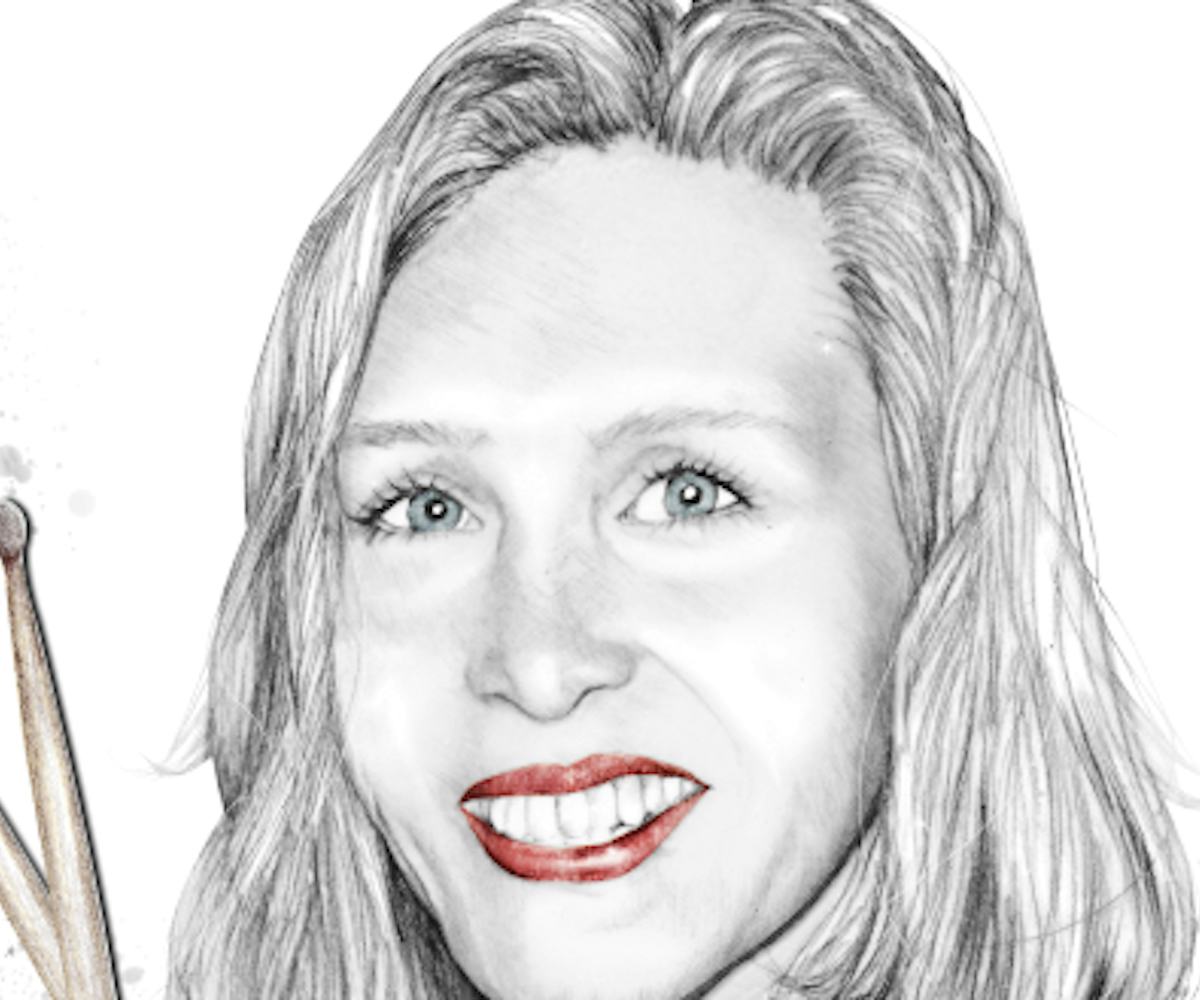 illustrated by amy pearson
Hole's Patty Schemel On Fighting The Patriarchy And Her Sobriety Journey
The '90s icon's memoir, 'Hit So Hard,' is out tomorrow
After debuting her successful documentary, Hit So Hard, in 2011, drummer Patty Schemel is back with a memoir of the same name, which gives readers an intimate look into her experience as a member of Hole, one of the most iconic bands of the '90s. Below, we catch up with her.
Why did you decide to release a book years after debuting the film?
The film's visuals helped drive the outline of my story, but documentaries are also about other people's perspectives and memories. A memoir allows you to go much deeper.While promoting the documentary, I got so many questions about issues I hadn't explored in detail: growing up gay in the '70s and '80s, the darker realities of my addiction story, and so many specific aspects of recovery. It seemed like there was so much more to say.
What lessons have you learned from your journey with sobriety? What advice do you have for someone also going through recovery?
As a person used to instant gratification, I didn't want to hear that healing is a very slow process. If it were easy, it wouldn't have taken me so many detoxes, rehabs, and halfway houses to get it right. Like so many others, I had to lose everything several times before my brain began to get the message that the drugs really, really weren't going to work anymore. It was either death or one last chance. Intellectually I had known that it was true, but it finally hit home in 2005, which was a gift that felt like a punishment. One thing I always tell addicts newly in recovery is that when you're finally clean and sober, you will become a different person. You don't think that it's possible when you're in the thick of it; if you do, you can't imagine that you'd like that new, different person. But truly it's the best feeling—to be free of all that pain you might not have even realized you were in.
What was your favorite moment during the writing process?
It was at the end of the book, writing about getting sober and finding my way to the life I have now. I was able to find a lot more humor in those memories this time around.
Many young feminists view Hole as the ultimate riot grrrl band. What is it like to see how much Hole has inspired young female musicians today?
I don't think Hole ever thought of ourselves as being part of the riot grrrl scene, which was more of an indie label phenomenon and media thing. But we were a proudly feminist band, and it's gratifying to hear from women today about how the music inspired them and got them through hard times. I felt the same way about playing those songs—they helped me, too.
Why is it important to—as Kate Schellenbach (drummer of Luscious Jackson) says in the documentary— teach girls not to "sit with their legs closed and be quiet"?
We don't play drums sidesaddle, and women are equally capable players, if not more so. I teach privately and with Rock 'n' Roll Camp for Girls because it keeps me excited about drumming. I feel like I have a responsibility to share what I know, to be visible and active, and to stay connected to playing music. It's important to me that girls don't feel intimidated or talked down to when they go into a corporate music shop.
In light of the current political climate, how are you still smashing the patriarchy?
In the '90s, I wasn't ashamed of being gay, but I didn't consider it necessary to march in the streets. Instead, I turned to music to release my anger and assumed that the statement our band was making was enough. Back then I never thought that gay marriage would become legal, that gender identity would be a mainstream topic of conversation, that abortion rights could be taken away, or that Donald fucking Trump would have any power beyond starring in his own Pizza Hut commercial. In recovery, I'm always reminded that the LGBTQ community is more vulnerable to drug and alcohol abuse, and that young people in particular use substances to bury their confusion and pain if they don't feel supported in their identity. Community is the key to staying sober and healthy. 
As a lesbian who started drinking at 12 years old, I have a lot of compassion for the people who are currently navigating these issues in their own lives, in private and in public; addicts and confused kids are both master secret-keepers. Now more than ever we have to stand up for ourselves and each other. If we want to change things in the culture or in our private lives, we can't be ashamed to make noise.