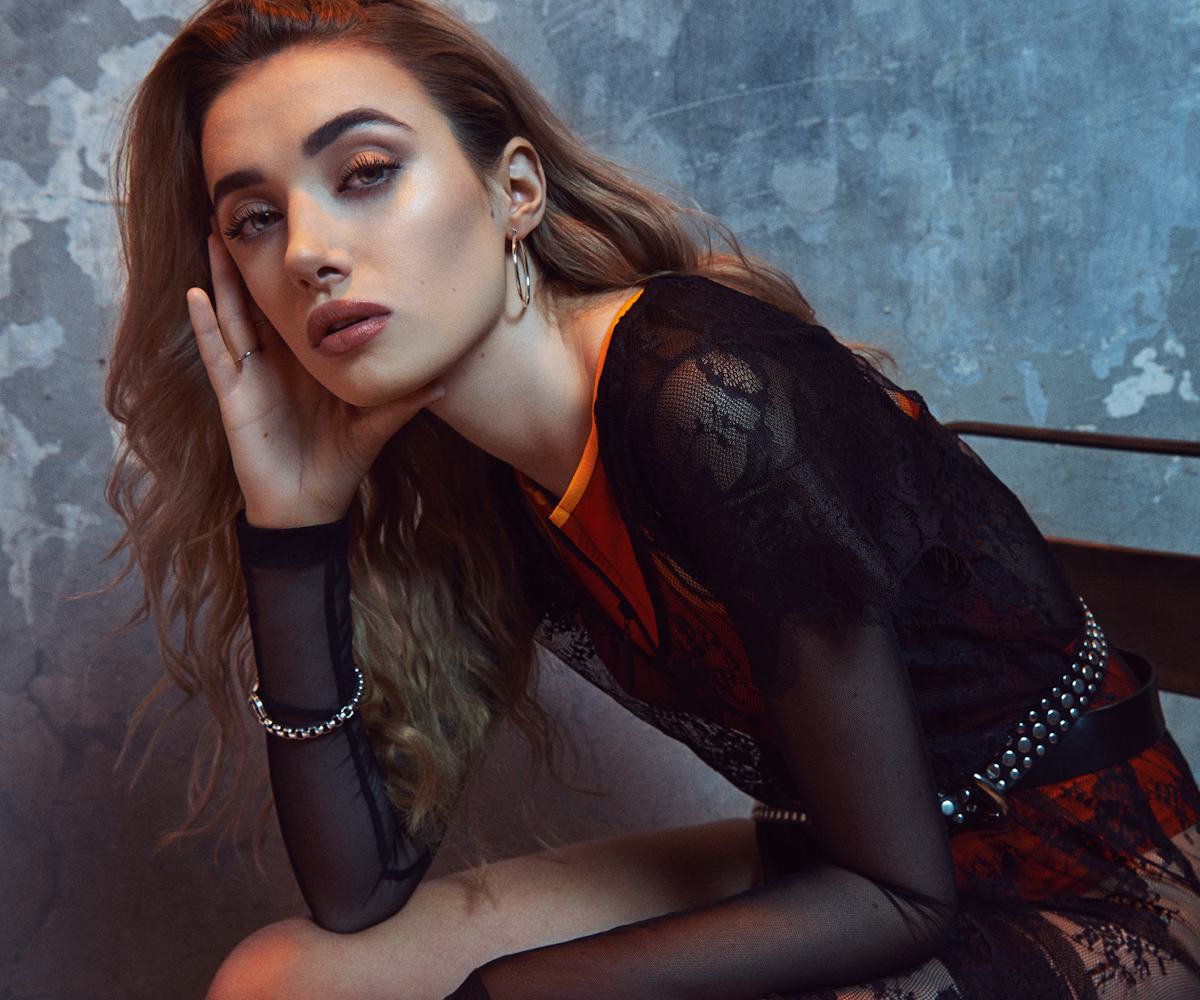 Photographed by Ricky Michiels. Styled by Kendal Steensen. Earrings by Awoke Vintage, bracelet by Martine Ali, ring by Forever21, belts and dress by Zara, bodysuit by Chromat.
Olivia O'Brien Is Here To Make You Cry In The Club
Grab your cozy clothes, and let it all out on the dance floor
Olivia O'Brien wasn't always aware that music was her calling. The 17-year-old recalls being introduced to it as a child at the Montessori School that she attended in Napa Valley, where she remembers banging on instruments with the other kids. Around the age of seven, O'Brien started writing her own songs, but with no intention of actually becoming a singer-songwriter. Music mostly served as an outlet or a retreat—it was the only place where her peers couldn't bring her down.
Despite growing up in one of the most beautiful parts of California, O'Brien couldn't be more relieved to live far away now. Her negative experiences in school tainted her perception of wine country. Other students would tease her about her clothes and labeled her a weirdo. Like any teenager, this nonstop judgment caused her to develop insecurities, but the one thing she was always confident about was her singing abilities.
Last year, everything changed for O'Brien after she wrote and scored a feature on Gnash's single "hate u love u." The song became an instant hit as it told the familiar tale of a relationship falling apart. Similarly, many of O'Brien's own songs deal with matters of the heart. "Trust Issues" speaks of knowing your worth as a woman, whereas "Find What You're Looking For" is about moving on from guys that aren't invested in you. 
Her most recent single, "Empty," touches on the depression that stemmed from missing the friends who left her behind after she moved to Los Angeles. Now, she's in a much better place, though. In addition to working on more music, O'Brien is prepping for Coachella. (She's attending, not performing, but that could change in a year.)
We caught up with the pop star in the making to talk about everything from her childhood to her favorite fashion brands and why she wears sweats to the club. Learn more about her in the interview, below.
How did you go in such a short period from anonymity to signing to a major label?I had absolutely no attention from my covers whatsoever. I got maybe like 200 plays. When Gnash found me, it was "hate u love u," and it just blew up out of nowhere. I had no other songs, it just took off. It was actually crazy. From there, I just started getting calls from labels, publishers, lawyers, managers, everyone just trying to contact me, so I put my team together and signed to Island, and it kind of just happened.
I really admire the fact that you've been able to figure this out at such a young age. I mean, my dad helps a lot. I wouldn't know what to do if I didn't have him. He was reading all the books on the music industry. He basically learned everything. He's my business manager now. I don't even know how to explain what he does for himself, but he's like a CFA, so it's like fucking certified financial advisor. He basically got everything to work for me. 
Growing up, what artists were you listening to that influenced you as a singer?Growing up, my mom really wanted us, me and sister, to have strong female role models, so we would listen to Alicia Keys, Beyoncé, and India Arie. Really strong women with more of a message in their music. Beyoncé has some ass-shaking bops, but she has some deep songs too.
What do you hope that young girls and women who listen to your music take away from it? What messages are you trying to send them?I don't know. I'm just trying to put my feelings out there, and hoping that they can relate and know they're not alone in how they feel.
Since a few of your songs deal with being brokenhearted, I was wondering what you do to either bounce back from a breakup or just when you're sort of feeling down.Usually, I just write. When I'm feeling any emotion, I channel it into writing. Or I'll shop. It isn't exactly a healthy thing when you end up spending all your money, though.
Yeah, but retail therapy is definitely real.I wish you could see the amount of packages I receive. I ordered a bunch of vintage Tommy Hilfiger stuff. Because I'm doing a Tommy Hilfiger look for Coachella, and I ordered vintage Chanel sunglasses and they are so nice. I love [Juicy Couture]. They reposted a picture of me and my friend on their Instagram and I was crying. So my friend, Sydney—she has thousands of followers—DM'd them, and they're going to send her a bunch of clothes. So I DM'd them, and I hope they send me stuff. That's my goal.
How would you describe your style?Me and my friends kind of decided that we want to start bringing back the early 2000s, but only the cute parts of the early 2000s. It's kind of inevitable. You see track suits are coming back from the '90s. So now it's like, let's bring back the early 2000s. Let's do Destiny's Child, TLC, like girl band style. Bigger, baggier pants. I just like one look that was basically inspired by that old girl band stuff. That's kind of how I find my look now. I also love sweatpants. I've actually worn sweatpants to the club multiple times because it's funny.
If you can't wear sweats to the club, then you don't need to be at that club. That's my personal rule.You know you're going to be the only girl wearing sweats. Everyone is wearing a dress they got on ClubGirl.com or something.
Like a bodycon thing that they can't breathe in.Yeah, and you stand out.
What are some of your goals for the next year?Dream big. I want to release music. I have like 40 unreleased songs. Obviously, I'm not going to release all of them; I'm going to have to narrow down my project. I am so excited to release stuff. I think it's really great, and I'm actually really proud of it. When I first started making music, I didn't really know where I was going with it because I felt like I was actually kind of thrown into it after "hate u love u," but I really found my sound, and I'm just so excited to share it.
So you're working on a full-length project now?I want to do an album. I have so many songs so I definitely can do it.