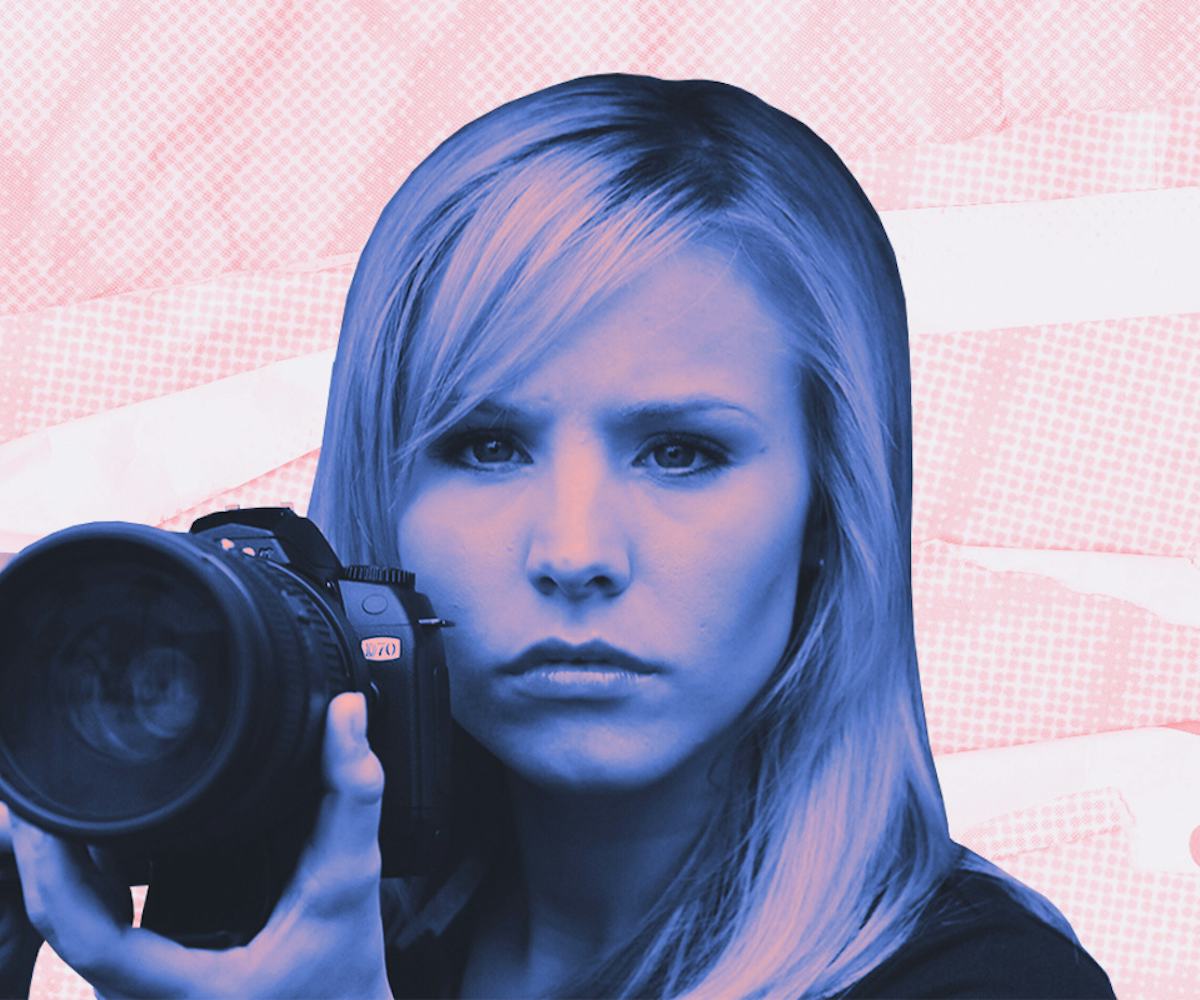 Photo Credit: Snap Stills/Shutterstock
Welcome To Neptune: An Oral History Of 'Veronica Mars'
We talk to the stars and creator about the show's iconic first season
Veronica Mars is a show that's had more than nine lives over the course of its 15-year run. What began as a teen drama about a young girl-turned-private investigator digging into the mystery of her best friend's murder, has evolved into a universe filled with complex characters, twisting story lines, and a cult following more than happy to go along for the extended ride.
The series, which began on the now-defunct UPN before being moved to the CW, introduced audiences to household names, most notably its star, Kristen Bell. It also gave viewers a glimpse of a nuanced female character—a teenager, no less—who was savvy and independent, unfazed by clichés and TV tropes normally attached to her gender and youth.
The first season of Veronica Mars was revolutionary in terms of the risks it took with its story line and the places it pushed its core characters. Nearly two decades later, its finale, an episode titled "Leave It to Beaver," marks one of the better season finales of any TV series ever; it was a landing the show's creator, Rob Thomas, and his cast were able to stick thanks to the unified front they presented to network execs, some grassroots campaigning, and a whole lotta luck.
As a new season of Veronica Mars prepares to launch on Hulu, we thought we'd look back at the evolution of that first season, the shocking reveals, the cliffhangers and what-could've-beens, and how it all led to where we are now, with a revival that promises to bring more of the original installment's essence back to TV (er, streaming) than any iteration before.
What Could've Been
Thomas had a book deal with Simon & Schuster that eventually birthed the Veronica Mars universe, but the showrunner originally wrote the character as a teenage boy. It wasn't until he met with network execs at UPN—and found his star in Bell—that the hero officially changed to a heroine.
Rob Thomas: It was the same story, but it was the son of the local sheriff. Somewhere between outlining that book and eventually writing it as a TV pilot, I knew that I really wanted to explore this loss of innocence. I had taught high school for several years, and I just thought that kids at that time were bombarded with so much information. The internet made everything available to them that they were growing up faster than my generation did, and faster than was healthy. And if you're going to do something about loss of innocence, it just felt more poignant from a female point of view, someone who must grow up too soon.
Veronica Mars was this script that I had written. It was just sitting in a drawer, and I went over to UPN for a general meeting, and they said, "Hey, we're moving from wrestling to female empowerment." And I said, "I have that script. I will go home and send it to you." I decided going in, I'm just going to write this script how I want it to be, and I'm not going to think about networks, I'm not going to think about standards and practices. I'm just going to write the script that I want to without any studio or network guiding me.
Kristen Bell: I re-watched the first season before we started shooting this year. And I'm so proud of it. TV has changed so much in the past few years. We are seeing much more diversity and representation. Gender stereotypes are being broken. It's so wonderful. But, when Veronica Mars was on, there were still very few shows on the air that showcased an empowered female character.
Enrico Colantoni, Keith Mars: To hear Rob describe how it all started and how [Veronica] was originally written as a young man, and then the evolution took place, and then being on UPN and Les Moonves having his say in how dark it was... to this day, I don't know if Rob is 100 percent satisfied with where she is now.
This is just my speculation, but there's always room for Rob to keep going closer and closer to his original sort of concept for the story. If he had the chance, he would go as dark as possible.
Thomas: Happily, the executive who read the script at UPN loved it and became a champion for it. The rape story line [in Season 1] was barely commented on when we shot it, before we shot it, and in the script stage. When it became an issue was when they saw the cut, and then there became a bit of a battle as to whether we could keep it, how much of it we could keep. Part of it I think was because Kristen's performance was just so heartbreaking. You know, there's a moment there where she wakes up, and she finds her underwear on the floor, and she realizes what has happened, and a tear comes down her face, and yet at the same time, you can feel her hardening. And it's just such a remarkable performance. They kept having us take frames out. Like, "Okay, that's too much. Can you try to take 10 seconds out of that?" I'd be like, "I'll take two seconds out." There was even some talk about taking it out completely. I ended up winning that fight.
Who Killed Lilly?
Season 1's overreaching arc was a mystery murder that would come to define the show, and the journey of its main character, who spent the season searching for her best friend's killer. Like the viewers at home, most of the cast were in the dark as to who had really killed Lilly Kane.
Thomas: The thing that we know each time we start one of these big mysteries, we know who did it and how they did it and why they did it. The things that we kind of discover along the way generally are the red herrings. You know, we sometimes figure out how we're going to drop the clues and we figure out who else we're going to shine a light on as a suspect, but the end, the whodunit, we know the whole way.
Jason Dohring, Logan Echolls: Nobody saw that it was the dad—Aaron Echolls—that I know. And I don't like to know that stuff. I like to read the scripts. In other ways, I found myself playing into that a little bit. I just couldn't even believe it was my dad, and he's killed my girlfriend. It was just so brutal. It was so dark.
Ryan Hansen, Dick Casablancas: I don't think anyone actually knew. Maybe Kristen knew, but I don't think so. That was kind of kept a secret. Then again, I really didn't know anything because I was only a guest star in Season 1. So, I didn't even know other episodes until they came on TV like everybody else.
Thomas: I promised the network that there would be a killer before the end of the season. I think largely because I know, as a fan of Twin Peaks, I started getting frustrated when there wasn't an answer. Like, solve the case. I'll give you a season, but you got to solve the case at the end of the season. That's my reward for watching a mystery show. I'm a fan of mysteries. I'm also a fan of thrillers where we know there's a killer out there somewhere, and now it's the cat-and-mouse of who's going to catch who at that point. That's what we did in the finale.
A Team Effort
The original cast of the show was made up of almost all fresh-faced stars, kids straight out of acting school who were shipped down to San Diego to film the show with no way of knowing if it would last an entire season. That "summer camp" vibe ended up bonding the core members of the series for years to come.
Dohring: We were all sort of coming out of high school, and we all moved to San Diego, which was not really a home for any of us. Kind of the closest family we had at the time was each other, because we didn't move there with our parents or anything. Some of us shared housing, and we were in the same building together. I just had the feeling that, from the top down, everybody cared about the quality. We were just proud of our work that we thought nobody would ever watch or see.
Thomas: Back when we did the show, I would meet people on flights or at neighborhood gatherings or whatever and they would ask what I did for a living, and I would say, "I'm a television writer," and they'd ask, "Have you done anything I might know of?" "Well, I have a show called Veronica Mars." And back when the show was on the air, I would almost always be met with blank stares.
Hansen: I started off basically as an extra with one word, and then I kept coming back. So for me, for the first season, I was just happy any time they called. I'd be like, "Yeah, I'll come down to San Diego," because that's where I'm from. Any time they put Dick in, I had to drive down to San Diego and then I'd just stay with my family or whatever, because my wife is from there too, so we'd just go down and hang with our buds. It was cool to shoot out of L.A. It made it more like we were all in this together, like a little camp down there.
Thomas: We learned some important lessons in Season 1, and one of the most important was we must give Kristen some time off. I mean, we worked her to death. It was an exhausting season for her. She was in every scene, she was doing publicity when she wasn't working, and we got smarter about that at the end of that first season, because it would have made her go crazy, I think. But she handled it with aplomb.
Colantoni: She was a young up-and-coming star at the time who still relied on, you know, maybe the experience of an elder. I kind of took that upon myself in the beginning. It didn't last long because she's savvy, she's smart, and she knows how to take care of herself. But in the beginning, I felt like I did have a paternal impulse toward her, wanting to protect her. That's been my little secret. I'm still very protective of her.
Bell: The first season was a lot—mentally and physically. We were all babies on that first season. I didn't feel like I was leading so much as we were all a team, in it together. But I did learn a lot about what it means to be the person people look to regarding the tone of a set. Sets can either be fun or stressful, I always wanted to set the tone for everyone to feel like they had a voice and that we could all have fun.
The Mall Tours
Because the show was on a smaller network, the cast had to regularly go on mall tours to drum up viewership. That boots-to-the-ground campaign ended up creating a cult following for the series, and gave the cast some memorable experiences.
Colantoni: I think it was Joel Silver's idea to bump up those local markets to raise the viewership. 'Cause that's all we had. We still relied on the Nielsen ratings, and we targeted those markets that weren't doing so well. Just by going on those mall tours and seeing these people. We were really surprised by how many people showed up and already knew the show and what effect that had on the viewership.
Hansen: I thought it was great because I'd never done anything like that, so I didn't know that that was a weird thing to do. I think, especially back when the show was airing, it was really a nice surprise for people to realize that, Oh they're genuinely nice guys. They're just some married dudes. It's always fun to play the douche than rather just be one in real life.
Dohring: We joke about the mall tours now, but when we'd do these tours to get fan support, we'd go out to Minnesota, and they'd literally skip my character in line because I was not liked. And I was like, Fine, I guess they don't understand I'm an actor and it's not me.
Colantoni: We were a team on the road. I'll never forget when we were in New York, Percy Daggs just presented a pair of Air Jordans to me because he saw that I liked his shoes. I was the old guy; I really didn't know what Air Jordans were. That would never have happened in San Diego. But we were all in a car together. We drove together, we flew together, we stayed in the same hotel. We got to know each other.
Thomas: No one really cared to meet me. But for the actors who were guest-starring, I think it was kind of thrilling. It was their first gig for most of them, or at least it was the start of their career, and getting out and meeting fans I think was kind of fun.
Colantoni: The fandom of this show started in those mall tours when they realized that we were real human beings who cared. I think that's what works with ComicCon, or the Paley Festival, but they've gotten so big.
The Evolution of LoVe
A pairing no one saw coming—Logan and Veronica's romance—was evident to Thomas and his writers early on in Season 1. For the actors, it took a bit longer to warm up to the idea.
Thomas: It was just all the writers in the room watching dailies and watching cuts going, "Oh, look at them." There was something going on there. And then it was like, "How do we slow-play this?" I like British costume dramas with a romance that they'll let percolate forever. I'm not sure there was "a moment," but I think they kissed in episode 17, and once we figured out we wanted to go there, we made a 12-episode arc to try to make people believe it in a way that felt organic.
Dohring: I started off as the antagonist, so I was hating her. I mean, I even imagined things that I had done that were awful, to her character, just outside of the script. I hated her, but the actress, Kristen, she's so intelligent and witty in getting to you. That's why I think this banter was so cool. It was around episode three or four, the writers pulled us aside and Rob said, "We're going to put you guys together." And we were like, "What the fuck? No way." And he's like, "Yeah, so you'd better start warming up to her."
Thomas: I don't know that I've ever asked Kristen whether they felt it going in that direction. I don't think either of them was surprised by it.
Bell: At first I was protective of Veronica and thought, Really?? She falls for that guy? I was nervous that this strong female would lose some of her superpowers if you put bad boy kryptonite in front of her. Honestly, I was worried she would become a cliché. Though the truth is, nobody exists in a vacuum. You only truly know yourself when you are in juxtaposition to someone you love. That's when your real character reveals itself and that's when life—and stories—get extra interesting. Also, I wasn't giving Logan's character enough credit. I was painting him with a very broad brush, when in actuality he is very complicated. And, as someone who has married a complicated person in real life, I can attest that they are the best ones.
Sticking the Landing
"Leave It to Beaver" marked the end of one mystery and the emergence of another puzzle Thomas needed to solve, but the finale, and the show itself, could've looked very different if Harry Hamlin had made another choice.
Thomas: We knew Aaron Echolls, Harry Hamlin, was the killer that entire season, but we did not have him as a series regular. So, at the end of that season, he got offered a movie in Australia that would have destroyed that first season. I will be eternally grateful to Harry Hamlin that he turned down that movie and stayed and shot the ending of Veronica Mars, because I can't even tell you how badly that would have hurt us.
Colantoni: To actually fight Harry Hamlin? That was epic to be able to just throw fists and fight dirty. Rob was referencing that big Sopranos fight between Tony Soprano and Joey Pants. That was unlike anything anyone's ever seen on television. Of course, that was HBO, but what we did was make sure that we weren't Navy seals defending America. We were two schmoes trying to hurt each other. That's what made it fun and exhausting. How else do you show that here's a guy who is ready to die for his daughter?
Dohring: I guess the biggest thing that we didn't know at the end of the first season was, "Who's at the door? Which direction is this going?"
Thomas: I had always intended to have that big mystery in Season 1, and then after the first season, it would just be "case of the week," like a lot of other detective shows, and the network called me about two-thirds of the way into Season 1 and said, "So what's the big mystery for Season 2?" And I said, "Uh… I don't know. Did you think there was going to be one?"
It was tricky going into subsequent seasons. You don't want to introduce an entire new cast of characters. But at the same time, it starts feeling funny when you wrap the same eight characters into big murder mysteries each year. So that was something we had to grapple with.
Welcome (Back) To Neptune
The Season 1 finale predicted a history-making Kickstarter campaign years before Kickstarter even existed, and the upcoming season on Hulu feels closest to the original iteration of the series than any installment thus far.
Thomas: If you watch that pool scene in the finale, we're playing a song in that scene called "Lily Dreams On" by an Austin, Texas band named Cotton Mather. And eight, nine years later, they were trying to raise money to re-release that album, and that was the first I'd ever heard of Kickstarter, and that's what motivated me to do the Veronica Mars Kickstarter campaign. When we launched the Kickstarter campaign I thought, You know, I've probably talked to 12 people who want a Veronica Mars movie. What if they're the only 12? What if I am just extrapolating greatly on a small sample size and no one shows up and we look like idiots?
Bell: Marshmallows are the best fans. They are kind and devoted and they always show up for us. They are the sole reason this story has been able to evolve and continue.
Colantoni: Season 4 feels like an extension of this series. We're back in Neptune, we're coming home.
Dohring: I mean, you're always so worried when you jump back into something, you want it to be good, and I felt like we did that with the movie, but that was also funded by the fans so we wrote it for the fans. I think this one is sort of its own thing, and we can do what we want with it.
Bell: Veronica is never content. I think it's part of the reason she is drawn to PI work; solving other people's problems and injustices takes the pressure off her looking inward and fixing herself. Since there is a metaphorical ellipsis to everything that she does, I knew, going into this season, there was a lot left to explore.
Dohring: Where we start off with Logan is, he's getting Veronica to look at her life, where she's now having to make some choices about her life. Is she too cynical with all the stuff that she's seen to be able to live a normal life? That's where we sort of find ourselves at the start of the show.
Bell: I think it's so important for young girls to see examples of nuanced women. Societally, we've made a lot of progress in breaking gender stereotypes, but we still have a long way to go. I hope young girls watch it and see an imperfect person—someone who makes mistakes, who has victories and who struggles with insecurity. I hope they see perfection isn't the goal.
Thomas: I think one of the first lines Veronica says in voice-over in Season 1 is: "Welcome to Neptune, California, a town without a middle class." I was intrigued by that idea 15 years ago, and I feel like that's only grown more relevant since. It's now a country without a middle class. One of the reasons I wanted this to take place during this debauchery of spring break is, if you're going to do eight episodes that explore gentrification, at least put it in a fun package, you know? At least make it fun around the edges. So that's what we did.
Bell: This season is very in keeping with the original ones. The characters are substantially older, and their worlds are more complicated as adults. It's evolved to match that growth, but it still holds on to the vibe Rob created from day one.