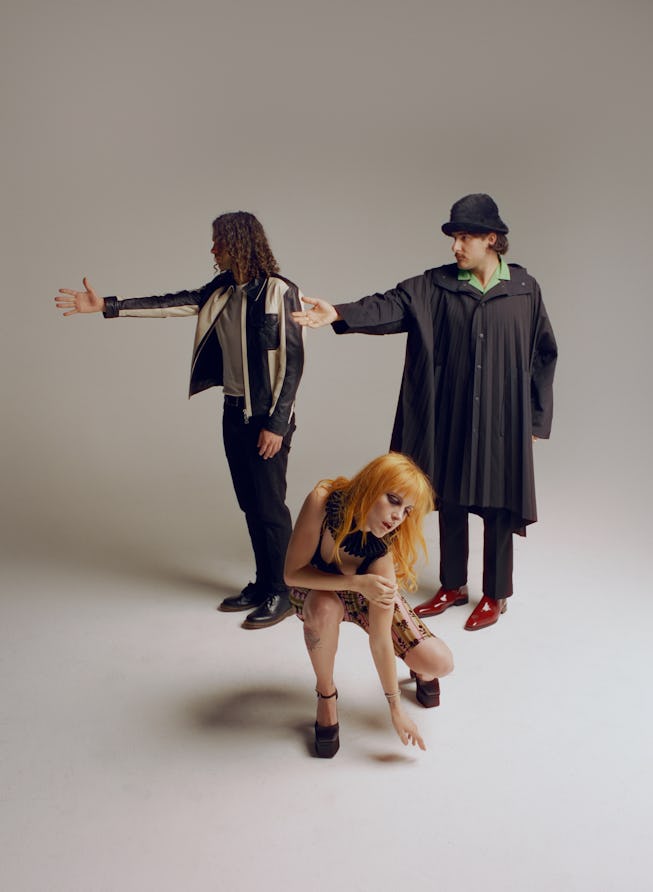 Zachary Gray
The Meaning Behind Paramore's Real-Life Love Song "Liar," Explained
Hayley Williams opened up about falling for her bandmate, Taylor York.
When it was revealed last September that Hayley Williams and Paramore guitarist Taylor York were dating, fans rejoiced and, for some, felt vindicated. For years, fans had speculated that the two were an item even though the bandmembers and longtime friends never confirmed it. But there were signs: They posted suspicious twinning Instagram stories; Photos leaked of Williams spending Christmas with York's family; And perhaps the most revealing, York helped Williams make her 2020 debut album Petals For Armor, which included numerous love songs and the track "Crystal Clear" that ends on a sample of Williams' grandfather, Rusty, playfully singing, "Friends or lovers, which will it be?"
Despite all the signs, it was clear neither Williams nor York wanted to address it publicly. Even when they finally did clear the air in a September 2022 Guardian story, they declined to give any additional comments. But now, Williams has opened up about the relationship on her own terms and in the best way she knows how — through song. On "Liar," from the band's latest record, This Is Why, Williams recounts falling for York and her subsequent attempts to suppress the emotion, painting a rocky start to their seemingly destined romance — and perhaps explaining why the two decided to keep their relationship on the DL for so long.
As the third to last song on the album and its sole love song, "Liar" is an outlier. Speaking to Apple Music's Zane Lowe in a February interview, Williams said the the track reflects the initial anxiety and fear she had after realizing she has real feelings for York. "When something has ease to it and something feels healthy and respectful, it must be wrong," she said. "I fought that feeling [of ease] and said to myself that, 'That's just a convenient thing. You're just trying to go where your ego likes it.' I just made up anything that I could."
You get the sense of Williams restraining her emotions right off the bat on the song's opening lines: "What was the moment?/ It's hard to say/ I'm sure I don't remember anyway/ Before I only knew to hesitate/ Pin back in the grenade," she sings.
The song's pre-chorus and chorus only make that message more explicit, even revealing that Williams went to great lengths to lie to herself and York about her feelings (though, in a sweet twist, she admits he always knew the truth). "And all the ways I'd keep you safe/ I keep you safe from me/ And, oh, my love, I lied to you/ But I never needed to/ Oh, my love, I lied to you/ But you always knew the truth."
But a strong a tonal shift follows the song's second verse as Williams begins to realize that her feelings for York aren't awful or anything to be ashamed of. On the track's second pre-chorus, she even includes a reference to her own song "Crystal Clear" with the line: "And why should I deny what's all/ At once so crystal clear?"
By the time the soft, rushing bridge arrives, the track has transformed into something else entirely: a reverie on the virtue of love and being in love. "Love is not an easy thing to admit/ But I'm not ashamed of it/ Love is not a weakening if you feel it rushin' in/ Don't be ashamed of it/ Mm, love is not an easy thing to admit/ But I'm not ashamed of it/ Mm, love is not a weakening if you feel it rushin' in/ Don't be ashamed of it," she sings.
Over delicate guitar lines and the song's billowing, undulating production, Williams delivers this bridge with the gravity of a hard lesson learned. And for Williams, it was — and it was a lesson with unbearably high stakes. "To realize that I love both [Farro and York] more than I've loved anyone in my life but I love them both slightly differently, that was also terrifying," Williams said in the interview. "Because I thought I must be a horrible person. I must be wrong. I must be everything that people has said about me. Is Hayley going to date every one of her bandmembers? You know, just like the bullshit that has been said."
In the unspoken rulebook of being in a band, dating your fellow members is basically at the top of the list of things you're not supposed to do, and one can only imagine that point would be further drilled in if you were the only woman in an all-male group. It explains why Williams wouldn't've wanted to proclaim to the world that she and York's were finally together — and should explain why if they decide to continue to keep that part of their lives private.
Still, for fans, "Liar" is rapidly already becoming a cherished addition to the Paramore catalog, with many dubbing it the group's "most beautiful song." Williams, herself, on the other hand, can't wait to perform the track on tour for different reasons entirely: "I can't wait to hear the crowd sing the bridge at shows because I feel like the song's so different for us, but that bridge feels so classic for a Paramore show." Don't let her down!