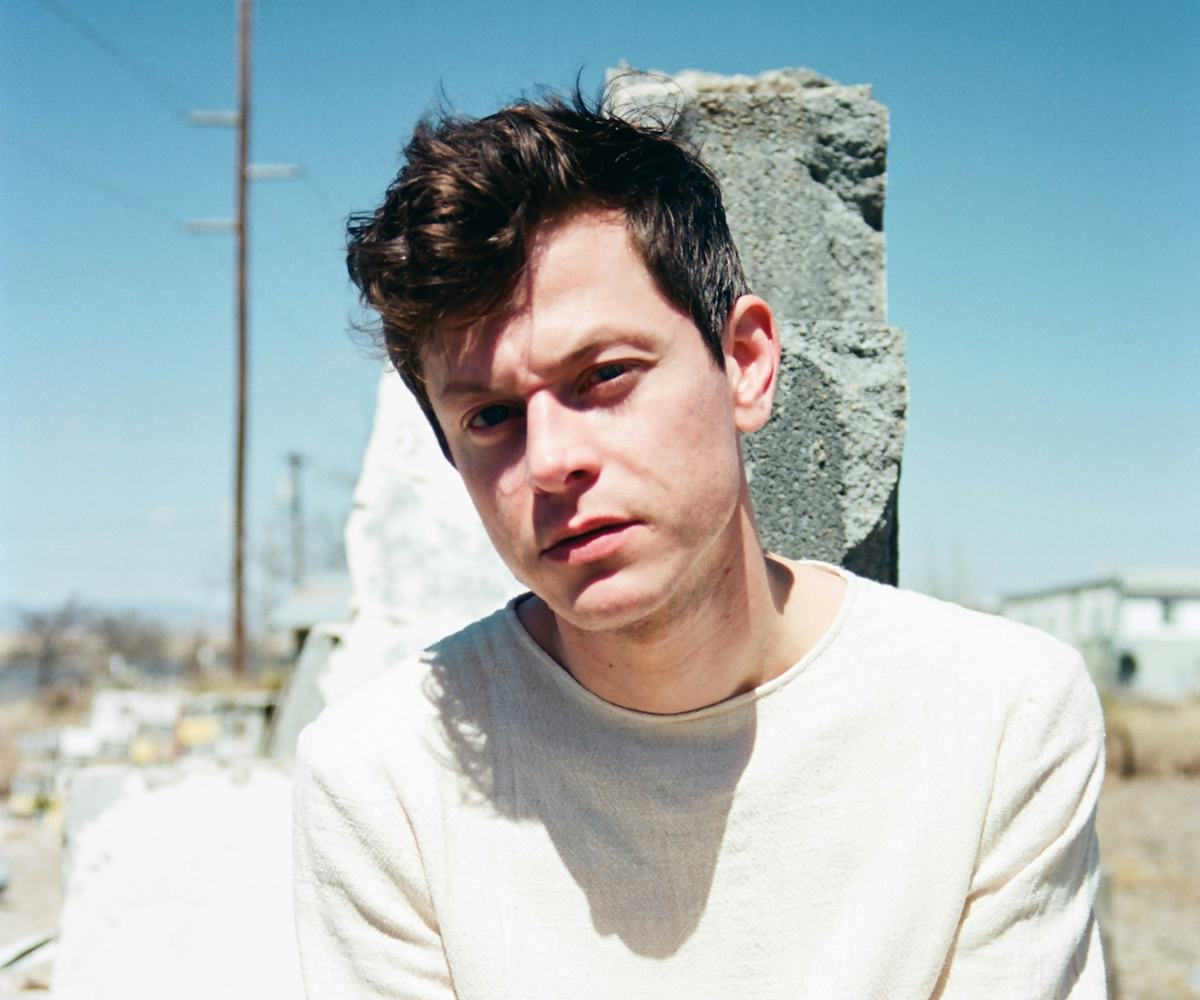 Photographed by Emma Rodgers.
On His Forthcoming Album, Perfume Genius Tackles More Than Just Music
The following feature appears in the May 2017 issue of NYLON.
It's often said that a full moon carries mystic powers. Tonight, it's conjuring all sorts of strange vibrations for the few hundred people gathered at the Capri for the closing night of Marfa Myths, an annual music and art festival hosted by indie record label Mexican Summer deep in the West Texas desert. As I navigate a crowd full of beautiful, tequila-buzzed artists, hippies, and cowboys, the Capri's backyard starts to feel both oddly familiar and light-years away from home. Onstage, Weyes Blood's Natalie Mering is joined by Perfume Genius's Michael Hadreas for the debut of an eerily beautiful piano ballad.
It's Hadreas's first time in front of a crowd since finishing his forthcoming album No Shape, but it takes the singer little time to regain his footing. The collaboration quickly twists into a tender cover of Scorpions' "Wind of Change" before hitting its stride with a dance-fueled duet to Erasure's "A Little Respect." The crowd erupts in cheers and Mering cedes the spotlight to Hadreas, his boyfriend and collaborator Alan Wyffels, and drummer Sean Lane, who together harness the night's energy into something even more electric, soon turning the place into a party with Perfume Genius's 2014 hit "Queen." As Hadreas vamps across the stage, mic in hand, he sassily hangs on the line "No family is safe when I sashay," thrusting his hips in time to the beat. Before I know it the night ends, and we all return to the windy, moonlit parking lot, quietly buzzing from the first taste of what Hadreas is calling Perfume Genius's most "fucked-up sounding" record to date.
The following day, I meet Hadreas in the sunny lobby of his hotel. Off-stage he's slight in stature, even in heeled suede boots. He has a sweet, elfin face that belies his 35 years, save for a few gray hairs near his temples. Dressed in a cream-colored linen shirt and matching pants, and carrying a leather tote, he proudly exclaims that he's summoned "his Western look" for today's photo shoot. Hadreas also likes to joke—about his "demon-like" dance moves, his problematically restrictive diet (he's had Crohn's disease for most of his life), and his dog Wanda's diva-like tendencies. As we grab a seat on a nearby sofa, I inquire about the previous night's show. "It was fun. There were a lot of moods in our set, I think," he says with a laugh.
No Shape was written mostly in his and Wyffels' Tacoma, Washington, home, following the end of a two-year-long stretch of touring behind his 2014 album Too Bright. When it came time to record, the pair decamped to Los Angeles, where Hadreas teamed up with producer Blake Mills (who's worked with the likes of John Legend, Fiona Apple, and Alabama Shakes) to bring the record's lush soundscapes to life. The result is a magnificent, adventurous, and moving 13-track opus that Hadreas agrees is unlike anything he's ever written before.
Over the past seven years, Hadreas has released three albums as Perfume Genius—2010's Learning, 2012's Put Your Back N 2 It, and Too Bright. With each, he's earned praise for his poignant, fearless songwriting, which he's used to unpack personal struggles with drug addiction, molestation, suicide, bullying, and his sexuality. Over the course of those albums, Hadreas has also transformed Perfume Genius from a somber, sparse piano project into a swaggering, full-bodied exercise in turning personal struggles into universal anthems. With No Shape, he's not just expanding on that idea, but refracting it through a prism of new instrumentation and what he calls "heavy vibes." "I think in the past I was nervous about slapping too much stuff on songs because I thought it would overwhelm them, or maybe they wouldn't hold up," he says. "Now I think I'm kind of into the music communicating the message as much as the lyrics."
The album's first single, "Slip Away," is a perfect example. It's a noisy, ecstatic rock opera, filled with pounding drums and jungle-influenced ambience so dense it lifts you up with its explosiveness. On it, Hadreas coos and wails lyrics about breaking free of naysayers and self-doubt, with a chorus that confidently urges, "Baby, let all them voices slip away."
In many ways, the song could be Perfume Genius's new mantra. As a songwriter, Hadreas has always worn his anxiety and insecurity on his sleeve, but at the heart of No Shape there's a newfound sense of confidence, one not far removed from the swaggering persona that bubbled up onstage during the tours for Too Bright. "Something just broke," he says. "Or I just don't care about being afraid anymore. When I watch people perform I want to see them freak out or forget where they are for a second, and for so long I never did that. I was very conscious. Now I just turn it off somehow."
Another factor in Hadreas's revitalized outlook is Wyffels. Since the pair started dating in 2011, the classically trained musician has helped Hadreas get sober, and has played an active role in Perfume Genius on and off the road. "A lot of the album is sort of about him, love, and our relationship," Hadreas says of his partner. No Shape ends on a sparse, almost meditative ballad titled "Alan," which explores the quiet beauty of love as it evolves. "There is just such a sweetness and a kindness to being with someone for a really long time that might not feel as exciting to write about for some people—especially gay people," Hadreas says. "Gay people are always writing about youth. Everything is 'a male body glistening' or something. I wanted to write about love not as just a gay thing, but as a gentler thing. Being with someone that long is really beautiful, and it can be just as dramatic and just as passionate as the other stuff."
No Shape is part of Hadreas's ongoing attempt to stay present, stop agonizing over the past, and "catch up" to what's actually around him. "Nice things feel harder to write about. It's much easier to write something disturbing or fucked up, which I'm very into, but I didn't want to talk about my drug use for another album," he says with a laugh.
Despite its huge sound, No Shape is noticeably lighter in subject matter than its predecessors. Its lyrics don't carry the in-your-face rebelliousness and angry inner-demon-banishing that marked Too Bright standouts such as "Queen," "Body," and "Grid." I ask Hadreas if he ever felt compelled to write another protest record in the wake of the current political climate. "Just wearing these boots feels like a protest," he explains. "When I made Too Bright everyone was asking me why I was writing about that stuff. They were like, 'But things are getting so much better. You all can get married, blah blah blah.' I know when this album comes out everyone is going to be like, 'Why aren't you talking about this?!' The truth is I'm never not talking about it. Even if these songs are seemingly more upbeat, there is an undercurrent of darkness to all of them. If they are happy it is in the face of all this stuff, which I think is needed. I think you can be fucking outraged and fighting, and still find a way to steal some warmth."