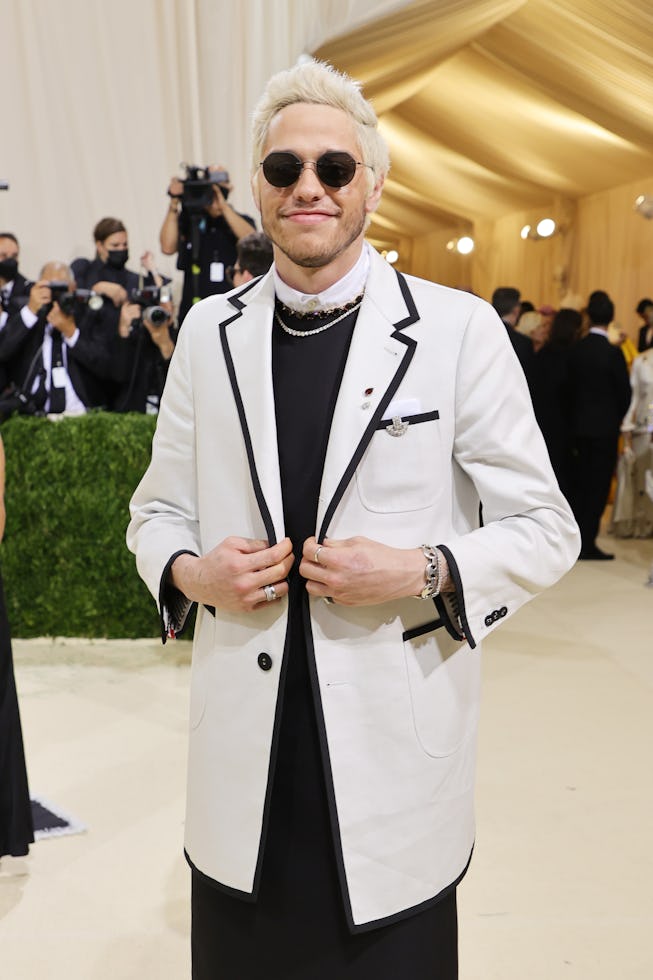 Photo by Mike Coppola/Getty Images
Pete Davidson Wore A Thom Browne Suit Dress To The Met Gala
Davidson referred to the look as a little bit "slutty nun."
Fashion's biggest night, the Met Gala, is a night for risks, and Pete Davidson's has paid off. While he may be known for his laidback vibe and Staten Island style, for tonight's Gala, Davidson wore an impeccable suit dress made by Thom Browne with custom sunglasses from Silhouette.
Talking to GQ before the event, Davidson said, "If you're gonna wear a dress, what better way or place to do it than the Met, you know? I'm really excited and really stoked that they thought I could pull this off, which is hilarious."
The dress is fitting of the theme, In America: A Lexicon of Fashion, and Davidson attended as a guest of Browne, an American designer. Speaking to Keke Palmer for Vogue on the red carpet, Davidson referred to his look as a little bit "slutty nun," and joked that he wore the sunglasses so he could people-watch comfortably.
More to come...