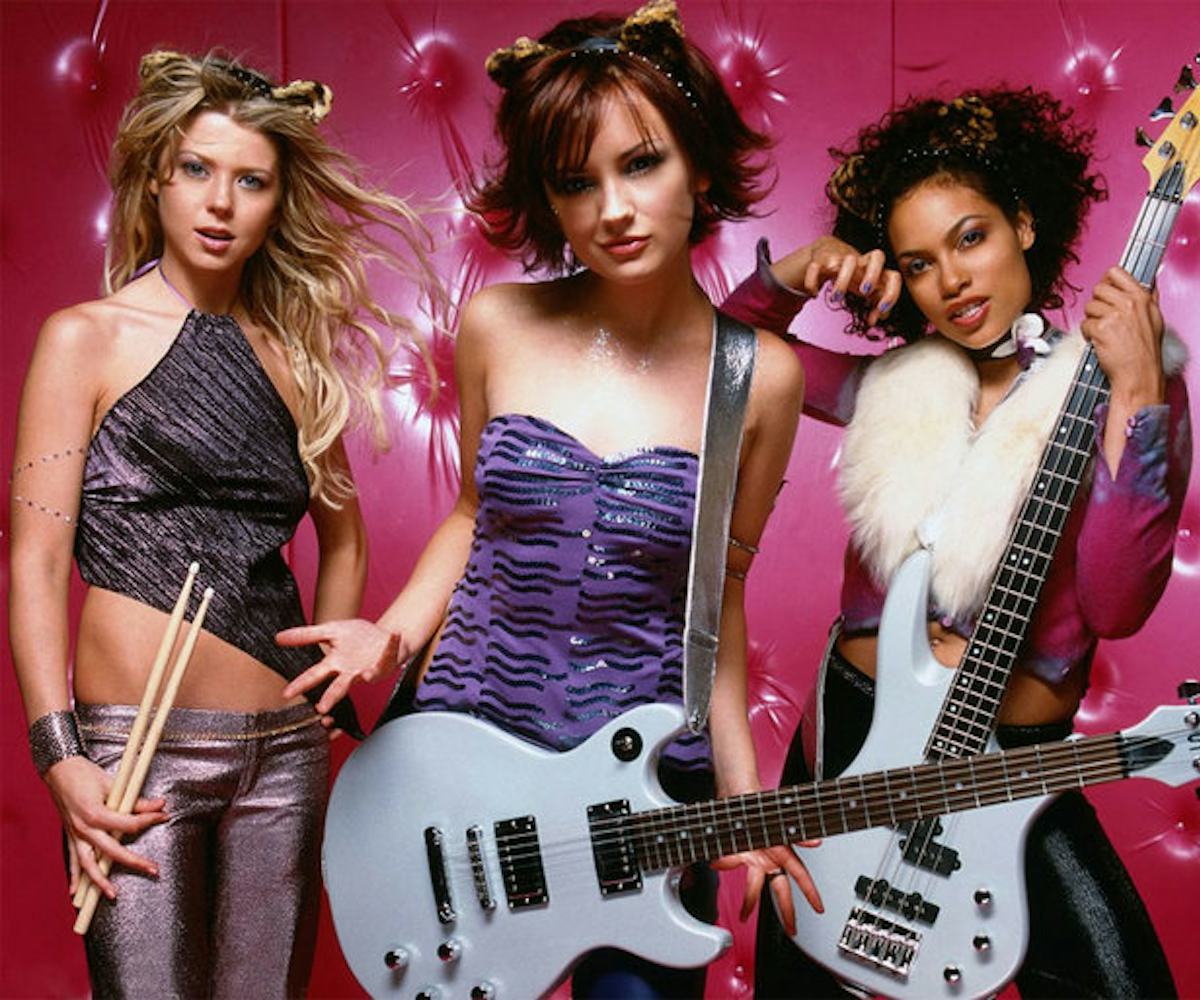 Photo courtesy of Universal Pictures
In Praise Of Josie And The Pussycats, Hollywood's Best Fictional Rock Band
I was still in high school when Josie and the Pussycats hit theaters in the spring of 2001. Like most of my classmates, I didn't even think about seeing it on the big screen. After all, it was a movie based on a cartoon that was based on a comic; it was obviously intended for girls much younger than me. I was practically an adult, anyway, in the midst of an all-consuming love affair with adult bands like blink-182 and Incubus. I had no time for cat ears and tails.
Then when I got to college, Josie and the Pussycats reappeared on my radar. This time, it was playing at an off-campus movie theater, where it attracted enough undergrads to warrant two back-to-back Friday night screenings. Lacking anything better to do, my friends and I tucked beers in our purses, forked over three dollars, and spent 90 minutes realizing how wrong we'd been about Josie and the Pussycats. For starters, it's not a kid's movie at all. It's actually a hysterically irreverent comedy that fires shots at capitalism and the commodification of youth culture. It's filled with Easter eggs, inside jokes, and so many great performances (Alan Cumming! Parker Posey! Rosario Dawson!). And, yes, it also has one of the most unabashedly ripping soundtracks of all time, thanks to Letters to Cleo's Kay Hanley, who brought Josie's bouncy vocals and heartfelt lyrics to life.
This week, nearly 17 years after its original release, the Josie and the Pussycats soundtrack is finally getting its due. On Tuesday, September 26, Mondo Records will re-release the album on beautiful, collectible, purple leopard-print vinyl. It's a weird move, for sure, but considering how ahead of its time (and criminally slept on) the movie was the first go-around, it also makes perfect sense.
To fully get the genius of Josie and the Pussycats, you first have to understand the setup. In the movie, Rachel Leigh Cook, Tara Reid, and Dawson star as bandmates and BFFs Josie, Melody, and Val, aka the Pussycats. We meet them in their hometown of Riverdale, where they're playing shows to no one, being mocked by their classmates, and pining for their big break. By chance, they meet a slimy but convincing record exec named Wyatt (Cumming), who offers them a major label deal. In an attempt to please his evil boss Fiona (Posey), he flies the Pussycats to New York and gives them one of those amazing five-minute makeover montages. Soon the Pussycats are on billboards and playing stadiums and inciting riots in the streets of Manhattan. 
It's all photo shoots and penthouses for a hot minute, but then the girls realize something nefarious is afoot. Josie falls into a diva-licious rage and severs ties with her bandmates, only to discover later that her songs are being laced with subliminal commercial messages. Suddenly the Pussycats are at the center of a national conspiracy to brainwash the youth of America. If they want to put a stop to it, they have to put aside their differences and overthrow Fiona and Wyatt. Once they do, they use their real music to teach their fans that it's cool to think for yourself.
Now keep in mind this was 2001, and we were living in a pre-Instagram influencer, pre-Spotify Discover playlist world. Artists like Britney Spears, Backstreet Boys, Christina Aguilera, and N*SYNC were literally everywhere (and Avril Lavigne, the patron saint of millennial guitar shredding, was a full year away from releasing her debut). MTV was a channel that played music videos, and a little show called TRL was at the center of its universe. In short, pop music all looked pretty much the same, and it was being fed to us with more intensity than ever. "We were coming out of an era with Nirvana and Pearl Jam and Sonic Youth, bands that really encouraged dissent and individuality," Josie's writer-director Deborah Kaplan recently told BuzzFeed News. "It was like the music industry suddenly decided we need to course-correct and feed everybody what we want them to buy and promote corporate culture and not be like, 'Down with corporations.'"
With that in mind, Kaplan and co-writer-director Harry Elfont decided to turn Josie and the Pussycats into one big, meta parody of the entertainment industry. The movie's most prolific gag is its obscene use of product placement. Logos for Target, Bounce, Coke, Redbull, McDonald's, and Tide show up in nearly every scene. The film's casting also feels like one long, sly wink. Former teen heartthrobs Breckin Meyer (Can't Hardly Wait), Donald Faison (Clueless), and Seth Green (Idle Hands) play members of a 98 Degrees look-a-like boy band called DuJour. TRL host Carson Daly cameos as an evil version of himself (who gets the shit kicked out of him by Melody, played by his then-real-life girlfriend Reid). Posey and Cumming—two of independent film's brightest stars at the time—play villains obsessed with popularity and mainstream success.
Sadly, back then, much of Josie's biting humor sailed over viewers' heads, mostly due to the fact that the film was marketed primarily to preteen girls. In the years since, though, it has found new life on streaming services like Amazon and gained bona fide cult status for being so creepily prophetic about what we now know as #BrandedContent. As for the soundtrack, it found plenty of fast fans in all those fresh-faced kids and, as it turns out, inspired more than a few to pick up instruments.
"The reaction now is different than the reaction then," says Hanley, "but the last year has seen quite an uptick in my exposure to people's thoughts and ideas about Josie and the Pussycats. I remember my friend in Brooklyn [in New York] told me about a band that was playing the whole soundtrack on New Year's Eve. I was like, 'Holy shit!'"
That band was Brooklyn power-pop quartet Charly Bliss, whose frontwoman, Eva Hendricks, cites the movie as a formative part of her musical upbringing. "One of my earliest musical memories is listening to the Josie and the Pussycats soundtrack," she told Kerrang! in an interview. 
Last Halloween, Charly Bliss played a full set of songs from the movie (in costume, of course) at Brooklyn's Shea Stadium. Sadie Dupuis (of Speedy Ortiz and Sad13 fame) has also name-dropped Josie and the Pussycats as an early influence on her music. "I was 13 when that movie came out and I was like, 'Oh, cool, a band of all women—I can do this, too; I will learn guitar,'" she told The New York Times last month. In 2014, Dupuis even covered The Pussycats' snarky hit single, "Pretend To Be Nice," for a compilation album released by San Francisco's Father Daughter Records.
The fact that the music of Josie and the Pussycats has had such a lasting effect on people doesn't surprise Hanley. Though she sang on and wrote for some of the biggest teen movie soundtracks of our generation (Ten Things I Hate About You, The Craft), she says she always knew that there was something special about Josie. "It was honestly one of the most fun jobs I've ever had," she says. "The music and the movie are really joyful, colorful, and funny, and I think that there's always a time for that. People are just finally catching up."