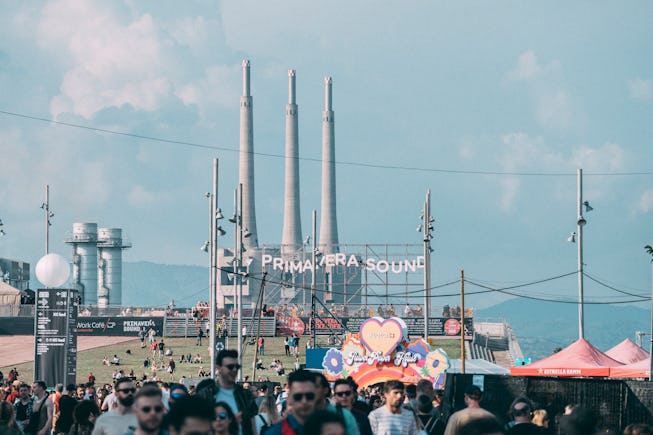 Sergio Albert
Let Primavera Sound Anchor Your Next European Summer Adventure
The festival's diverse lineup sets it apart from its American counterparts — plus, you can watch live music by the ocean until the sun rises.
Primavera Sound, Europe's biggest festival — with 75,000 more attendees in Barcelona than at Coachella — doesn't even start the music until 4 p.m. It ends 14 hours later, at 6 a.m. This happens three days in a row. If reading that makes you feel tired, imagine how I felt. (Spoiler alert: I actually felt great).
The Spanish are known for their leisurely 10 p.m. dinners, so local attendees were better equipped than I, a native of California where bars close at 2 a.m., to handle the weekend. I followed their lead and did my best to go full nocturnal mode. Despite the intimidating schedule, the things that make Primavera Sound so different from festivals in America are exactly what make it worthy of your bucket list, or an anchor for your next European adventure. For a festival whose name means "spring" in Spanish, it undeniably marks the start of summer.
Over the past five years, American festivals have shifted from prioritizing legacy headliners for of-the-moment acts fresh off of album cycle tours (think Ariana Grande, Billie Eilish, and Bad Bunny). While I love celebrating the songs of the season and the special guests they often bring on stage, I used to see festivals as opportunities to watch artists with half-century long careers I would otherwise never get to see perform. Primavera Sound deftly balances the new with the classic on their lineups: Halsey and Blur on one night, Kendrick Lamar and Depeche Mode on another. The newly designed festival layout resulted in the two main stages situated directly next to each other, allowing one act to set up while the other performed. This resulted in minimal lag between performances, and audiences for one artist ending up front and center for the very different one next in line.
Across 12 stages, all genres are represented — from indie rock to hardcore, hip hop to hard-to-categorize DJ and screaming vocalist duos. At Primavera Sound, a headlining time slot falls anywhere between 11 p.m. and 2 a.m. Despite headlining in 2019, hometown hero Rosalía performed from 2 - 3:30 a.m. on the final night, later than EDM powerhouse Calvin Harris.
I wasn't sure if it was the age demographic of the festival — older, or least least more mature, than crowds I've seen at most festivals in the U.S. — or just European sensibilities, but there were more people packing the CUPRA x Boiler Room tent for high-BPM DJ sets than watching pop superstar Halsey. In true continental fashion, the Amazon Music stage was the most crowded for the 2021 Eurovision winners, Italian rock sensations Maneskin.
Unlike the sequins and cowboy boots that dominate festival grounds in the U.S., outside of some VIPs in the CUPRA x Boiler Room backstage, the aged-up crowd wasn't focused on elaborate, often impractical festival fashion. This created an atmosphere focused on the music that could be felt throughout the sprawling oceanfront grounds that typically operate as a public park. There are no artsy installations for Instagram or TikTok opportunities, but the sun setting and (eventually) rising over the ocean on one side, and the Barcelona skyline on the other, beats any gimmicky prop. Despite the emphasis on the music, attendees avoided packing in like sardines and gave each other space when possible, even for Blur. During Rosalía's encore, it was understood to take chit-chat to the sidelines. When part of the stage caught on fire during Skrillex's 2 a.m. performance (somehow less of a big deal than it sounds), the crowd remained calm until it was fixed and he finished the set.
I aimed to arrive at the festival around 9 p.m. each day and to stay until 6 a.m., in order to take in as much as I could. Then I'd sleep in and do it again. It didn't leave much time for exploring the city, outside of a walk for a late lunch, but because the festival runs from Thursday through Saturday (with a separate EDM centric "brunch" party on Sunday), I used Sunday as my day to explore Barcelona's beaches and historic alleyways.
Yes, it's a longer and more expensive flight than any American festival, but when it comes to doing the math in the "is it worth it" conversation, consider this: Primavera's diverse lineup trumps American hyper-modern and singular genre festivals. The only legacy headliner at Chicago's Lollapalooza this summer is the Red Hot Chili Peppers; the festival ends around 10 p.m. and a beer is at least $15. At Primavera, there's 14 hours of music from bands your dad has heard of (Depeche Mode sounded just like their recordings as they danced in leather and glitter) to the buzziest anonymous DJ duo (the crowd for Two Shell, who went on at 4:20 a.m., was packed despite sharing a set time with fellow Brit duo Overmono). Kelela serenaded a crowd more than ready for her triumphant return. Fred Again.., fresh off of his surprise Coachella co-headlining slot, took advantage of main stage-sized screens to show iPhone style videos of his collaborators as their tracks played. More than anything, the thing that blew my mind every time was that drinks at the festival were under $5 each.
For the first time, possibly inspired by Coachella's two-weekend-in-a-row success, the festival is mirroring its lineup the following weekend in the Spanish capital of Madrid. A reduced lineup will perform in Porto, Portugal the same weekend. While I hope the brand can raise the bar for festival lineups everywhere, I know the magic of a sunrise set and cheap Cava are distinctly un-American. If I want the full festival experience, I know where to go.