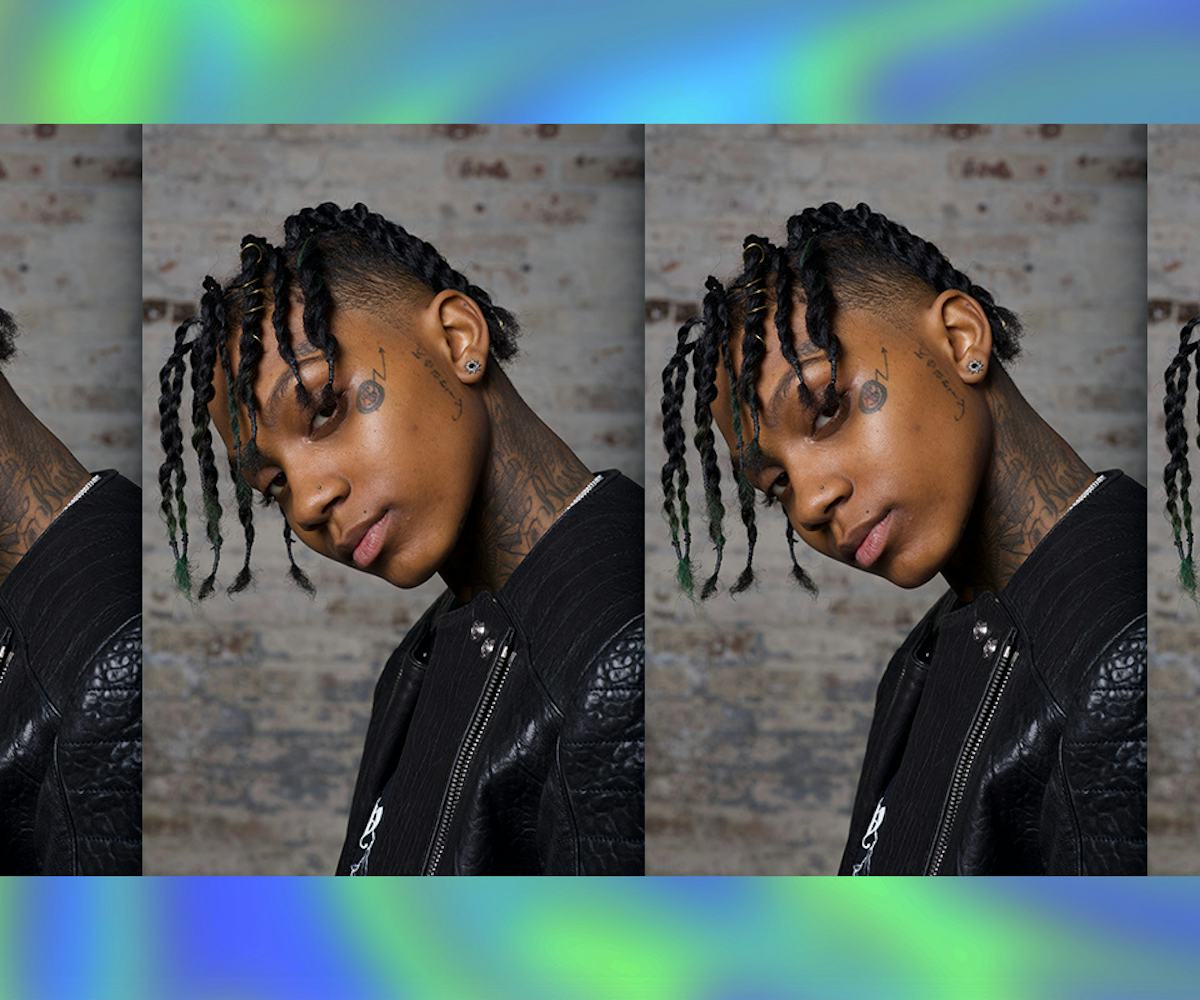 Nimic Revenue Wants To Get To Know You
And you should get to know this young rapper as well, whose EP 'Lifeline' dropped this summer
Nimic Revenue has a problem. Like a lot of young rappers, she's got a habit of running through cash with abandon. The difference, though, is she's not running up CVS receipt-length bar tabs or buying Margiela sneakers.
"I don't know if you can ever overpay the homeless people that are in need, but I do. I damn near be going broke in the streets for them," she says with a wry smile. "I'll have a couple thousand in my pocket, and I'll go crazy in the streets, that's how I am."
Giving out cash to the less fortunate is a stunt some rappers pull to appear generous; it's always done when there's conveniently a camera rolling. But Nimic isn't the type to broadcast her good deeds, and the closest she ever comes to performative in our time together is when she dances on camera with fellow Def Jam signee DaniLeigh to a snippet of some new material.
The St. Paul, Minnesota native is in New York for a short stint doing press and handling other business related to her Lifeline EP, which was released at the end of June. She hadn't planned on recording but the prolific young artist jumped at the chance to hole up in midtown's Premier Studio late on a Monday night.
"In the itinerary, they sent us for what the week was gonna look like, they didn't say shit about studio time until a couple hours ago. I was like, 'Okay,' and I made my way here, because I'm never going to say no to the studio," she says.
Her infectious melodies are a product of her atypical introduction to hip-hop. Where many young rap fans start off obsessed with gritty street tales and eventually expand their taste outward to incorporate other genres and styles, Nimic had a fascination with arena-filling pop stars like Justin Bieber, Beyoncé, Chris Brown, and Rihanna, and watched how they began to incorporate more rapping into their music later in their careers.
"It was more that I started to see some of my favorite artists going into rap," she says. "I grew up on a lot of singing shit, I loved hearing all different types of voices and watching all the different things you could do with your vocal chords."
There's a joy and boundlessness to the way Nimic uses her voice on her best material, like the breakout single "Therapy." On the hook, she spits sharp, pointed bars, while on the verses she stretches her register into a reedy falsetto that manages to not lose her signature rasp. The same quality can be found on more recent standouts like "Paramount" and the Lifeline title track.
Nimic grew up in a musical household, recording a full album with her younger brother when she was just 11, but admits, "I always felt insecure about my voice." Her family played a major role in her early exploration of music; she performed with her uncle's band at the Shangri-La festival in Minnesota, which was one of the ways she learned to be comfortable on stage. But her loved ones inspired her music in more complicated ways too—a disconnect between Nimic and her parents led the budding artist to first put pen to paper.
"My first song I ever wrote, I was seven years old or maybe even younger than that," she says. "I wrote a song called 'Notice Me,' and I wrote it for my parents, because I felt like they didn't really know what was going on with me as a kid."
Her father played a particularly active role early on, acting as her first manager and paying for studio time, but also approaching her career with a rigid, harsh mindset. Looking back, Nimic sees her dad's early demeanor as "a good thing and a bad thing," saying that it did inspire her present work ethic.
"I couldn't waste any time, because he'd get pissed off and say that I didn't want it or that I wanted to be a nobody or a victim in the world. He was a little harsh, but I understood," she recalls. "I knew his background and that he was going through some crazy shit. I know why he is the way he is. He made me a strong person. I think my music process really stems from him. I'm speedy, I start to get anxiety if I'm taking too long in the studio."
Musically, Nimic is constantly trying new things, testing the limits of her voice and the different soundscapes it can flourish atop. Her song "Butterfly," with its freewheeling guitar, sing-song vocal cadences, and story of doomed romance, is one of the better country rap songs this side of "Old Town Road." Lifeline was a conscious effort for her to show her versatility, something she says will hopefully make her fans expect the unexpected going forwards.
"If I just start giving them a certain type [of music,] they're going to expect that all the time, but if I show them all this, they're not going to know what to expect," she says. "I could do a whole country album, a whole rock album, a whole this or a whole that."
Her studio rat ways have given her a surplus of music, a large amount of which has been made with the producer Frankie Bash, who has also worked with Future, Offset, and Bobby Raps. The two Minnesota natives met and had near-instant chemistry, with Bash being struck by her candor and honesty.
"She says things that others wouldn't normally say or think about saying. A lot of rap right now is the same thing every song," Bash says. "But she really cares about what she's saying and putting her thoughts and emotions into each one of her songs."
Nimic has certainly dealt with her share of adversity. The young, openly gay artist has seen both her parents battle and beat cancer, and struggled with anxiety issues of her own. While some would react to that by becoming closed-off, she sees it as an opportunity to connect with people and be the anchor she wished she had.
"I want to meet these people that love me. I want them to hear it, I want to attract them to my shows," she says. "I want to make mosh pits, I want to feel close to them. I want them to know they've got a friend across the world. That's all I want to be."