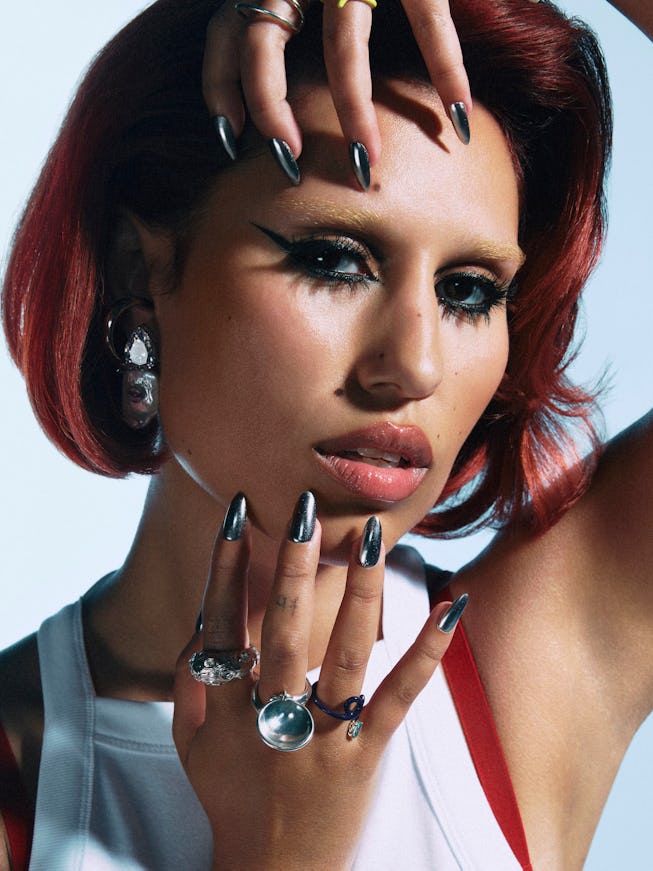 Sebastian Kapfhammer & Mikey Robbins
Raye Explicitly Speaks Her Mind On Debut Album, 'My 21st Century Blues'
The London balladeer talks being independent and why she no longer cares about the numbers.
"You know, I would have never known at 17 years old that this is how long it would have taken," Raye says of her debut album, My 21st Century Blues, that was seven years in the making. On Zoom, the South London-born balladeer rests on the far side of a couch in a pink-lit double-decker currently steering its way towards England's Birmingham. She's on tour opening for the Scottish musician (and her friend) Lewis Capaldi, and her red-tinged bob, which has become a style marker for the vocalist and is currently neatly coiled in pin curls, gently sways in the frame.
Raye, 25, has always been a few inches away from the magnifying glass of fame. The Ghanaian-Swiss singer attended the BRIT School, the art institute that developed the timeless voices of Amy Winehouse and Adele, and has penned hits for Beyoncé, Rosalía, Miley Cyrus, John Legend, and more. Her vocal dexterity, rich and jazzy, mixed with her mere passion for performance carried her to where she is today. But in 2021, Raye revealed to her fans that her former label Polydor has prevented her from releasing a debut album since she signed in 2014. "I'm done being a polite pop star," she tweeted. Three weeks later, she announced that she'd been released from her contract. Now fully independent, Raye says, "I feel reset, refocused, and grounded."
And it seems things are finally going Raye's way. She snagged her first no. 1 on the U.K. charts with her dramatic, 070 Shake-featuring viral song "Escapism.," her album's lead single with warning-sign sirens that symbolize the arrival of a burning new star. My 21st Century Blues is awash in decadent instrumentation and theatrical inclusions that feel as if the listener is putting a stethoscope to her heart.
Ahead of its release, Raye's upcoming headlining tour, and opening stint for Kali Uchis tour come April, NYLON caught up with the singer to discuss what My 21st Century Blues means to her, why she no longer cares about the numbers, and how she is reclaiming her artistic independence.
How's the tour going? How are you feeling with the world soon getting to hear My 21st Century Blues?
The tour has been brilliant. It's been utterly amazing. This tour is the first time I am performing some of this album which is making me realize, "F*ck, it's really happening now." I'm so excited and I am so ready to put it out. I was listening to some of My 21st Century Blues last night whilst the bus was moving. I looked out the window and made the lights blue inside and I was looking out contemplating, "Wow, I really love some of these songs." And they're coming out and now, I'm a real artist because I'm going to have an album!
You were weeping online when "Escapism." hit no. 1. What about that moment felt different to you? You're not a stranger to creating chart-topping radio hits.
First of all, I didn't expect any of it. Before releasing any of this music, I very insistently prepared myself to remove any kind of desire to look at any statistics. In the label system, it was so important to them. I just wanted to remove that mental framework and focus on the music's purpose, which is to be loved. I'm so proud of making "Escapism," and the support I have been receiving feels like the ultimate validation as an artist.
What was your direction with the creation of this debut?
A big issue for me in my past was that I struggled with my identity. Especially as an artist, we are coming from a place where sometimes we are being told who we are. I didn't know who I was at the beginning of my career and was unable to be consistent with my sound. With My 21st Century Blues, I wanted to flip this feeling on its head and be really rebellious about it.
Being someone of mixed heritage and mixed culture, I was raised with an African mom and a White dad, and Swiss cousins. I have never been one thing. So this go-around, I was really passionate about finding the through line in my music. Being able to discuss different topics from my perspective as a woman in the 21st century while uplifting this sense of classiness. I'm so inspired by the '60s, the music and the fashion. You know, my songs "Worth It" and "Thrill is Gone" I recorded in Jimmy Valentine's studio in L.A. We hauled in live strings and brass. I genuinely felt like I'd gone back in time. We even dressed up on the days we were recording music. While I was recording, mentally, I wasn't in today's era. And then when I would restructure songs I would make them fun and add futuristic tones, adding a sonic variety.
"The label system needs to allow artists to have personal convictions and usher us into always creating with a sense of purpose, rather than the means to sell."
What stories are you hoping your fans will identify with?
Coming all the way down to Earth and centering humanity is so important to My 21st Century Blues. Over the time of being independent, I've really been looking inward. This music is me putting my feet on the ground and just reflecting on memories from a really honest perspective. You can hear the candidness in the lyrics. I wanted to say things how they are. I wanted to be explicit and evocative. I didn't want to always describe feelings through metaphors. All of this music has been some form of medicine to me. I feel liberated now.
How was your songwriting process for My 21st Century Blues? Was it really emotional?
The process was definitely different than what I originally imagined in terms of the fact that some of the songs have existed for years. I wasn't sitting down with a giant piece of paper and a nice sharpie pen. There was a lot of introspection. I pulled from parts of my past and integrated those emotions into songs. I wanted to take the audience on a journey and touch on how brave I felt for writing deeper. I created this entire album with my best mates.
What have you learned since becoming independent?
It is so important for artists to be able to decide what's best for them and what isn't. Think of everything from what you want to say and what you don't want to say. I am happy I challenged myself to become independent and really take myself there for the purpose of art that I believe in. I've definitely learned a lot. Being honest and explicit about the truth, about your truth, is powerful and freeing. That is the true essence of My 21st Century Blues: speaking candidly.
Was there a music industry philosophy that you completely opposed when you were signed?
We could do a whole separate interview about this topic and I could talk to you for hours. The label system needs to allow artists to have personal convictions and usher us into always creating with a sense of purpose, rather than the means to sell. We should have conversations about creating safe spaces for artists to grow.
You're going on tour soon. How have you been preparing for the shows?
I want to continue to remove that fourth wall and really open up. As honest and raw as some of these songs are, that's how it will be when it's live. From a technical perspective, it's one thing to record a song versus perform it live. I'm a fucking perfectionist, so it's going to be exciting figuring the performance aspects out. I've got some really beautiful ideas and I'm nervous and excited about them at the same time. Overall, I just want to communicate the essence of these songs and share them with people who support me enough to buy tickets.
Do you have a song you're most excited to sing live?
"Escapism." has been magical because everyone sings and screams every bloody lyric back in my ears.
Where do your big dreams take you next?
Now, I'm thinking about my second album on this bus. There is no stopping me now. I'm so excited about the potential of what I can create. I've been starting to write again and I feel myself getting better. This summer is looking to be very exciting and I'm just going to bring it. I really, really am.