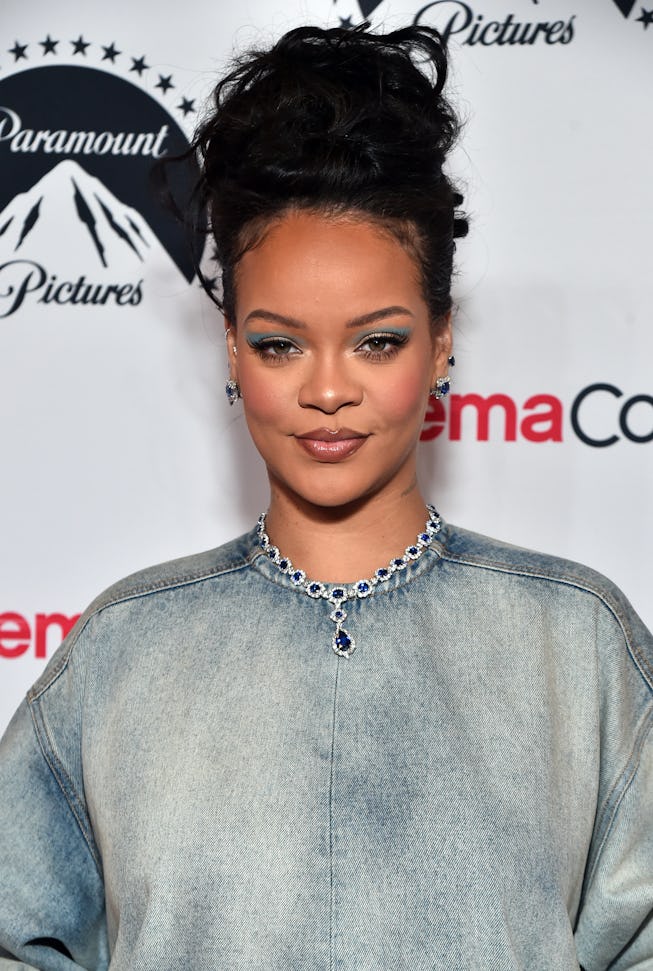 Alberto E. Rodriguez/Getty Images Entertainment/Getty Images
Rihanna To Play Smurfette In Upcoming 'The Smurfs Movie'
Yes, you read that correctly.
What can't Rihanna do? After conquering music, beauty, and lingerie, Rihanna is once again setting her sights on something new: Hollywood. More specifically, The Smurfs.
On Thursday, April 27, the superstar — fully in her third trimester of pregnancy — made a surprise appearance at CinemaCon to announce that she will be playing the role of Smurfette, a "little blue badass," she said, in Paramount's upcoming The Smurfs Movie, scheduled to hit theaters in 2025. But not only is she starring in the film, she'll also be producing it, as well as recording original songs for its soundtrack.
Fittingly, she announced the news while dressed in a full Y/Project blue denim look consisting of a floor-length cape dress, matching jeans, and denim boots. It just barely showed her baby bump (the likely impetus for her to align herself with the wildly popular, and undoubtedly lucrative, franchise).
"I tried to get the Papa Smurf role but it didn't work out," Rihanna reportedly joked to the audience on stage.
Rih heads will know that this isn't her first foray into acting. The superstar previously held substantial roles in 2018's Oceans 8, and the 2015 animated children's film Home, in which she voiced the main role, Tip. She's also appeared in Battleship, This Is the End, Valerian and the City of a Thousand Planets, and the Childish Gambino-starring short film, Guava Island.
The Smurfs Movie will be directed by Chris Miller and co-helmed by Matt Landon; there's no word yet on who else rounds out the cast and who will play opposite of Rih as Papa Smurf. Per Deadline, the comedic musical will set out to answer the question, "What is a Smurf?" We don't know the answer to that one, but we can say that the light of R9 is getting dimmer and dimmer.