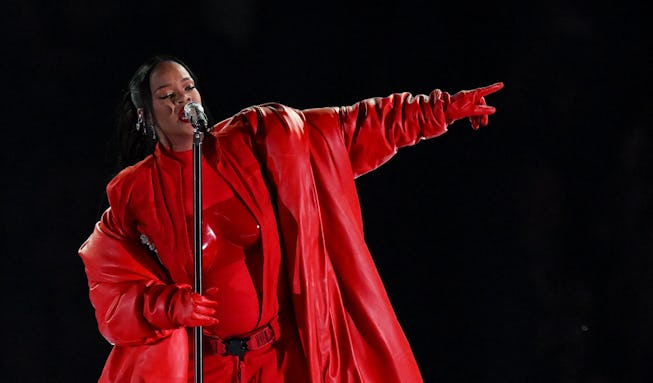 ANGELA WEISS/AFP/Getty Images
Rihanna's Super Bowl Performance Revealed Her Baby Bump
The Rihanna Bowl is finally here. On Sunday night, the superstar made her triumphant return to the stage delivering a transcendent, career-spanning performance of all of her hits: "Bitch Better Have My Money," "Rude Boy," "Work," "We Found Love," and many, many more. She wore custom Alaïa and Loewe in head-to-toe red, and was flanked by a squadron of backup dancers. She belted flawlessly on huge floating platforms that were pulled up and down through the air by invisible string. And at the end of of her 13-minute medley performance, she delivered a beautiful rendition of "Diamonds" while wearing a huge crimson leather puffer coat that billowed in the wind.
It was a spectacular show — and yet, for the majority of her performance, the internet was preoccupied by something else entirely: trying to figure out whether Rihanna is pregnant again.
Indeed, it seemed very likely that Rihanna will welcome baby number two as she stepped out onto the field in a red jumpsuit that seemed to be stragegically unbuttoned to reveal a small (but still very noticeable) baby bump.
Naturally, the observation immediately broke Twitter, temporarily shutting the site down for a few minutes. Everyone weighed in: isn't she or is she? Was it a trick of the eye, the layers of red forming a bump-like illusion? Some were confident in their assessments. "RIRI 1000% PREGGAETON," Mero tweeted. Others preferred to hedge without official confirmation.
But — surprise! The pop star is pregnant, a rep confirmed to The Hollywood Reporter following her performance. This will be Rihanna and A$AP Rocky's second child after they gave birth to their first in May 2022.
If you have been paying attention, there were some signs that now suddenly make sense. Prior to the big game, Rihanna appeared in an exclusive video interview with Apple Music to discuss her halftime show, during which she wore a large leather jacket conveniently covering her stomach. Additionally, her halftime performance, while high-energy, didn't have her performing any intense choreography. Instead, she walked gracefully here and there, and focused all her energy on her vocals (which sounded amazing, sweetie).
While Rihanna's reveal was sneaky, it ultimately makes sense, as the star isn't one to hide any baby news. If you'll remember, she frequently wore see-through lingerie and belly-baring shirts during her first pregnancy in 2022, choosing to highlight her changing body, and it's likely we'll once again get another whirlwind year of Rihanna's incredible interpretation of maternity fashion.
In the meantime, let's all return our focus back to her performance, which included an incredible Fenty Beauty-supporting moment of her re-touching her make-up. An icon.
See clips of Rihanna's Super Bowl performance below.