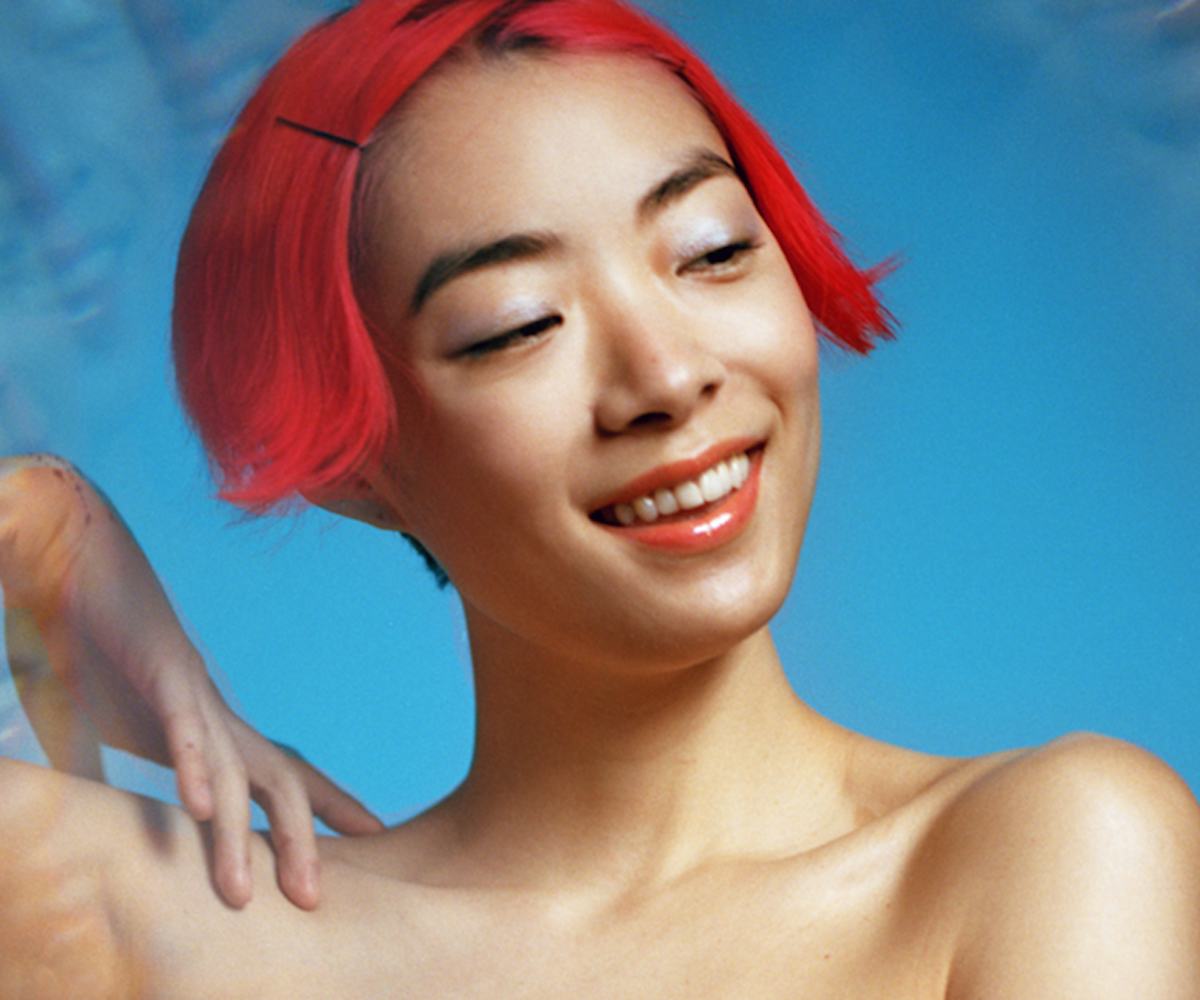 Photo by Lillie Eiger
Rina Sawayama's "Cherry" Is a Joyful Pansexual-Awakening Pop Anthem
Listen to the new track, here
Rising British-Japanese pop artist Rina Sawayama returns today with her latest single, "Cherry." Produced by Clarence Clarity and Hoost, the sticky-sweet pop track was previously performed during the artist's tours both in the U.K. and the U.S. While it was unclear whether or not "Cherry" would ultimately get the studio treatment, it's a critical addition to the independent pop star's sugary, growing discography. It's also another one of Sawayama's multi-layered, anti-hegemonic bops that speaks to themes of identity—this time, being queer.
"Cherry" captures the butterflies-in-your-stomach sensation of falling for someone you didn't to expect to fall for. Written from the perspective of a young woman suddenly realizing she has feelings for another girl—in Sawayama's case, a real-life young woman she caught sight of on the Victoria Line in London one day—the punchy, glistening pop track encapsulates what it feels like coming out for the first time to the most important person in your life: yourself.
In the sparse wasteland of bisexual and pansexual representation that is mainstream pop, the sparkling song, which so authentically and lovingly captures what it feels like to be a young woman just discovering her sexuality, is a queer-awakening pop anthem that embraces the use of same-sex pronouns. "Down the subway, you looked my way/ With your girl gaze (with your girl gaze)/ That was the day everything changed/ Couldn't stay the same," Sawayama, embracing her blossoming feelings, sings atop a flurry of bubblegum beats reminiscent of early '00s production.
"Even though I'm satisfied/ I lead my life within a lie/ Holding onto feelings I'm not used to feeling," she sings on another verse, expressing the complex layers of excitement, uncertainty, and internalized shame young queer people can often experience when grappling with their sexuality. But as the synths swell after the bridge, Sawayama bursts into bloom on the final chorus: "Will you be my cherry?" she pleads. Suddenly, all uncertainties fade away, and the track becomes a bright, unstoppable celebration of queer longing, coming out, and self-acceptance.
While LGBTQ+ visibility in mainstream music continues to grow, with artists like Hayley Kiyoko, Troye Sivan, and Kim Petras leading the charge for #20GAYTEEN, bisexual and pansexual representation in pop is still derisory at best considering that the numbers of those who self-identify as bisexual are on the rise, according to a 2016 report by the United States CDC.
Though artists like Halsey, Lauren Jauregui, and Janelle Monáe have all contributed to the strides being made for bi and pan representation, people who are bisexual and pansexual still face stigmas from both the heterosexual and gay/lesbian community. Only 20 percent of bisexuals report that their bisexuality is "an important part of their identity," likely due to the perpetual invalidation they face in a largely heteronormative media culture. More than ever, then, it's critical to normalize queer themes in our popular media, something Sawayama accomplishes in a relatable, positive way with "Cherry."
Plus, it's a total summer bop. Stream below: