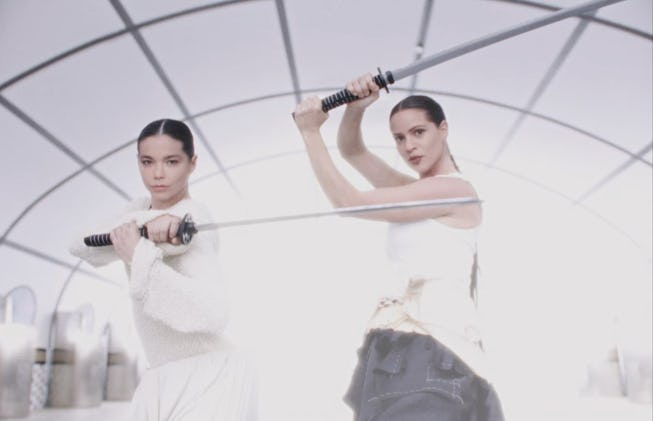 YouTube
Rosalía & Björk Made The Hottest Song To Save Salmon
"Oral," as its title suggests, is about sex, but not literally.
Let's be real: Most of the songs artists release for charity are kinda boring. They're generally covers or demos of a popular song, or some dusty b-side that they've unearthed, all nice but usually inconsequential. Björk, however, isn't most artists. The Icelandic icon's latest release is all about bringing attention to the plight of intensively farmed salmon, but she isn't using this occasion to parade out a stuffy, old, forgettable tune. Instead, she's using the moment to release a long-awaited collaboration with one of the world's biggest superstars: Rosalía.
On Tuesday, they unveiled their first-ever joint song, "Oral," a song that's as hot as it sounds. It's a track comes with its own fascinating backstory, as well as a highly produced and trippy, seemingly AI-generated music video.
There's a little bit of background info to know to truly understand the full context of the song. Per Björk and a press release, "Oral" has a history that dates back over 20 years. She actually wrote the song between the releases of 1997's Homogenic and 2001's Vespertine, but put it away after feeling like it wasn't a good fit either of those albums. Over the years, the song was more or less lost to time until this past March, when she was suddenly reminded of the track while on tour in Australia. Around that same time, according to the release, Björk also began learning about the intensive Norwegian-owned salmon farms in Iceland which are having a devastating impact on the surrounding environment and ecosystem, per the singer. "Farmed fish are suffering in horrid health conditions and since a lot of them have escaped, they have started changing the DNA in the [I]celandic salmon to the worse," she wrote on Instagram.
That's when she decided to recruit Rosalía to finally put out the song, while also amplifying the issue in Iceland.
If you're familiar with Björk's discography, then hearing "Oral" will make a lot of sense as it oozes the same minimalist sensuality that defined Vespertine, a record that contains some of Björk's most intimate and sexually explicit songs. "Oral," as its title suggests, is about sex, but not literally. Instead, it hinges more on the risqué dreams she's having about someone she probably shouldn't be thinking about.
Over lush instrumentation courtesy of close collaborator Sega Bodega, Björk and Rosalía wonder together on the song, "Is that the right thing to do? I just don't know, I just don't know." There's an implicit mention of a girlfriend, but the song just gets steamier and more explicit as it goes on and Rosalía inquires, "Can I just sneak up from behind/ to the back of his head/ then I'll lift up his hair/ and nibble ever so lightly." Kinda hot for a track raising money for fish!
For its music video, Björk teamed up with famed fashion photographer Carlota Guerrero who capture the two artists elegantly fighting each other via MMA and swords. Though, given the uncanniness of their faces, it seems probably they used stunt doubles and deepfake technology to make it happen. Put it with the song and "Oral" is a pretty fascinating case study into a charity music release.
As one YouTube commenter puts it: "If I had been told 20 years ago that the future would be Björk being a martial artist fighting a talented upcoming Spanish artist using deepfake technology to raise money to save the fish... I would have believed it."
As for the fish, all the proceeds from "Oral" will be used to support a legal case against the fisheries brought forth by the residents of the eastern Icelandic town Seyðisfjörður, which has been putting up a fight against the farms. You can learn more about it and donate yourself, here.