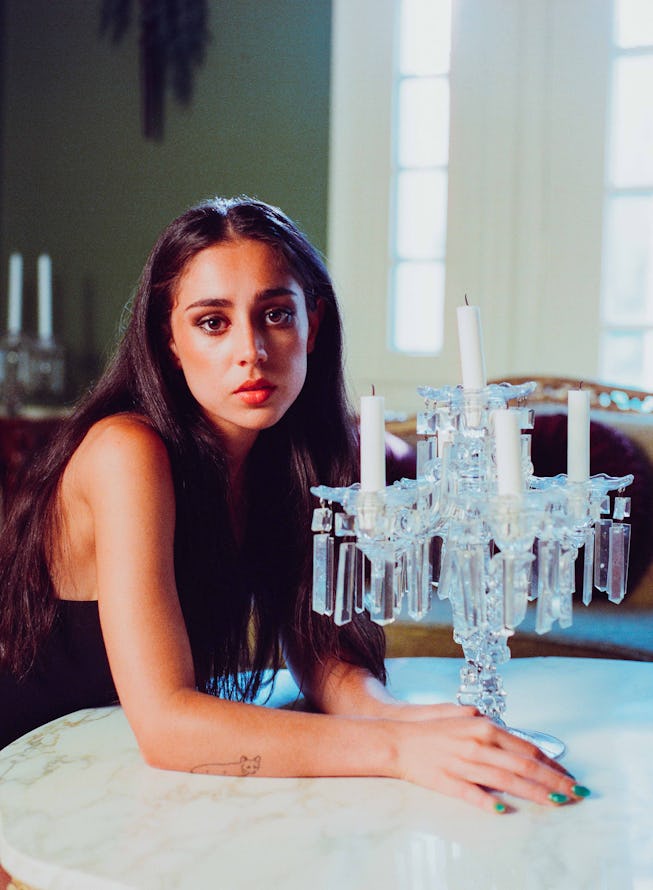 Sophia Matinazad
Samia On 'Honey' & Saying The Ugly Part Out Loud
The singer-songwriter's sensational sophomore album is incredibly raw — even for her.
To enter Samia's world means to meet an entire cast of characters. Over there is Gigi, who downs cocktails for breakfast. There's David, the guy you definitely didn't say anything weird to; Chris, a boy who doles out beyond-his-years wisdom; Amelia with the half-smile; and Meredith, and Abby, and Muriel, and Caleb — and the guy with sea lions as his computer's screensaver.
They're more than just characters, though: These are the real names of real people from the 26-year-old singer-songwriter's life. Some are fleeting passersby who she met at a bar or during a wild night out, but most are good friends about whom she sings tender odes, like on the sunny, misty-eyed tune "Amelia."
"I'm just really obsessed with my friends," Samia says over Zoom one January afternoon. "Especially at this point in my life, the people who are involved in making the record, too. I did have to send ["Amelia"] to my friend Amelia, who it's about, and I was so nervous for that whole day. It ended up okay."
This is how diaristic and unflinchingly personal the New York-native's pop music is. The first song I ever heard from Samia was her 2017 tribute to Father John Misty's Josh Tillman (called "The Night Josh Tillman Listened To My Song"), a flaming confessional that soared from her wiry, resonate vocals and desperate, self-deprecating lyrics: "Josh do you like my song?/ Yeah, I knew you'd hate it all along." (Tillman, reportedly, did eventually hear it.) In the years since, her songwriting has only gotten keener, and her profile only bigger following the release of a stunning 2020 debut album, The Baby. Now, she breaches a new phase of her songwriting on her sensational sophomore record, Honey, out Jan. 27.
"I used to really write in code, and I still love doing that," Samia says, gazing out of the passenger-side window of her car. On this cloudy Thursday, she's parked outside of a cafe in Nashville, where she moved two years ago from Brooklyn in search of more quiet, space, and trees. She speaks eloquently and with a near constant self-awareness, and tends to grimace when I mention her accomplishments, like selling out an upcoming show at the 1,800-capacity venue Brooklyn Steel.
"I think part of me was writing in code because I was scared to be fully honest … I was scared that my true feelings weren't super relatable or something," she continues. "I had to forfeit that shield this time [writing Honey] as an experiment [to prove to] myself that I can do it."
Even for Samia, Honey is incredibly raw. Written largely during early quarantine, most of its songs are about the same people and experiences she wrote about in The Baby, but with a sharper perspective due to the months of quiet introspection that lockdown afforded her. After relocating to Nashville, she was moved by the many songwriters she met who, she says, were "so skilled at making the truth sound poetic, and even speaking conversationally just sound really, really meaningful." She tried to do the same, writing without code, on the restrained explosion that's "Kill Her Freak Out," the first song she wrote for Honey, on which she admits to thoughts about killing an ex's new girlfriend. "And then it was done," she says. "Then I just felt like, 'Oh, okay, I survived that.'"
Samia calls "Kill Her Freak Out" the "worst thing you can say to a person, the most offputting, ugliest thing." But writing it unshackled her emotionally, simultaneously pushing her craft in a more visceral direction.
On Honey, ugly topics and feelings run rampant as she sings about feeling unlovable, trying to get someone to talk to you when they're mad at you, being drunk for days to feel some sliver of euphoria, and traumatizing medical procedures — themes sometimes obscured by producer Caleb Wright's incandescent soundscapes. Many of the record's 11 songs feature lyrics that don't always show Samia in the kindest light. On shimmering standout "Mad At Me," the most upbeat and poppy song on the record, she opens with the self-destructive lyric: "Why would I want to pick up the glass I'm stepping around?"
"A lot of the times I write about stuff like that, I'm mostly mocking myself and how quickly those feelings come and go," she explains. "A lot of the time we know that, but they feel so real in the moment. I think, at least for me, it's worth saying. It's worth letting it escape."
"My music is sad and confessional, objectively."
One gets the sense that Samia will be the first to call herself out when she's in the wrong (and for those wondering about her nepo baby status as the daughter of two actors, she's said, "There's no part of me that doesn't want people to know where I came from because that's such a huge part of the reason I am the way I am," in previous interviews). It's this trait of being unafraid to face her ugliest feelings that she shares with so many great young women songwriters of her generation, like Phoebe Bridgers, Lucy Dacus, and rising artists like Annie DiRusso, that makes Samia's music feel so all-consuming — even when it's littered with so many personal details that it can seem unrelatable. Online, her fans pick apart her lyrics on Genius, and rally behind Twitter bots that spit out contextless lines from her songs like they're daily inspirational quotes.
And if her songs get categorized as "sad" or "confessional," Samia'll be the first to acknowledge that it's simply the truth: "My music is sad and confessional, objectively." (She however doesn't consider herself a "sad" person, though says when she does get sad, it's "hysterically" so.)
Come February, Samia will embark on her North American tour for Honey, where singing these songs will transport her back to the moments she wrote them. She'll look into the eyes of her audience, and watch them sing her words back to her. The thought that she sold out Brooklyn Steel maybe intimidates her, and she laughs when I point it out.
"Sometimes the numbers and the data can get really overwhelming for me because I don't know how to quantify or categorize," she says. "[But] the thing that I'm always waiting for is the moment where I can look a human being in the eye. And it feels like it's not all in vain."
Samia's 'Honey' is out now Grand Jury Music.