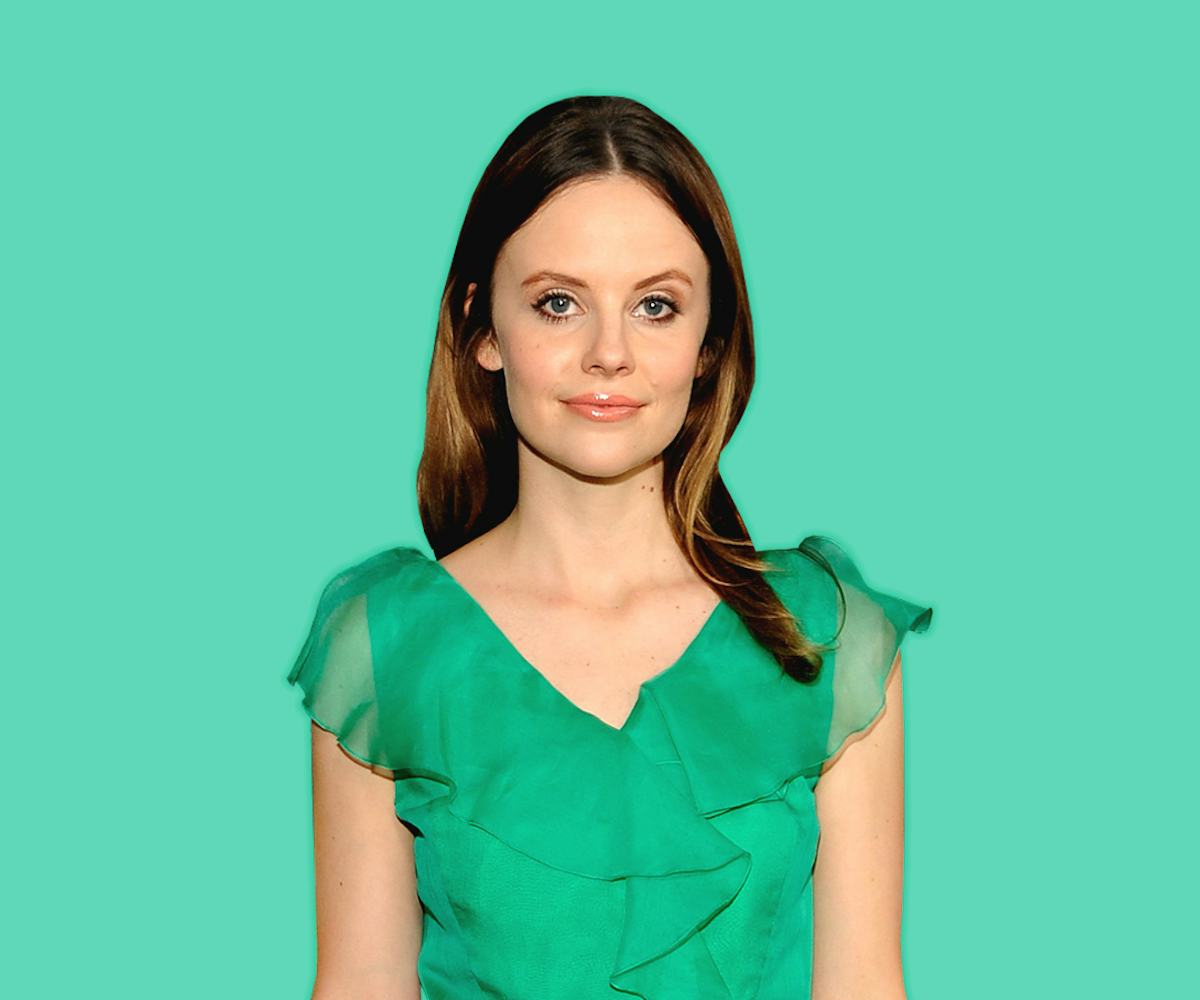 Photo by John Sciulli / Getty Images
Sarah Ramos' Web Series Will Have You Longing For 2000s
'City Girl' is a "demented story set in a glittery, girly dream world"
Sarah Ramos' web series, City Girl, is an absolute feat of early 2000s nostalgia. Based on a script she wrote at age 12, and directed and has now starred in at age 25, the show's maximalist wardrobe and set designs make way for the dry humor provided by the words written by a pre-teen. Every character's personality is evident in the clothing choices, from a pair of Hot Topic-clad workers in the shop that Casey, played by Ramos, owns to her ski-trip-obsessed ex-boyfriend's penchant for argyle and all that J.Crew has to offer. The perfect attention to every detail of this production from such a young writer makes sense. While Ramos has been acting since she was 10 and is well-known for her role as Haddie Braverman on NBC's Parenthood, she's not exactly new to making her own productions.
In 2011, Ramos made The Arm, a short based on the morbidly hilarious idea of the last texts sent by car crash victims. Late in 2016, Ramos released Fluffy with clothing brand BB Dakota, a short developed from her pal Ingrid Nelson's story about the interior world of a college-aged girl with an unrequited crush. Ramos has a knack for materializing the interior worlds of her characters on screen and the fact that City Girl's script hasn't seen any changes since the early aughts, proves that this is a natural talent. Ramos hasn't given up on her network TV roots, though—she'll be playing Creek in NBC's new supernatural series Midnight, Texas, which is due out in July.
Below, we talk with Ramos about the difference between her work on big productions and self-made projects, the aesthetics of the early 2000s, and fulfilling her childhood dreams. 
Something that I find particularly notable about City Girl, is that a lot of the messages about the characters are transmitted with what they're wearing. What inclined you to focus on that? 
City Girl is a romantic comedy from the mind of a 12-year-old. When we found the script, it didn't say 2003 or anything, but I knew that I had written it in 2003. I knew my influences were, like, the Olsen Twins, Hillary Duff, Lizzie McGuire, Reese Witherspoon, Kirsten Dunst, Bring It On, and Legally Blonde. I just really wanted to set this kind of demented story in a glittery, girly dream world. I felt like that would convey the innocence of the vision. It shouldn't have felt like, "Oh, this is intentionally fucked up—a girl with her doctor." It should come from a child's understanding of the rules of the adult world. 
What else influenced the making of City Girl? 
In addition to all of the things I mentioned earlier, I was also inspired by Lauren Graham's style in the original Gilmore Girls—she was always wearing funky hats. It's just a more-is-more aesthetic. I looked at a lot of [photos of] Ashley Tisdale, and you'd be amazed by her fashion choices. There's a picture of her wearing a tank top over a pink long-sleeved shirt, and she's literally wearing a sleep mask on her head and a pink feather boa. It's outrageous. We looked at Busy Philipps' outfits in White Chicks. She's wearing like Burberry on Burberry, patterns on patterns. 
I remember when I was in high school and middle school, there was this group of girls called The Watermelons because they would wear pink and green all the time. I was not in their group, so I was like, "Ugh, I can't wear pink and green, people will think I'm copying them!" I just feel like right now is a really great time for nostalgia for the 2000s. If you scroll through Instagram, you can see a lot of 2000s-inspired Instagrams, and we really pulled from all of that. 
When you were a kid, did you write a lot of scripts; do you have memories of doing that?
Yeah, I did! I didn't remember writing City Girl., I went into my closet and was looking for a murder mystery soap opera that I had remembered writing. [In the script,] there was this one mean guy in town, and he went around being mean to everyone. Then he's murdered, and everybody has a motive. But I couldn't find that script, and I found City Girl, and I had no real memory of writing it, except that I wrote it for Reese Witherspoon to star in. I had really high hopes! I also wrote a pilot script called Blonde to Brunette which was about a popular blonde high school girl. Somebody put hair dye in her shampoo, and then she's brunette and not popular anymore. But City Girl was the only script I could find. 
When I was 11 or 12 and going to premieres, I was so determined to be mature, and be an adult, and write screenplays, and do all of this stuff. I really wanted to not make fun of myself at that age, but City Girl getting made and getting this kind of attention would have been my dream at the time. I would love for kids who are writing screenplays to keep writing [because of this]. 
Fluffy was put out with BB Dakota, while City Girl was released with Super Deluxe. When your work is tied to a certain brand, do you find that it affects the actual finished product?
Fluffy and City didn't come from the same perspective. Super Deluxe wasn't like, "We want it to be crazy," and BB Dakota wasn't like, "We want it to be intelligent." City Girl was insane already, and that's why no one but Super Deluxe wanted to make it because they make insane things. I feel like if you're lucky, you'll find the company that makes sense for the project, and in both of those cases the companies were really hands off with the creative and allowed me to really go there. 
With Fluffy and The Arm, the stories are centered around the internal conflict of the characters, whereas Midnight, Texas seems caught up in the external forces of the supernatural. How does working on bigger productions, like Midnight, Texas or any of the other shows and movies you've been in, inform your work on self-made productions? 
I have not done anything like Midnight, Texas before—it's like an entirely new experience. I have never done anything supernatural except for like an episode of Wizards of Waverly Place when I was 16. I actually have a screenplay that I wrote, as an adult, that has a character who's an actor on a supernatural TV show, and he really wants to be taken seriously by his dad who's this prestigious author. He's ashamed of being on this really popular supernatural show, and he wants to be in a gritty drama that's really dark and fucked-up and is gonna win the Oscars, so he can be taken seriously. I wrote that before I did Midnight, Texas, and then I got cast in Midnight, Texas, so anyone who's read my screenplay is like, "You are in the show." So if anything, it kind of happened in a reverse way, and I feel like I found doing Midnight, Texas to be really interesting because you're bringing that internally grounded stuff that I like to use in my own work to a really fun, crazy supernatural show. 
The Arm was made in collaboration with your two friends, and you adapted Fluffy from a friend's short story. To what extent is being a part of a creative community integral to your process?
It's really important to me. I really like writing for people who inspire me, and people who I like, and friends who I think are talented. We wrote The Arm for Miles Heizer, who is from Parenthood. There's a sort of confidence that I have in my friends, that I don't really have in myself, that I'll be like, "Oh, well, Miles is so funny and so good. He will make this work." I don't know if it's me rationalizing to myself or something, but I like to put parts into the hands of people that I know, and love, and sometimes who haven't been seen in a certain way. Like in City Girl, we cast Nick Thorburn as the doctor, and Nick is a musician—he's from the band Islands, and the Unicorns. He's very talented and extremely dreamy, but I don't think he is the first person people would think of to cast as a doctor, especially when he doesn't act that much. But I knew that he was so funny, and dry, and had the sense of humor I wanted, and would be perfect for it. And it makes so much sense to me that a 12-year-old would cast a dreamy musician as a doctor.
How is writing parts for friends different from adapting stories written by friends?
I met Ingrid at Columbia, and we were in a workshop together. I read her work and thought she was demented, really funny, sad... like her work was funny, demented, and sad, not that she is all of those things, though she may be some of them. [Laughs] I really related to it. The idea of a girl being obsessed with a guy, and him giving her a Starbucks gift card... I was like, "That's genius." I needed to work with the concept of that idea. A lot of the stuff I make comes from one idea, and I make it really funny dark. The idea for The Arm came from years ago when I wanted to make a Funny or Die short about how pathetic and sad it would be if your friends and family died while they were texting and driving, and then you saw what they were texting. Like the stupidest shit: "Okay be there in five!" I feel like I always really want to rely on, like, "Okay, I have this one kernel of an idea that's really funny, and wherever I go from there, if I stay true to that, I can still believe in it."
At Columbia were you taking screenwriting classes or were you just writing fiction?
I didn't take any screenwriting or film classes. Well actually, I took one film class, but it was in the American Studies department. I majored in creative writing and fiction. This really came from a place of being like, "I have been working in the entertainment industry, and film, and TV since I was 10 years old, and I'm now 21, and it's all I know, and it could very well be all I know for the rest of my life." I wanted to try something else out, to branch out. 
I've talked to people who are just starting out in making their own films, and they say they cast themselves because they're a free actor, but they don't always see themselves acting in their own work. Do you see it this way, or do you always want to have some balance between the two? 
I think I would like to do a mix of both. Someone whose career and work I really admire is Mike White. He's a really great and talented writer and director, and he casts himself in smaller parts in his work. In his first movie, he was the lead, and he was great in it, but he has the freedom to put himself in something that makes sense for him or write himself a part. I think it's interesting because when I first started writing and directing, and right now, I wasn't ready to give up the acting part of it. It's the most fun part of the process; when you're acting between takes, you can just joke around and laugh with the other actors, but when you're directing, you are constantly focused and making sure that you're making your day and that the shot is working. You're in your head the whole time. There are definitely different parts of the process that are fun in very different ways, and I always want to be able to do both.