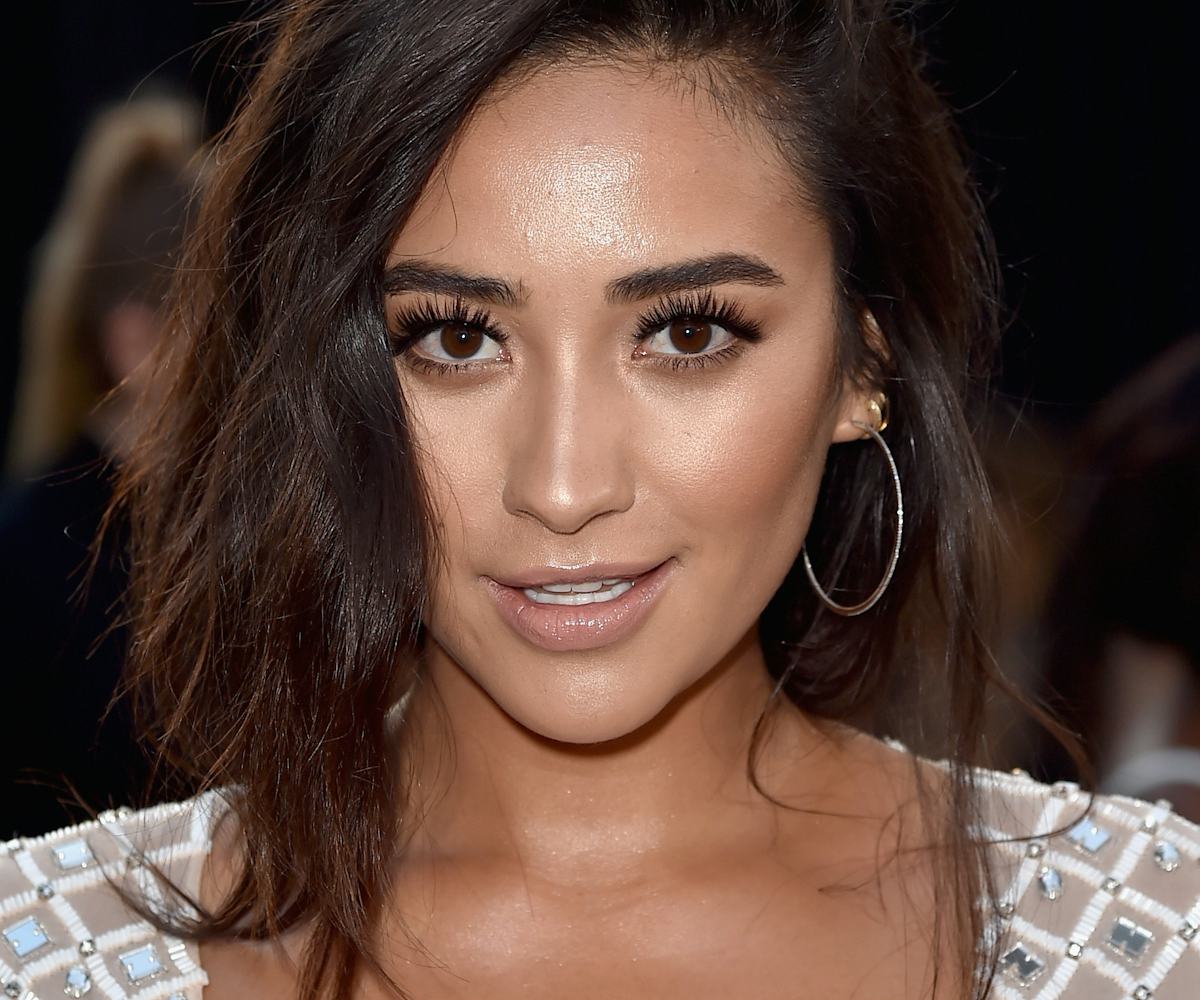 Photo by Kevin Winter/Getty Images
Shay Mitchell On 'Mother's Day,' Fashion Inspiration, And Playing An Openly Gay Character
A candid conversation with the 'Pretty Little Liars' star
For the past six years, Shay Mitchell has been portraying Emily Fields on Pretty Little Liars, the teenage drama-turned-cultural phenomenon that has catapulted her into a Hollywood mainstay. Besides a steady paycheck, the show has given the actress a platform to pursue a variety of altruistic and business endeavors. Since signing onto PLL, she's racked in 3.25 million Twitter followers; her Instagram page boasts an impressive clan of 11.6 million admirers. Mitchell has also become a bit of a "how to" star via her YouTube channel, where she shares an array of her favorite beauty, makeup, fashion, recipe, and fitness tips. She's also co-authored a novel, campaigned against sex trafficking, and has been a vocal force for LGBT rights. Recently, the Canadian actress has entered a new phase of her career when she landed the role of Tina, the stepmom to Jennifer Aniston's on-screen children in Garry Marshall's Mother's Day. We caught up with Mitchell on her 29th birthday to hear about working opposite Jennifer Aniston, her favorite memory of her own mom, and what playing an openly gay character on Pretty Little Liars has meant to her.
First off, happy birthday. 
Thank you. It's so awesome to be able to be spending it like this. It's very surreal.
How are you celebrating?
Working here. Doing press. I'm going to have dinner after and then call it a night early. I have a 6am call time tomorrow on set! I spin at Cycle House, and yesterday I hosted a birthday party there to raise money for a cause that's really close to me. 
What was it like playing the other woman in Mother's Day?
Opposite Jennifer Aniston? Very surreal! It was so much fun. I play Tina, who has such a genuine love and affection for her stepkids and her husband. She really is trying to make Jennifer's character proud of her.
Any fun stories of working with Jennifer Aniston?
She is amazing and she made me feel very comfortable right away. I think for me, the most nerve-racking thing was trying not to call her Rachel. But she was so sweet and so easy to work with. We had a lot of fun in the scene when our child comes out on stage and has his costume on backwards. We just had a good laugh at that.
Were your friends jealous you got to shoot with "Rachel?"
They were! I had a lot of funny FaceTimes with my friends. They were like, "Where is she? Where is she?" and I'd say, "Okay, she's not a mystical unicorn. She's here on set." Everybody wanted to hear about her. 
Was it fun to get to play a mom in a role for once?
Yeah. It was fun getting to play a different character than I'm used to. And wearing high heels and a push-up bra is not something I'm used to on PLL. So this was very fun.
Did you get to cross paths with Julia Roberts?
No. We kind of crossed paths on opposite directions. I was leaving when she was coming, but even just hearing her character talk about my character was awesome.
Do you have a favorite memory of your own mother?
Wearing matching outfits with my mom. It's so funny to look back on photos and see that she's in a sunflower dress, and I'm in a matching one. That was definitely a tradition that is funny to look back on. She liked to make me match her. It made for good photos. It may be something I'll do in the future.
Did you get your sense of style from your mom? 
My mom was always quite fashionable. I loved watching her get ready, so I think I got some inspiration and tips from her. For me, I think, it's waking up and seeing what I feel like putting on. My style is always evolving. I take tips from different people that I meet and from my travels.
What's the latest in the PLL world?
We had our first day back Friday, and so we're just starting a new season. We're excited to see where the writers take that.
Has it been fun playing with the time jump?
Yeah, it has been. It's nice that we get to play out of high school. I'm pretty excited to come back. It's exciting to see what the five years have done to Emily. Her style and her mannerisms are changing. It's just her outlook—it's a lot different than it was before.
You've been playing her for six years. Do you remember life before Emily at this point?
I do, but life being Emily is sweet too. I've had so much fun getting to work with this amazing cast and crew. It's been such an amazing journey, and it will be hard to let go of this character and this show when it does happen. All of us girls growing up in our teens and twenties on the show, and getting to see the crew have kids and their kids growing up. And seeing Sasha [Pieterse] and Troian [Bellisario] getting engaged! There are so many monumental events that have happened in this show. So it's just lovely to be able to share that with everybody.
How much of yourself do you see in the character? 
I think the fact that she is extremely loyal to her friends. I'd like to say that I am as well. She's just someone that you want to go and talk to for advice. She's extremely competitive but just a good friend, and I think that's one of the most important characteristics about her.
How has her storyline and the LGBT community support of that affected you on a personal level?
I've grown up with very close friends and family members in the LGBT community. I think having girls and guys watch the show and see how big of a weight was lifted off of Emily when she came out, and just seeing the support she got from people who care about her, that was great for them to see. It brought up the conversation in a very organic way with whoever was watching the show. I've been really lucky to be able to play her and to get to meet a lot of amazing people by playing her. 
Are there still haters at this point?
No. Honestly, I can only count on three fingers the amount of negative comments I've gotten about her. I would say that I think it's a lack of education. It's just ignorance. At the end of the day, nobody should be judged based on their sexuality and sexual preference. I think that has nothing to do with it. You need to judge a person for who they are as a person.
What are you looking forward to wearing now that summer is around the corner?
Dresses and rompers. Something super easy. That's the thing that I love most.
Any beauty tips for getting ready to show off the legs when the weather heats up?
You can get that natural glow from the sun, and that always makes it nice when you show more skin. But just being comfortable. I think my beauty routine in the summer is less is more because you are getting really hot and you don't want to sweat off your face.
What's next on the bucket list that you'd like to tackle?
You never know. I always say there's no limit. There's a lot of things that interest me and that I have on my vision board. I've actually been doing it for quite a while now, since high school. It's something that I always try and maintain and I tell a lot of people to do. I think producing would be something that would be fitted for me. There are a couple of things that I'm working on, and we'll see where that takes me.
Who is your style icon?
I think growing up it was Sophia Loren. I just love her carpet moments. And I think now Rosie Huntington-Whiteley is such a great style icon. She has such a great taste. There are a lot of people that have influenced my style.
How often do you and the PLL cast raid each other's closets?
We haven't been able to go to each other's closets that often because when we're not on set, we have so many other things that we're trying to catch up on. But I think as far as tips go, we're always swapping tips when we see each other during the week. That's always fun.