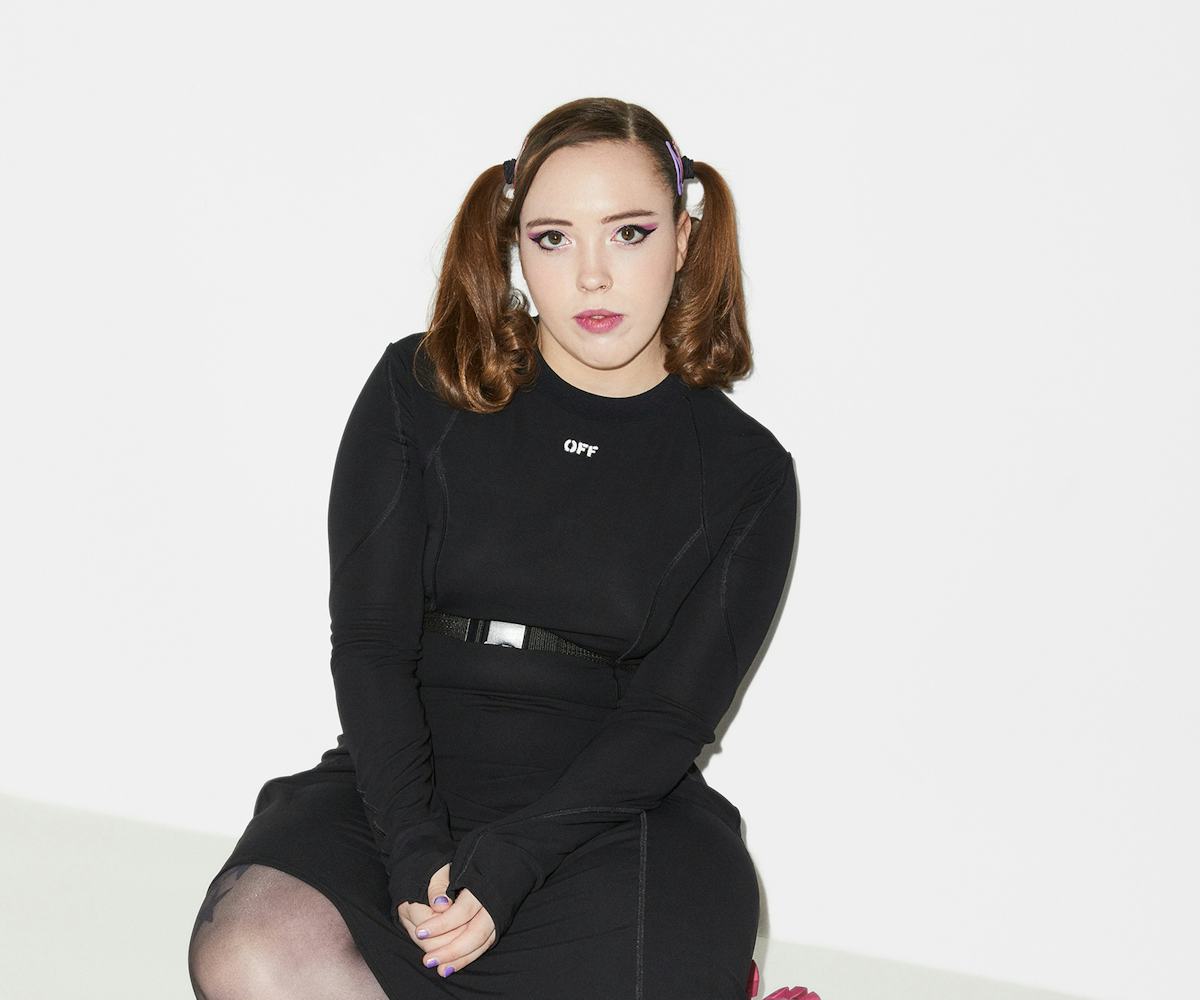 AARON RICHTER FOR NYLON
Soccer Mommy Goes For Gold
On Sophie Allison's sophomore album, Color Theory, the singer hits new heights.
Sophie Allison, the 22-year-old singer/songwriter behind Soccer Mommy, doesn't read reviews. But if she did, when it comes to her sophomore album Color Theory, which was released last Friday, chances are she'd be pretty pleased.Rolling Stone called it "a sucker punch of emotion," The Guardian declared it "fabulous stuff," saying, "Soccer Mommy could go anywhere from here."
"I only read [reviews] if it's shitting on me," Allison said two weeks ahead of the record release during a trip to New York. "'I want to know what you have to say, mister!' If someone likes it, it's kind of like, 'Oh, thank you!' That's it… I more read what everyone else has to say, what the real people of the world have to say." Those "unofficial" reviews, for the record, have been equally as glowing.
Color Theory is an ambitious second outing for the Nashville-based artist — who released her first studio album, Clean, in 2018 — with sets of songs broken up into three "color phases," as Allison describes them: blue for sadness, yellow for illness, gray for loss. "Usually when I'm writing a song and I'm thinking about the imagery, it's very color-based," she said. "It's not like synesthesia or whatever; it's just that I connect moods and vibes. Especially on this record, I saw that I was writing in three major ideas and moods, and thought that was a cool idea. 'Oh, these other two ideas also connect to colors in my head. We'll keep writing it and see if this keeps working.' I hate the idea of writing to a concept. But I like the idea there being intention and other ideas behind it."
Allison began writing the album back in March 2018, right when she first began touring Clean. "We just got the van and on the same trip, we had just heard Golden Hour," she recalled. "That's how I measure time." (Later that year, Soccer Mommy would go on to open for Kacey Musgraves on tour.) After over a year on the road, she finally got into the studio the following March, by then with the album written and ready to go — a testament to Allison's decisive nature as an artist. "I scrap things immediately if they're not going to make it," she said. "If I'm not vibing, I just stop writing it and I move on. I don't show it to anyone unless it's done. There's no filter there. It's all me."
"Royal Screwup," the album's third track, for example, was written in just 15 minutes. On it, Allison declares herself "the princess of screwing up," a succinct, self-deprecating observation that would certainly have been in plenty of AIM messages circa 2003. "It just kind of came out," she said of the song. "I was kind of shitting on myself for three minutes. Easy."
There's a heavily '90s-inspired feel to the album, and it's not that far of a stretch to imagine the songs playing over the credits of a teen rom-com, or played live at The Bronze in Buffy the Vampire Slayer. Allison herself, though born in 1997, is a noted fan of the decade, as well as the pop stylings of the early aughts. "I've been really into Fiona Apple's third album recently," she said. "I've also been listening to this playlist I made with old Kelly Clarkson, and Hilary Duff, and Jesse McCartney. This is so embarrassing, but I literally put 'I Heart Jesse' in Play-Doh on my door as a kid."
What's more, as a Nashville resident, Allison is a proud country music fan. "I have a 2002 Ford Ranger, and I only listen to country radio, pretty much," she revealed. "It's just like pop music, with different themes. Some of it, I don't even know what makes it country besides that they're talking about beer and trucks." (Of former tourmate Musgraves' recent response to a Michigan country station claiming they can't play two female artists back to back, Allison noted that it is "a huge problem.")
Color Theory's penultimate track, "Stain," however, relies on none of her own personal musical references, and is instead a stripped-down song that showcases Allison's lyrics at their rawest over an ominously strummed guitar. "You pulled me close and went through me like a ghost," she sings, ending with, "Now I'm always stained, like the sheets in my parents house / I'm always stained, and it's never coming out."
"That's like the only song I'm not going to play live," she shared. "I don't want to do that every night. I already sold my emotions and soul, I guess. I want to have it be a 50/50 deal."
While only a week out, the album is already sending Allison and the band to new heights. In February, they made their late night debut, performing "Circle the Drain" and "Lucy" on Jimmy Kimmel Live; just a few days later, the band opened a Bernie Sanders rally in Texas (a clip of the Democratic presidential candidate saying, "Let me thank Soccer Mommy for the music" in his Brooklyn drawl quickly made the rounds online). The band will hit the festival circuit throughout the summer, including Osheaga and Vida. But first, a nearly sold-out headlining tour, which kicks off in Atlanta at the end of the month. "We're developing visuals now," Allison explained. Ideas include old TVs playing static and fake candles. "I don't want to do too much, because I want to let the visuals speak for themselves, and not just have it be this crazy, 'Welcome to my twisted mind' situation… but we might try to have some tinsel."