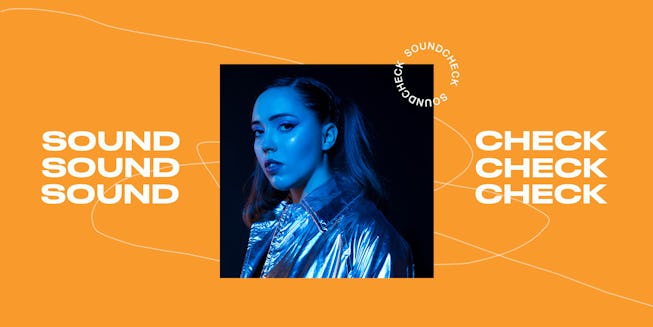 Soccer Mommy by Brian Ziff
Soundcheck: The 13 Best Music Releases Of The Week
From Soccer Mommy, to Aminé, to Diana Gordon and more
Every weekend, we bring you #SOUNDCHECK—your destination for the best new music that hit the web over the course of the week. Because you should always be prepared when someone passes you that AUX cord. This week's roundup features 13 selections from of our favorite emerging and established artists. Turn up, tune in, and tune out.
Sometimes expansion is necessary for the health and wealth of our much-loved playlists. That's why this week's vibrant cross-section of tunes pulls from the luminous catharsis of Soccer Mommy to the brain-tingling dance of Atlanta's stemlines. It's true — Nashville's beloved Soccer Mommy returned this week with their sophomore album, color theory, its tight 10-song track list providing everything one could need during SAD's peak season. Meanwhile, at the other end of the country, Portland rapper Aminé made his highly-anticipated return with "Shimmy," a braggadocious cut stuffed with the signature goof and snark that first made him famous.
Elsewhere, an anonymous new contender, RMR, made waves on the Internet with the groundbreaking country-trap of "Rascal," while Jessie Ware dropped an immaculate disco track that will sneak up on you like those first unassuming shots of tequila. I, personally, had been looking for some new freaky dance anthems, and thankfully "Xxnoslo" by stemlines absolutely does the trick. Stream all of the above and more, below.
"Up the Walls" - Soccer Mommy
Listening to Soccer Mommy's stormy "Up the Walls" is like watching a flower bloom in real-time.
"Shimmy" - Aminé
Aminé returns with a ringing new single and his signature snark.
"Salchichon" - Azealia Banks feat. Onyx
Azealia Banks, sausage, and a thirsty dembow beat. What more could you want?
"Rascal" - RMR
The anonymous RMR pays homage to Rascal Flatt's "Bless the Broken Road," by keeping the instrumentals but giving the lyrics a contemporary update.
"Describe" - Perfume Genius
Allow Perfume Genius to lull you to sleep.
"Girls Just Want To Have Fun" - bladee & Ecco2K
Sweden's sad boys let in a little sunshine for the radiant "Girls Just Want To Have Fun."
"Rollin" - Diana Gordon
Blown-out bass and grunged-up guitar for Queens native Diana Gordon's latest.
"Matches" - Korantemaa
19-year-old Swedish vocalist Korantemaa captures a groove among bric-a-brac percussion.
"Spotlight" - Jessie Ware
Jessie Ware's "Spotlight" is certified PWFTBTKI. Or please wait for the beat to kick in.
"Most Beautiful Song In The World" - Mija
Some say "show, don't tell," but with this instrumental multi-layered track, we're more than happy to believe it.
"Modest" - Gupi
Aggro metallic bleep-bloops for the montage scene of your life.
"Xxnoslo" - stemlines
Screams in the club at 4AM.
"Airplane" - Magdalena Bay
With visuals almost as dreamy as the vocals, Magdalena Bay's "Airplane" reminds us all what it's like when "your life's taking off but your/ heart breaks."