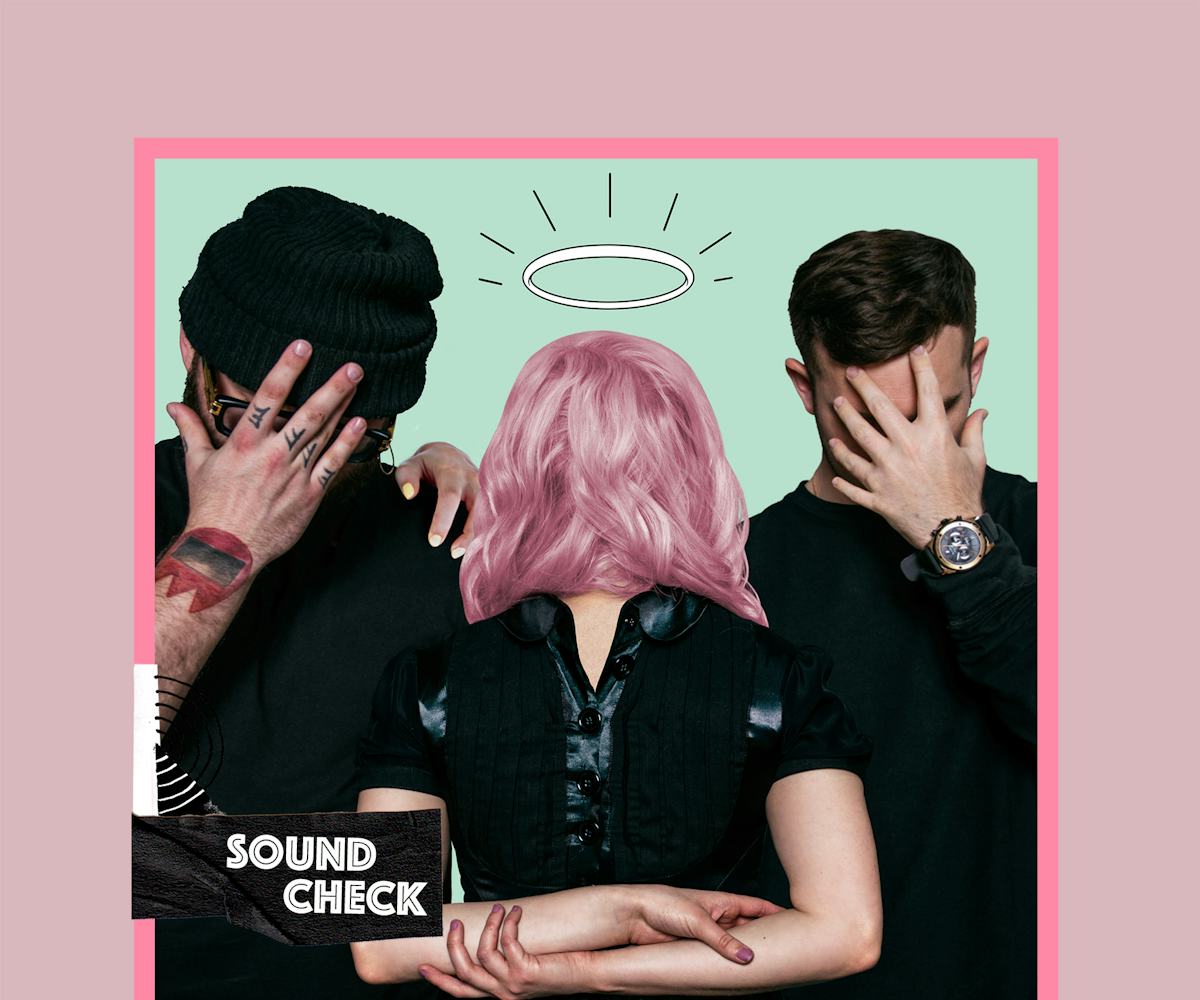 Photo courtesy of Terror Jr
Soundcheck: The 21 Best Music Releases Of The Week
Terror Jr., SOFI TUKKER, Jacques Greene + more
Every weekend, we're bringing you #SOUNDCHECK—your new destination for the best of the best new music that hit the web over the course of the week. Because you should always be prepared when someone passes you that aux cord. This week's round features 21 of our favorite emerging and established artists including Terror Jr, SOFI TUKKER, Jacques Greene, and so many more. Turn up, tune in, and tune out.
Bop City— Terror Jr 
The enigmatic, grape-loving trio that skyrocketed out of the internet released their debut EP this week. The eight-track project is, as the title suggests, a true bop. Terror Jr is playful, sexy, and extraordinary. Lisa Terror, the trio's vocalist, gets distorted to a point beyond recognition but it amplifies the group's mystery and allure. Haters will say it sounds familiar, but those people couldn't recognize greatness if it stung them. If the future is Terror Jr, then it's looking bright.
"Awoo" (feat. Betta Lemme)— SOFI TUKKER
Fall has just begun, but this video for "Awoo" is making us wish for spring. The artist is joined by her friend, ex-model Betta Lemme, as they traipse around a nature-filled mansion, bathing in feathers and hatching chicks in sinks. The song itself has a driving, compelling beat, and the girls' voices sound so sweet layered over each other. The refrain of "Awoo" is thrilling—everything sounds slightly mysterious, like something you would hear in a dream.
Cross Your Heart— Liz Y2K
Self-proclaimed "Space Brat" and pop princess Liz Y2K has released a full mixtape—and a lookbook to go along with it. For the lookbook, she collaborated with Nicopanda (and its owner, Nicola Formichetti, creative director of Diesel) to create conceptual outfits to go with the music itself. The mixtape comprises a slew of collaborations too, with everyone from Vic Mensa to Daktyl. It's 16 songs of completely unapologetic, upbeat '90s-style pop music, and we're loving it. 
"Plead the Fifth"— Liana Bank$
Liana Bank$ is back with another track proving she is nothing if not a boss-ass bitch. On "Plead the Fifth" she talks about her place in a no-holds-barred, no-rules night... without ever actually telling us what it is. Despite the mystery, we wish we were there.
"Hey, I Won't Break Your Heart"— Corinne Bailey Rae
Corinne Bailey Rae has unveiled the visual for "Hey, I Won't Break Your Heart," the second track from her latest album, The Heart Speaks in Whispers. The video, directed by James Frost, sees Rae in various circus costumes as she gazes directly into the camera. Get ready to have your breath taken away.
"Church/Liquor Store"— Saba feat. Noname
You might recognize Saba from Chance the Rapper's "Angels," and now he's back with a track that couldn't get any smoother. The rapper and producer takes listeners on a tour of Chicago while rapping about the people who live there. Saba's Bucket List Project drops October 27. 
"Pink Beetle"— Rejjie Snow
Hear why BBC Radio 1's Annie Mac chose "Pink Beetle" as the "Hottest Record in the World." Following the release of "D.R.U.G.S.," the Irish rapper is ready to set himself apart from the rest. Listen to the track above!
"New Phone (Who Dis)"— Cakes da Killa 
Your favorite meme officially has a song to go along with it. Cakes da Killa takes it further with shady lyrics including "New phone, who dis/ Cutthroat, ruthless/ Don't appreciate my love, and I'll leave you looking stupid." The song will be featured on his debut album Hedonism, which drops on October 21.  
"Afterglow"— Jacques Greene
With his North American tour starting in just a couple of days, Greene has released a relaxing track that's perfect for starting your day. The song will be available on a special 12-inch vinyl on October 28. 
"Durt"— Ray Blk
This is just a taste of what to expect from Ray Blk's EP, Durt, out October 28. The quickly-rising U.K. singer's soulful voice is front and center for this single that you don't want to miss.
"The Middle"— Wet
After the release of their album, Don't You, Wet has returned with not one, but two new songs. "The Middle" is a simmering track that deals with contrasting emotions in a relationship. If you want more of this, tickets for their U.S. tour can be purchased here. 
"Turn Away"— Wet
The trio's second song takes on a lover who leaves when you need them most. Kelly Zutrau's vocals and the synth-heavy production will be stuck in your head for days! 
"No Service in the Hills"— Ambré feat. Kehlani
"No Service in the Hills" is the New Orleans native's first release since her mixtape, 2090's. Over a chill trap beat, Ambré and Kehlani reflect on their respective come-ups and their never-ending grind. 
"Stay"— Alpines
The U.K.-based band delivers new-age Mary J. Blige vibes with their newest single off sophomore album Another River, due out October 28. Soulful electropop never sounded so good.
"The Water Beneath You"— The Naked And Famous
In case you weren't aware, The Naked And Famous' new album Simple Forms is one of their best projects to date and this newly released song is why. Atmospheric, emotional, and a gut punch of a synth line tear us to pieces.
"Alaska"— Maggie Rogers
If we could dance through an idyllic woodland with Maggie Rogers for the rest of our life, we would.
"DNA"— Lia Marie Johnson
The vulnerability of Lia Marie Johnson's "DNA" comes to life in this somber and charged music video. It's a moving reflection of addiction and its effects on the people around it, and Johnson treats the topic with a poignant delicacy.
"Ruin Your Night"— Sorcha Richardson
Sorcha Richardson never ceases to impress with her guitar-led, refreshingly honest sonic narratives. Here, she takes us into the throes of young love and all its upbeat energy and anxiety.
Sounds EP— Mathew V
What is it with Canada and its never-ending supply of raw vocal talent? The Weeknd, Justin Bieber, Lights, Carly Rae Jepsen, and now newcomer Mathew V? We must have been good in a past life. Mathew V's new EP, Sounds, showcases his richly soulful voice over productions that mix pop with alt-rock and dashes of gospel. Watch his space, because this is one voice you won't easily forget and will most definitely hear more of. 
"Trying Not to Love You"— Caroline Smith
Caroline Smith's latest single has everything that is right in the world: hand claps, smooth layers of synths, and a saxophone? Check! Pair all that with Smith's swagger and you've got yourself a vibe that enriches any space this song plays.
"Riot" - Jon Waltz
In his latest, Waltz is singing about coming of age and all of the trials and tribulations that come along with it. He describes it as sounding like, "the song I needed to hear when I was younger," but, in our opinion, there's no better time than now to listen to this truthful anthem.  
Joanne— Lady Gaga
Um. Duh. This album is a triumph.