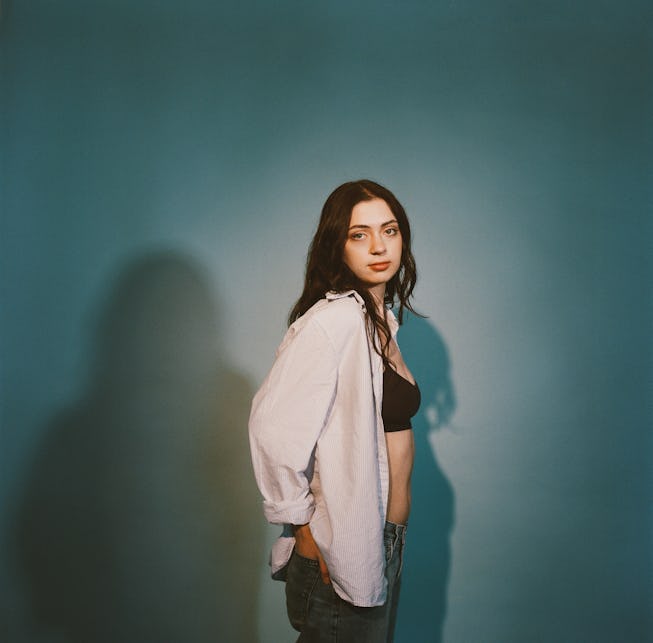 Caity Krone
Spotify's Pop Rising Playlist Is Supporting Your Favorite Artists On Tour
The first stop: Lizzy McAlpine's hometown show.
Spotify's immensely popular Pop Rising Playlist is partnering with some of the brightest up-and-coming artists on tour to create an unforgettable experience for fans.
On Friday, April 28, the streaming platform announced Pop Rising On Tour, its latest endeavor to support young artists by putting together Spotify Pop Rising activations at key tour stops throughout the year, in order to "[engage] their loyal fan-bases by meeting them where they are," states a press release.
The first show of the Pop Rising On Tour series kicks off on Saturday, April 29 at Lizzy McAlpine's hometown concert at The Fillmore in Philadelphia. On site, fans will get the chance to commemorate the special evening by snapping photos at a custom Pop Rising x Lizzy McAlpine photo booth, and also receive a special giveaway bag containing a postcard and note from the singer, as well as her favorite hometown treat, a Wawa brownie.
"I'm so excited to partner with Spotify for my hometown show in Philly," says McAlpine in a press statement exclusively to NYLON. "It's such a special moment and I'm so glad it's being captured like this. The Pop Rising playlist is where I discover a lot of new music and I'm so honored that I get to be first in this series they're doing!"
Following McAlpine's show, Pop Rising On Tour is scheduled to pop-up next on Sabrina Carpenter's tour. There will be two more activations at unannounced shows in the second half of 2023 that will be announced at a later date.
Alongside Lorem, Rap Caviar, and more, Pop Rising is one of Spotify's biggest playlists, and is its flagship pop playlist, with nearly 3 million listeners following the carefully curated playlist at press time. With a focus on the current and next generation of pop musicians, it's helped boost the careers of McAlpine, and artists like Gracie Abrams, Joji, and Burna Boy, acting as an indicator of the biggest pop stars of the moment. For new and smaller artists, getting included on the playlist represents a huge jolt of visibility and new listenership.
"Spotify is always looking for ways to connect artists with their fans and allow listeners to engage with their favorite playlists in new ways," says Ashley Graver, Head of Pop, Dance, and Indie, Artist Partnerships at Spotify in a statement. "Through Pop Rising on Tour we're able to bring the playlist to life for a special experience at a stop on tour for the next wave of pop superstars. Lizzy's hometown show is a celebration of the incredible year she's had, and we're honored to be a part of it."