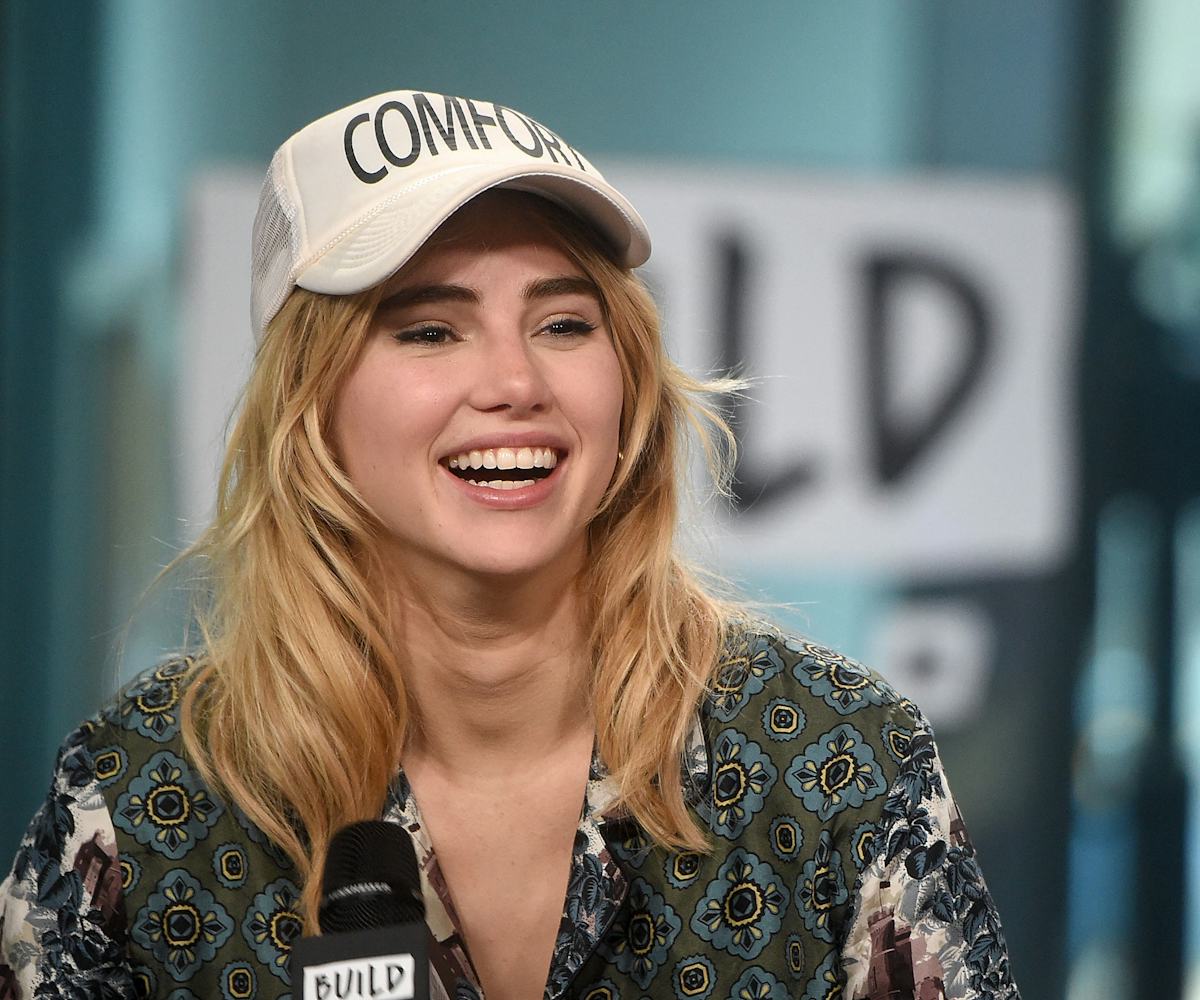 Photo by Jamie McCarthy / Getty Images
Suki Waterhouse Felt Reborn After Making 'The Bad Batch'
"It's like I got torn apart and now I'm putting myself back together"
Before entering a single frame, acting came with a warning for newcomer Suki Waterhouse. "This is going to be really hard," said The Bad Batch director Ana Lily Amirpour. "It's going to take over your life. It's going to be the hardest thing you've ever done." On the heels of Amirpour's beloved debut, A Girl Walks Home Alone at Night, the Iranian-American filmmaker wasn't going to jeopardize her big opportunity—a project with a sizable budget and a cast that includes Jim Carrey and Keanu Reeves—on someone who wasn't truly committed. Amirpour was setting serious expectations upfront. Waterhouse quickly accepted the challenge, and more than rose to the occasion, delivering a wallop of a performance.
In Amirpour's dystopian vision of the future, Waterhouse plays Arlen, a dismembered renegade in a post-apocalyptic desert. She's one-armed, quick on her feet, and even quicker to fight back against a community of cannibals. Amirpour wasn't lying when she warned Waterhouse the shoot would challenging. Cinematically, The Bad Batch is a grueling undertaking driven by boundless bloodshed. It revels in being unapologetically brutal. Recently, we spoke with Waterhouse about the physically taxing experience, and she was quick to unpack her experiences on set, especially as they dovetailed into her changing reality, from model to actor to co-founder of Pop & Suki, her millennial-focused accessory brand. 
The Bad Batch was your first true job as an actor. Were you at all reluctant going into it?
How could you not want to do it? It's one of those things where you don't know if you will ever do something this fucking cool again! I've done stuff since, and it's not the same. I realize the kind of people I want to work with: I want to work with the crazy people.
Because you're crazy?
Well, yeah, I want to work with deeply focused people, those making art from the soul. Doing something like The Bad Batch sets a high benchmark.
Walk me through day one on set.
Day one I'm tied up in chains in the boneyard, covered in dirt, deep in the sand, blood everywhere. I'm having my arm sawed. I'm struggling in chains and screaming, feeling very depraved. It was a big first day, but it was a great thing to get fucking gnarly straight away and lose my shit in front of people.
What's something you learned on set early on?
It's less people teaching you than it is someone's presence—the way they treat people. Seeing the way someone like Jim Carrey interacts with the world... he had this bicycle, and he'd ride around the desert asking questions. Interactions like that.
You're 22 during the shoot, which seems like a lot to take on that age.
As soon as I got cast in the movie, life started imitating art. It's funny. You get so wrapped up in it that it's hard to even see the movie. Before casting, Lily said to me, "This is going to be really hard. It's going to take over your life. It's going to be the hardest thing you've ever done." I remember something in me switched then. "Oh, my life just changed." She [Lily] wrote it when she felt like she was being savagely ripped apart—her life was falling apart. She was getting divorced. And then interestingly, when I got cast, my life started going savagely wrong. So many fucked up things started happening.
What happened?
You know when life just gets crazy? On top of everything, I was worried about the role. Lily is a dope artist, and I was terrified. I thought, Am I going to fuck this up?
It seems like some of the best art comes on the heels of personal disaster.
Because you feel alive. You feel cracked open. Feelings are hurt. 
I could take a break from that.
Feelings?
They're just exhausting.
(Laughs) I feel that way pretty much every Sunday. Where I'm just like, "I want something of my own." Our generation's definition of happiness is changing all the time. We're quite entitled. We think we deserve more, and we think there are so many options.
And yet a lot of those options are pretty much the same thing.
Just packaged differently. They look great. I think love is the thing I think about the most. Every day, somewhere in the back of mind, I'm looking.
That's romantic.
Looking somewhere. Looking for something bigger than…
The nonsense.
Exactly. It's not easy to live an authentic life and do stuff that turns you on. We live in this fucking crazy-ass society with deals and dogmatic beliefs. I don't even recognize the person I was before this movie. Lily raised me into a different person. It's like I got torn apart and now I'm putting myself back together.