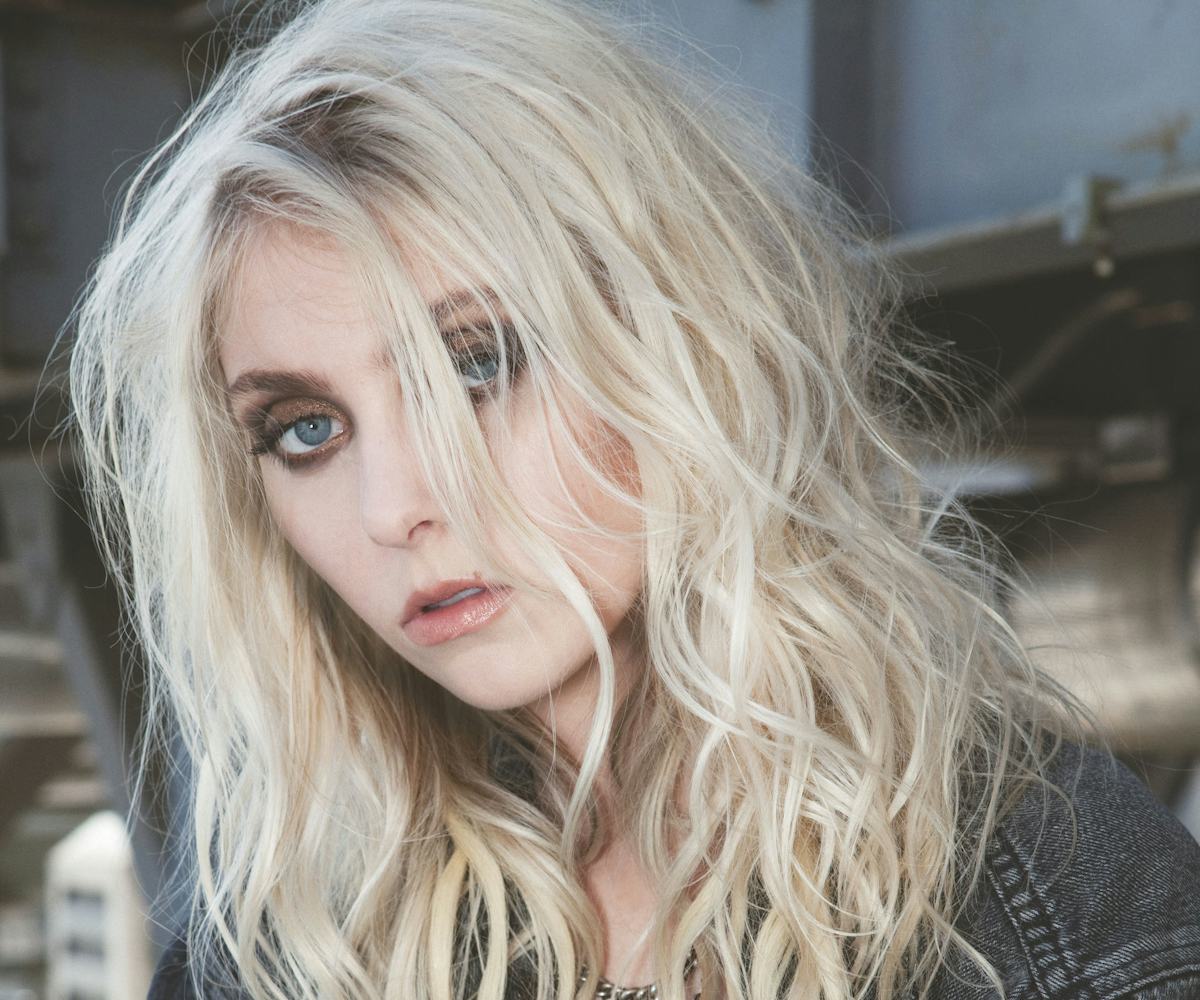 Photographed by Nuria Rius. Styled by Sam Bates.
Taylor Momsen on The Pretty Reckless' Rocking-Yet-Introspective Album
"If you want to get to know me as a person, listen to my records"
The following feature appears in the November 2016 issue of NYLON.
"Your journal looks like my journal," says Taylor Momsen, staring down at my little black notebook full of scribbles and cross-outs and doodles, while sitting on a couch in a Midtown Manhattan hotel. "I have a bag full of, like, 30 of those at my apartment right now. I have boxes and boxes of notebooks full of shit I'll probably never go through."
Momsen likes to write (or, rather, needs to write, she clarifies), and with Who You Selling For, the third album from her band, The Pretty Reckless, she wants to tell a story. "The track listing really is important," she says, noting that if you listen to it from beginning to end you can hear the narrative of the album, which touches on themes of frustration with the surrounding world and maintaining control amid confusing external forces. 
Perhaps best known for playing Jenny Humphrey on Gossip Girl and Cindy Lou Who in 2000's How the Grinch Stole Christmas, Momsen's acting days are behind her for the moment. Today, she prefers to spend her time painting and sculpting, and is even working on writing some books. But mostly she is focused on music: rehearsing with The Pretty Reckless, which also includes guitarist Ben Phillips, bassist Mark Damon, and drummer Jamie Perkins; and prepping for tour, fresh off of the October 21 release of Who You Selling For on Razor & Tie.  
"There's a lot of range as far as emotions and styles," says Momsen of the album—the band's first since 2014's Going to Hell—which varies from classic hard rock and scuzzy grunge-tinged cuts to somber finger-picked guitar. She penned the album with Phillips, starting two years ago while on the road and writing the majority of the songs over six months after their tour wrapped, and recorded it with producer Kato Khandwala.
The 12-song collection opens with "The Walls Are Closing In/Hangman," an ominous piano ballad that quickly creeps into dark, heavy riffs with punctuated vocals. The song eventually explodes into moody melodies and burning guitar leads, showing off the album's aesthetic scope in the first six minutes. Elsewhere there's twangy harmonies, reflections on her youth, and appearances by the likes of Warren Haynes, former guitarist for the Allman Brothers, and Janice Pendarvis, a vocalist who has collaborated with David Bowie and Steely Dan.
"As I look out of my bedroom window/ I see the chaos that's calling me/ So the wind blows wherever it will go/ It's all too much for me," Momsen sings on "Bedroom Window," an introspective acoustic track that is reminiscent of The Beatles, her favorite band. It's a song about wanting to hide from the world, but by the next track, "Living in the Storm," that seems impossible. "It's self-reflective," she says. "I'm inside. I don't want to go out into the storm. And then I'm in it. And the world's fucked up, I'm fucked up, this is all fucked up. I'm in the storm, I don't know what the fuck I'm doing, but I'm here. A lot of people must feel like that. Turn on the news—what is going on right now? I can't even look at the internet. Or turn on a television. It's just chaos."
In conversation, Momsen seems to have no concerns with impressing anyone other than herself. When asked about the meaning of the record's title, she quickly asks back, "Well, what does it mean to you? It means something different to me every day. Today it means NYLON." Even her songwriting is primarily for her own sake: "I write for myself because I honestly don't know what I would do if I didn't. It's just a part of who I am. It's self-expression. It's all very personal." And having that sort of intimate relationship with music has been healing for her. "Everyone goes through highs and lows in life," she says. "Music is the one thing—at least for me, and I think for a lot of people—you can turn to and it can move you in a way that other things can't. That allows me to either delve further into whatever I'm feeling or get away from it. There's always something to turn to. To help you grow, to help you think, to help you open your mind a little bit wider."
That's why, ultimately, she puts so much of herself into it. "I'm a very private person," says Momsen. "I don't like to live my life publicly. I always say, if you want to get to know me as a person, listen to my records. My whole heart and soul and life is right there for you to interpret and listen to and figure out." 
Jacket by Alexander Wang, stylist's own top, Momsen's own jewelry.
Stylist's assistant: Franey Miller. Hair: Joseph Maine at Jed Root. Makeup: Marco de Souza using Nars Cosmetics. Special thanks to The Renwick Hotel NYC.