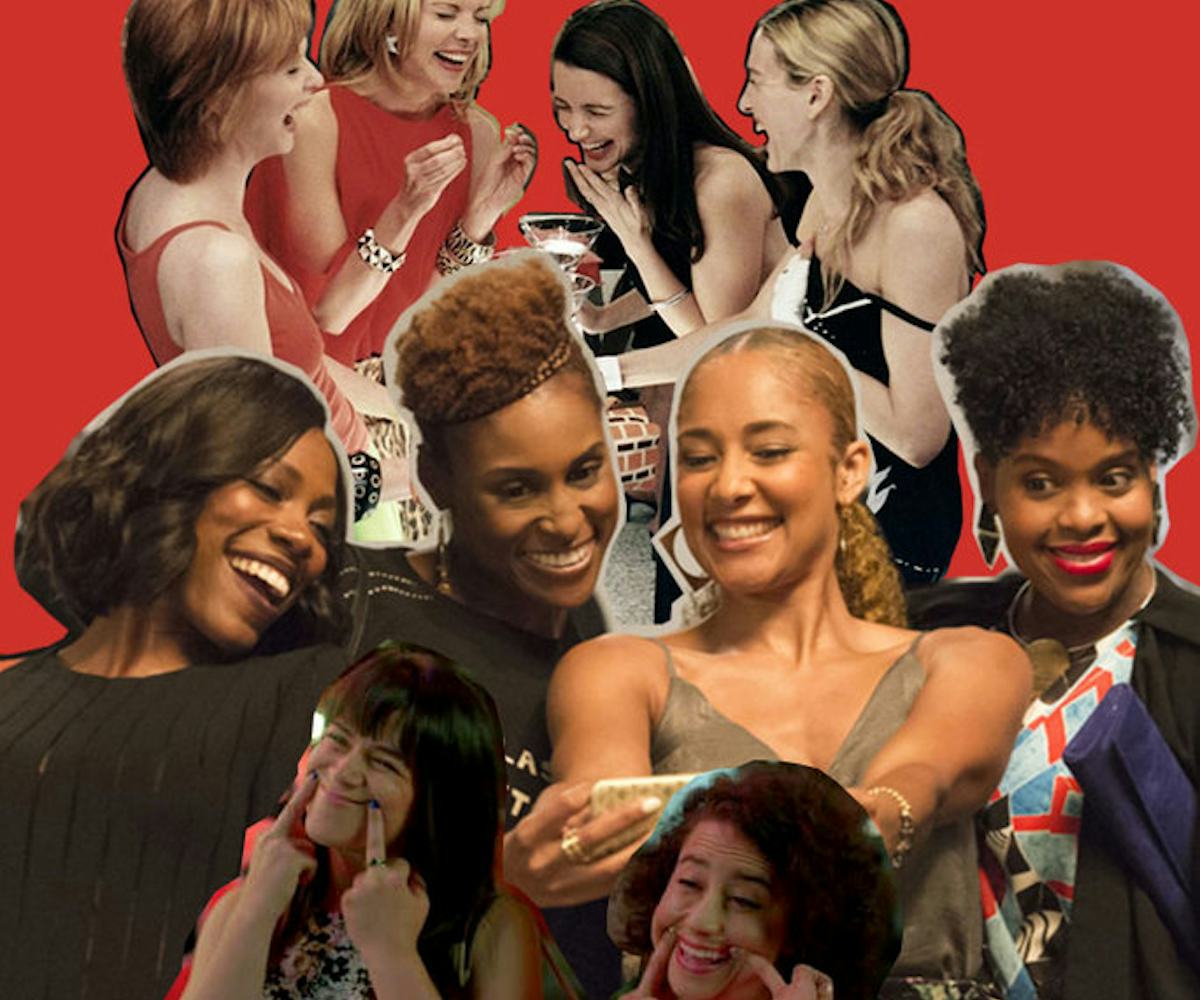 Photos courtesy of HBO and Comedy Central
The 15 Best Shows To Binge Watch
'Broad City' is back tonight!
There are a couple of important factors that go into a binge-able television show. For one, it can't be too action-packed (so, no Game of Thrones) or too existentially problematic (so, definitely no Black Mirror). Episodes that run a full hour are also usually a drag since it's hard to watch too many at the same time. Game of Thrones and Black Mirror are perfectly good shows—great, in fact—and should be viewed when you have the time. But in one sitting over a long weekend? Yeah, nah. You can do better.
We're living in a special time because there are so! many! shows! available with just a couple of swipes. But so many choices can lead to a certain kind of paralysis. It's hard to know what is worth investing your time in. You need help. Don't worry, though, because that's what NYLON editors are here to do. Below are our choices for the most binge-able series available for streaming. Is it totally comprehensive? No. Might have we missed a good binge-worthy show? Yes. We aren't perfect. We haven't seen everything on TV. We're only human, and we have jobs, you know.
Sex and the City
If you haven't binged on any SATC, my question to you is, WHO EVEN ARE YOU? Every episode is bite-sized and brimming with every wild New York fantasy imaginable. And there is nothing quite as comforting as coming home from a night out or waking up on a lazy weekend day and putting SATC on. Plus, you don't really have to start from the beginning. SATC is one of those rare shows where you can tune in at any time and feel like you're not missing too much. Just, you know, skip the movies. They're really not worth it.
Insecure
Issa, Molly, and Kelli (especially Kelli) will become your new best friends and quickly your least favorite people (never Kelli though, she's consistently great) in the short span of 16 episodes. That's right! There are only 16 episodes. The series is fairly new, meaning it's quick and easy to digest in one sitting if you're feeling ambitious. The second season is more emotion-heavy than the first, but nothing you won't be able to quickly recover from. Plus, Season 2 just ended, so you have plenty of time to binge on a couple of other series on this list until the next one rolls around.
Bob's Burgers
Let me tell you, there is nothing better to watch continuously after a long day of work than episodes of Bob's Burgers. I somehow just discovered this gem of a show, but it's already syndicated, so I assume most people are privy to its prodigious hilarity. Anyway, every season is on Hulu now, so you can indulge whenever you please.
Mad Men
I recently started this series on a whim to satisfy a binge-watching craving that SVU can no longer hold (I finished each season many times), and it was the best decision I've ever made. I never thought that I would be interested in the life of an advertising alpha male like Don Draper, but he and his Manhattan ad men cohorts in the '60s make the series worthwhile. The plot never drags, and also includes major moments in history.
Search Party
TBS' little show that truly could. Never has there been a more true-to-life take on mid-20s existential crises. The first (and only, so far!) season flies by with off-the-cuff dialogue and a brilliant Parker Posey cameo. Watching this is like being a fly on the wall of pretty much any millennial's Brooklyn, New York, apartment. Are we really all that self-centered? Yes. We really are.
Black-Ish
I force my family to watch Black-Ish with me every time I'm home. And never during those screenings is anyone satisfied with just one episode; it's five at a time or nothing. Not only is the show comedically brilliant, but every episode has a poignant message—the episode centering around the election is particularly noteworthy—usually about race, love, or family, and who can't relate to that?
Buffy the Vampire Slayer
From the '90s fashion to the campy horror to Sarah Michelle Gellar being charming as hell, this show is ridiculously easy to binge. Some episodes you'll watch half-heartedly while hanging out with friends or cooking dinner, other episodes will have you sobbing on your living room floor. When you finally finish all seven seasons, you'll find yourself missing your friends—Buffy, Willow, Xander, Mr. Giles, Dawn, Spike...—but, whatever you do, don't try to watch Angel after. The disappointment nearly killed me. 
Veep
So sure, this is a straight-up comedy with one of the highest laugh-out-loud-per-line-of-dialogue-spoken ratio on television right now, but I feel like I should warn you, there's also an undeniably tragic tinge to it. Why? Well, because it's frankly hard to watch any show which revolves around a powerful female politician, no matter how inept, and not be reminded of our current reality. And yet, you should still binge on Veep, because Julia Louis-Dreyfus is nothing less than brilliant as Selina Meyer, and the show features one of the best ensemble casts working today. Plus, it's a far more honest depiction of how Washington, D.C. works than anything else we've ever seen—and, yes, that definitely includes The West Wing.
Enlightened
Need some more Laura Dern in your life now that Twin Peaks: The Return is over? Same. This show is the perfect place to start. In it, Dern has a star turn as Amy Jellicoe, whose life falls apart after a very messy workplace meltdown. Watch as she attempts to rebuild it using tools learned from a serenity retreat in Hawaii, and marvel at the ways in which she is and isn't successful at affecting change within herself and her environment. Ah, it's really so good. I'm going to start rewatching it again tonight.
Chewing Gum
Michaela Coel, the creator and star of this perfect, perfect show, announced recently that there will be no new episodes following Season 2. Which is a travesty for anyone that's familiar with this show's perfect balance of raunch and warmth. We'll miss it, but at least it's available on Netflix for whenever we need Tracey to help us feel better about our lives.
Stranger Things
If you haven't watched Stranger Things yet, you must not have access to the internet. Because if the '80s plot line and Winona Ryder hasn't reeled you in, surely the hype around it (and the kids in it) should've. It's a great show and is great to watch in a single sitting because, given that it pays homage to Steven Spielberg films, it watches more like a movie than a show. 
Gossip Girl
Because watching Blair and Serena walk the streets of the Upper East side on a loop is like being at New York Fashion Week minus the crowds and the waiting. Plus, Chuck Bass. What's not to love about Chuck Bass?
Jessica Jones
As much as I love bingeing a good TV show, there are so few that capture my interest, so I rarely do it. But Marvel's Jessica Jones was so perfect I not only watched the whole thing as quickly as I could but then watched it again. It may be the most serious show on this list—Jessica is an abuse victim, and the show revolves around how she overcomes her difficult past—but it isn't without its own humor and levity, in part provided by her budding relationship with a very hot Mike Colter as Luge Cage. Take my word for it: Even if you're not a big comic book fan, you'll love this show. 
Grace & Frankie
Like SATC, Grace & Frankie is a television show you don't necessarily have to watch from the start to understand what's going on. It's snackable like that. All you need to know is Jane Fonda and Lily Tomlin are delightful, unlikely best friends whose husbands leave them for each other. Oh, and they start their own sex toy company. Do you need any more convincing?
Broad City
The true test of a binge-able show is whether or not it stands up to multiple viewings. Broad City passes with flying colors, and I would know because I rewatch it before every season. And each time I find myself appreciating Abbi and Ilana's comedic genius more and more.